Reddit May Have Guessed The Release Of Aldi's Traditional Beef Rib Roast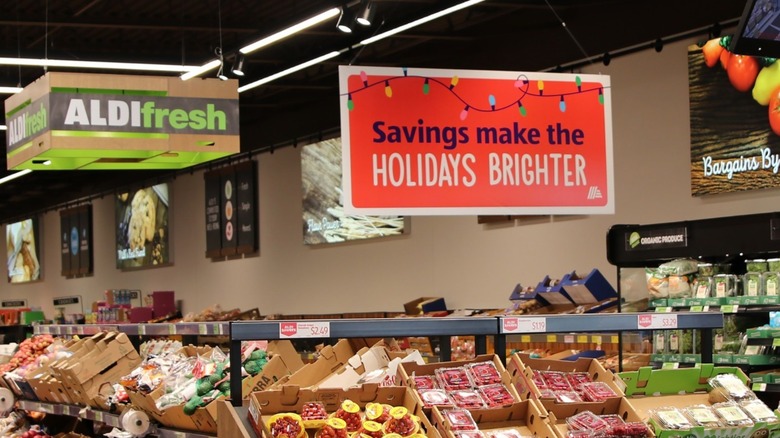 Eric Glenn/Shutterstock
Discount grocery chain Aldi is serious about the holiday season, as evident from its curation of festive, themed goodies. Aldi's ugly sweater cookie kit and gouda holiday trees are just two of its newer, popular products that have already drummed up buzz on social media.
The international supermarket also has some yearly traditions of its own, including Aldi's annual Christmas commercial, which features its famous and beloved mascot, Kevin the Carrot. And similar to how Aldi super fans crowd around the TV waiting for this iconic advertisement to drop every year, customers are also hoping that the chain brings back another holiday favorite — the traditional beef rib roast. A holiday classic in general, Aldi's beef rib roast is available in two versions: a classic bone-in option and a New York strip roast. Last year, this product gained major traction on Reddit, mainly for its affordable price point of $6.99 a pound. Now, Redditors are asking when this beloved item will make its return to stores — and they might have just gotten the date right.
The product could be available as early as next week
This week, Reddit user @Ok_Establishment4906 published a post to the subreddit r/Aldi, asking, "Does anyone know when Aldi will drop their beef rib roast this month? It's become a Christmas Eve meal tradition. Pic is from last year." Fellow Aldi lovers stormed to the comments section, but had conflicting answers.
"Sneak peek had the 16th as the in store date," one person wrote in a comment that accumulated 21 upvotes. Another Redditor based their predicted release date off of a supermarket flier: "Circular says coming December 14th." Either way, it is likely that the beefy offering will be ready for retail before Christmas Eve, as the dish often takes a while to prepare — the giant rib needs to be cut, oiled, and seasoned before it is ready to be put into the oven. That process alone typically takes a couple hours, and it'll take longer to cook if it's bone-in, per Chicago Steak Company's Steak University. Lucky shoppers who do manage to get their hands on this Christmas classic can reference our recipe for a perfect standing rib roast, courtesy of recipe developer Petar Marshall.