You Don't Want To Miss These Dishes At Bobby Flay's Amalfi In Las Vegas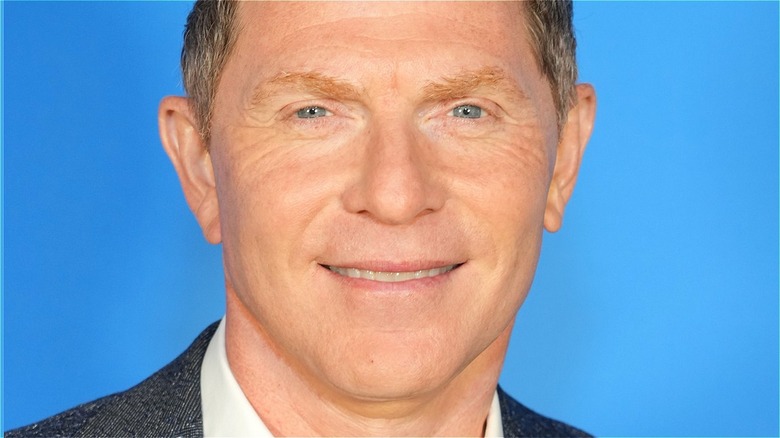 Kevin Mazur/Getty
Many chefs prefer to specialize in one type of cuisine, such as Giada De Laurentiis and her Italian food or Emeril Lagasse and his Cajun cuisine. Bobby Flay, on the other hand, likes to hop around from one food concept to the next. His first foray into restaurant ownership was with the southwestern-inspired Mesa Grill, while one of his latest projects is an Italian restaurant called Amalfi.
Amalfi is located in Las Vegas' Caesar's Palace, a familiar spot as Vegas Eater reveals that the same site was formerly occupied by Mesa Grill. Flay tells Seattle P-I that he's not done with Mesa Grill just yet and looks to bring back a revamped version at some point in the future, but says "I'm really kinda into Italy right now in a big way." His new restaurant, he says, is "all about passion, about an obsession I have with Italy and specifically the Amalfi Coast."
If you're visiting Amalfi (the restaurant, not the one in Italy), Flay has a few ideas as to what you should order. As he suggests, "I think the table should be filled with some beautiful fish, some handcrafted pastas, and a bunch of Italian-style cocktails." That's nice, but not terribly specific, so we'll be taking a deeper dive into just what Amalfi has to offer the first-time diner as well as anyone lucky enough to visit more than once.
Must-try dishes at Bobby Flay's Amalfi
Taking a cue from the restaurant's coastal theme, start off your meal at Amalfi with a seafood appetizer such as Flay's favorite shellfish fritto misto, salmon carpaccio in crushed pistachios, or, for more adventurous eaters, charred octopus with burnt orange and pancetta. 
Moving on to the pasta course, Las Vegas Magazine describes an "irresistible" crushed pea agnolotti with ricotta, mint, and lemon, although it's not included on Amalfi's online menu so may be a special. The porcini agnolotti with balsamic vinegar and a hazelnut-chive sauce, however, is a daily feature.
One can't-miss course is pesce, or fish. The restaurant has an in-house fish market, and as Flay tells Seattle P-I, "There's a fishmonger there and he or she knows exactly everything about these fish. What their names are, what their characteristics are, where they come from, and how they should be cooked." Once you pick your fish, you can have it grilled whole or filleted and served with a choice of lemon and capers, Calabrian chile pesto, or salsa verde (shades of Mesa Grill).
If you'd like a cocktail, Amalfi's drinks menu includes the trendy sbagliato as well as rum-spiked limonata. 
Dessert is something you definitely shouldn't skip, though. A few highlights of the short and sweet dessert menu include a triply-tempting combo of lemon cake, custard, and crisps; a caramel-drizzled blood orange cheesecake; and a pistachio gelato sundae topped with chocolate sauce, Amarena cherries, and chopped pistachios.