Krispy Kreme Brings Back A Day Of $1 Dozens For Another Year
Hear ye, hear ye! Krispy Kreme is all set to spread some sweetly glazed holiday cheer. If you're a fan, you probably know that throughout the year, the doughnut chain tends to have deals and even offers free doughnuts and coffee on occasion. Remember when it gave out free Original Glazed doughnuts on midterm voting day? You never know when the pastry haven will give out free treats, but there are some recurring promotions to expect. This year, Krispy Kreme gave free doughnuts to customers on National Doughnut Day on June 3 and lowered the price of a dozen glazed doughnuts based on how much a gallon of gas cost at the time.
If you are a Krispy Kreme Rewards member, you'll get coupons for a free Krispy Kreme doughnut and coffee throughout your birthday month. What's more, you can claim a free doughnut by simply signing up. The chain's rewards plan keeps track of your purchases and gives credits for them. If you have enough credits, you can redeem them for even more free doughnuts.
Speaking of the holiday cheer we mentioned earlier, the company is back with the "Day of the Dozens" this year, so save the date, doughnut lovers, because the chain is trying to add more holey foods to your diet.
Make the most out of Krispy Kreme's 'Day of the Dozens'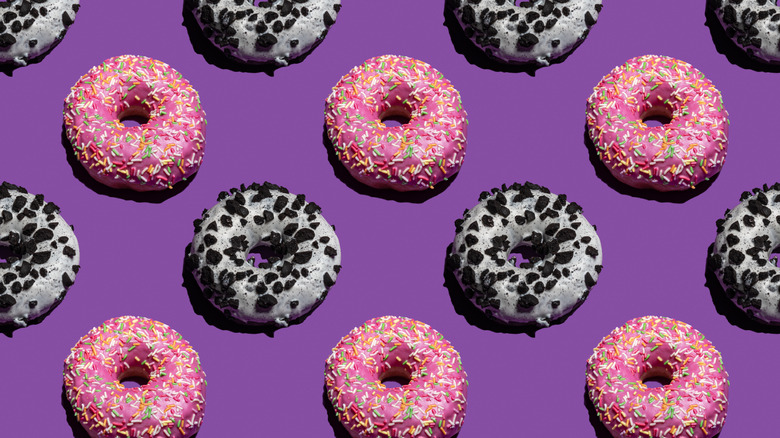 lisa-skvo/Shutterstock
Krispy Kreme customers can enjoy the "Day of the Dozen" on December 12. Per the chain's official website, the doughnut brand's annual holiday tradition will offer customers a dozen Original Glazed doughnuts for $1 should they purchase a dozen of its other varieties, including its 16-count boxes of mini doughnuts, at regular prices.
Of course, there are a few terms and conditions in place. The "Day of the Dozens" offer is limited to two dozen per customer. The website states that the offer is not valid in Times Square or Puerto Rico. You can order the doughnuts online, but the offer is limited to one dozen per purchase. Coupons cannot be used to make the purchase. Before heading out to buy your doughnuts, people should check if their chosen Krispy Kreme is participating.
Customers have been enjoying Krispy Kreme's "Day of the Dozens" on December 12 since at least 2013, per CNN. Some fans cannot wait to get their hands on the treats this year. "I can't wait to get some on Monday," one fan commented on their official announcement post on Instagram. However, a number of users complained that the promo code provided for online orders (DOZEN) didn't appear to work, to which Krispy Kreme replied that customers should make sure they specifically select the Day of the Dozen Original Glazed option because the deal won't be applied to the regular dozen.