Aldi Fans Are Unimpressed By Its Returning Holiday Gourmet Chocolate-Covered Pretzels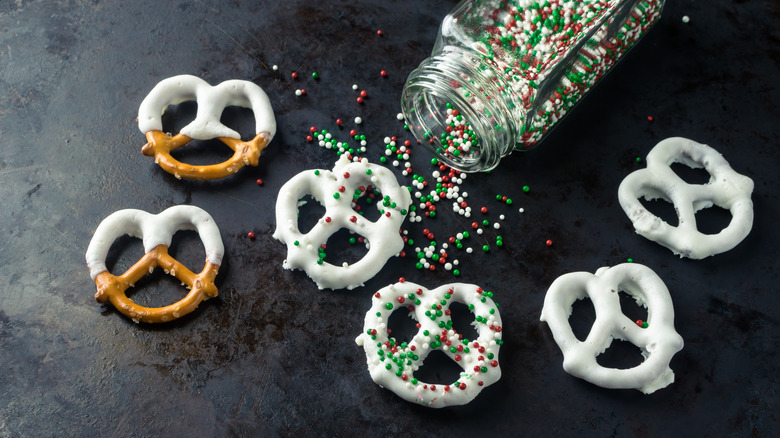 Newell's Photography/Getty Images
Many people may experience child-like giddiness during the holiday season. However, for a number of Aldi shoppers, this feeling stirs inside them all year long. Why, you ask? Because every week, the German grocer drops a new assortment of limited-edition Aldi finds.
You never know what you're going to spot when you peruse the chain's infamous aisle of shame, which typically gets re-stocked with a new set of specialty products every Wednesday or Sunday, depending on where you live (via Cooking Light). The selection can include things like unique food and beverages, gardening essentials, or home goods, such as the Awesome Pan, which is a dupe for the Our Place Always Pan that comes at a fraction of the price. More often than not, Aldi Finds will also include several seasonal or holiday-themed products, and being that Christmas is just thirteen days out, the current list is full of festive goods.
The Aldi finds for this week include a number of gift-worthy products like toys, clothes, and even a single-serve espresso machine. Additionally, the selection also includes a wide variety of holiday treats, including one sweet and salty snack that some shoppers may have seen before. After making its debut last year, the grocer has once again welcomed back packages of Utopia Market's Gourmet Chocolate Covered Pretzel Twists, which are priced at $5.99. However, despite Aldi shoppers eager to grab the festive pretzels in 2021, it seems some have changed their tune this year.
Some shoppers say these pretzels have a 'waxy coating'
From the looks of them, Aldi's returning Gourmet Chocolate Covered Pretzel Twists may seem like an ideal treat to munch on this holiday season. Featuring a total of 12 pretzels in three different flavors — dark chocolate with sprinkles, milk chocolate with white drizzle, and white chocolate coated with peppermint pieces — the festively-packaged product recently caught the eyes of Instagram user @adventuresinaldi, who alerted their followers about the Aldi find in a post on Sunday, December 11.
"Dannnnng! These gourmet chocolate covered pretzels are looking [fire emoji]," the Instagrammer wrote. "I hope they taste as good as they look! If any of you have tried them, let us know how they are!!" they added, and while the post isn't overflowing with comments, many of those that have shared their opinions don't seem too pleased. "Was not impressed with them last year," Instagram user @themidwestmillenial wrote. "They are so, so waxy coating," another shared.
The criticism may come as a bit of a surprise, as Aldi has had a fairly good track record with its pretzel products, like the chocolate toffee pretzels that shoppers are obsessed with. However, as it turns out, these gourmet pretzels do have a few fans, including an Instagram user who said they "loved them." Still, if you're not feeling particularly giddy about this Aldi find, you can always do like Reddit user u/stupidquestions_42 and use a few other Aldi products to make your own.