An Italian Nonna Dropped A Pasta Hack That Padma Lakshmi Adored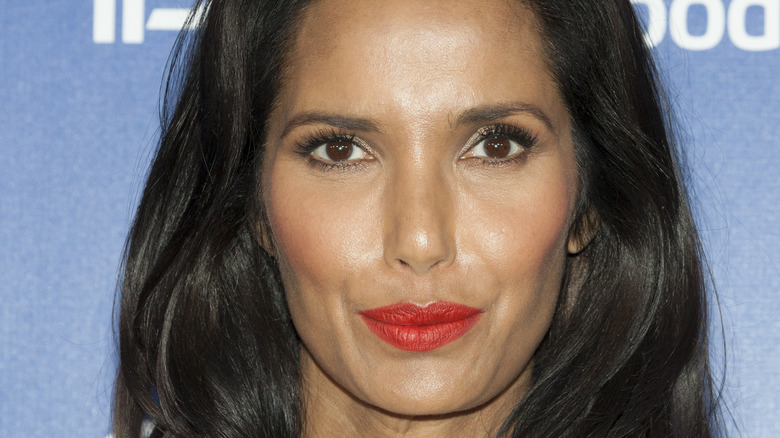 lev radin/Shutterstock
If you were lucky enough to share your childhood home with your grandparents or just spent lots of time in the kitchen together, our grannies, nonnas, bubbes, abuelas, and memaws are treasure troves of experience they love to pass on, especially when it comes to food. Whether we are 5 or 50, grandma's cooking can warm our souls and her recipes are just what's needed when comfort food is in order.
Until the 19th century when people became more mobile, people learned how to cook by watching the older generation make a dish repeatedly. When families were splintered, there became a need for written recipes. In 1796 Amelia Simmons responded by writing the first American cookbook, "American Cookery," per Smithsonian Magazine.
While cookbooks are invaluable and can be read like novels these days, people are drawn to cooking demonstrations, the next best thing to nonna being in the kitchen with you. What first began in 2009 with cooking shows on the Food Network exploded with the popularity of social media. According to The New York Times, TikTok has become the go-to destination for food videos, with hashtag #TikTokFood amassing 88.4 billion views.
Viral food trends like cloud bread were born on TikTok, influencing what millions are cooking. Even celebrity chefs like Padma Lakshmi are tapped into the platform, creating content and commenting on others, including the Italian nonna's pasta hack that left us all gasping.
Nonna Elda's mic-drop moment
In addition to the latest viral food trends, TikTok can be an excellent source for food hacks that are a total game changer in the kitchen, like the proper way to remove the seeds from a pomegranate or how to make the crispiest bacon. Along with 2.4 million viewers, "Top Chef" host Padma Lakshmi enjoyed a simple food hack by TikToker @nonna.elda.cooks that left even her granddaughter, who was filming, gasping in amazement.
As part of an online series teaching her granddaughter Alessandra how to cook their traditional Italian family recipes, Nonna Elda, the 82-year-old great-grandmother from the Ciociaria region of Italy by way of Toronto, blew our minds when she demonstrated how to open a package of spaghetti without using scissors. Holding a bag of spaghetti, not a box, Nonna Elda whacks one end of the package on the counter, causing the other end of the pound of pasta to burst through the top of the package for a mic-drop moment.
Along with over ten thousand users who were swept up in the infectious laughter from nonna and Alessandra, Lakshmi commented, "the nonna version of smacking the canned biscuits on the counter," referring to the refrigerated biscuits sold at the supermarket like the buttermilk Pillsbury biscuits, referred to by some Redditors as whomp-em biscuits because they "whomp 'em on the counter to open" them. Other viewers commented that they were never buying a box of spaghetti again so they could do this cool magic trick.