Costco's 'Best Vanilla Ice Cream' Is On Sale Now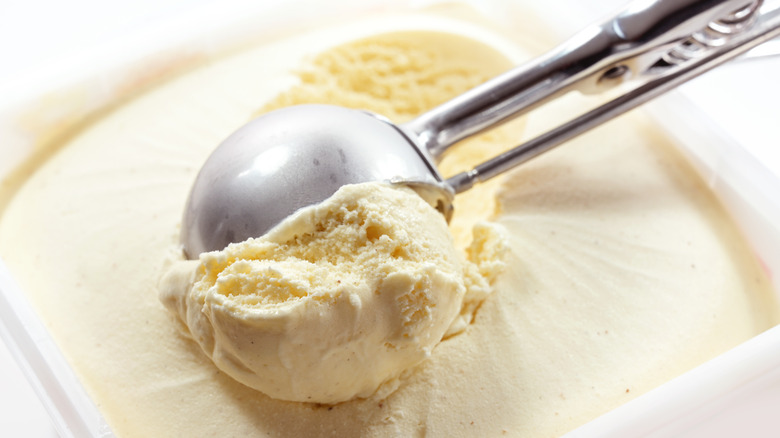 Fermate/Getty Images
Is any meal really complete without dessert? Like the great hostess Ina Garten once said, "Nobody remembers what you serve for dinner but they always remember dessert." When it comes to what you're going to serve, the options can be overwhelming. Do you create some cookies using the best chocolate chip cookie hacks, or do you go out and buy a premade bakery cake? If you're hosting a gathering for a large crowd, Costco has you covered in the dessert department.
While Costco is well known for its massive sheet cakes, the warehouse store offers many more desserts to take home and enjoy. Its bakery section is loaded with freshly packaged cookies, brownies, and extra-large pies. One area that may be overlooked but definitely should not be skipped is Costco's frozen desserts. You can pick up pre-packaged flavored mochis and rich ice cream bars. If you prefer a simple dessert that is sure to satisfy any palate, look no further than good ole vanilla ice cream. Costco's vanilla ice cream is not only supersized, the frozen treat is also a favorite among Redditors.
Hurry before it sells out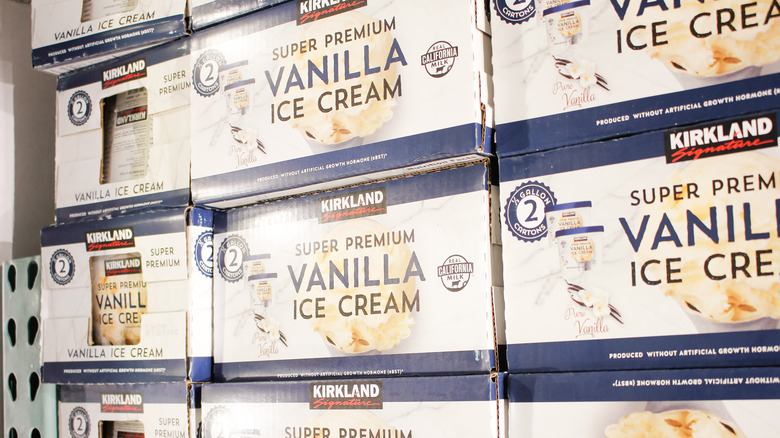 The Image Party/Shutterstock
While Costco fans love the Kirkland Signature Super Premium vanilla ice cream, the package sells for a steep price. The normal price for two, half-gallon tubs of ice cream is $15.49. That's a bit higher than competing brands like Blue Bell and Breyers, which sell half gallons for around $6 (per How Much is It). Luckily for customers, the hit vanilla ice cream is currently on sale — shoppers can pick it up for $10.99, which saves them almost $5. When one Reddit user shared a photo of the sale to the Costco subreddit, fans were quick to share their excitement.
One user wrote, "Definitely the best store-bought ice cream," while another chimed in, "Currently eating this out of the carton and yes I'm fine it's just that good." In typical Costco fashion, the deal may not be applicable at every Costco location (via Costco). One Reddit user noticed that their location did not honor the sale, while the original posting showed the deal was only good for a few days. If you're looking to experience another dessert that Costco customers love, throw in a box of Chipwich ice cream sandwiches. Plain vanilla ice cream is sandwiched between two chocolate chip cookies and rolled in chocolate chips. After all, you can never have too much ice cream.