We Tried Red Robin's Oreo Peppermint Crunch Milkshake. Don't Miss Out On This Holiday Treat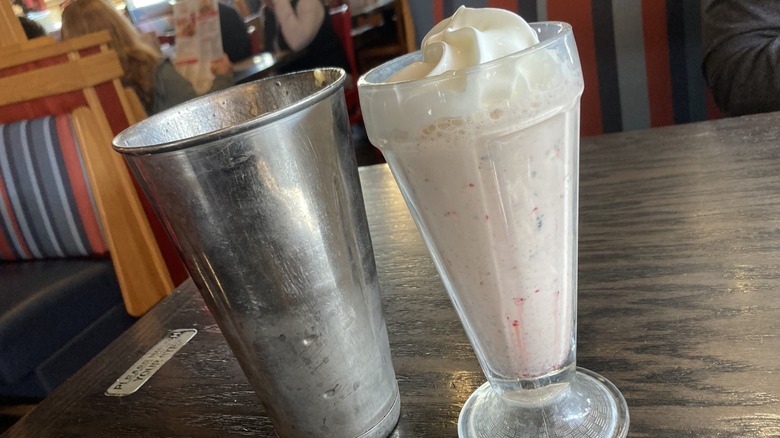 Steven Luna/Mashed
With the Oreo Peppermint Crunch milkshake, Red Robin flies into the holiday dessert race with a festive confection of its own. The blend of cookies and cream with refreshing cool mint is a dependable mix for the winter season, making it a safe yet decadent choice for the restaurant chain. And with cold weather sweeping across the U.S., a fun burst of ice cream, chocolate cookie, and peppermint candy crunch is a perfect fit for the cool Christmas theme.
A cold dessert may seem like an odd offering to launch when diners coming out of the cold are likely craving something with a little more warmth. But enjoying the chill sensation of winter in a milkshake glass is like having a snowball fight without the sting: a blast of holiday fun for anyone daring enough to give it a try. If nothing else, it has produced some inspired wordplay on Red Robin's Instagram account.
What's in an Oreo Peppermint Crunch milkshake?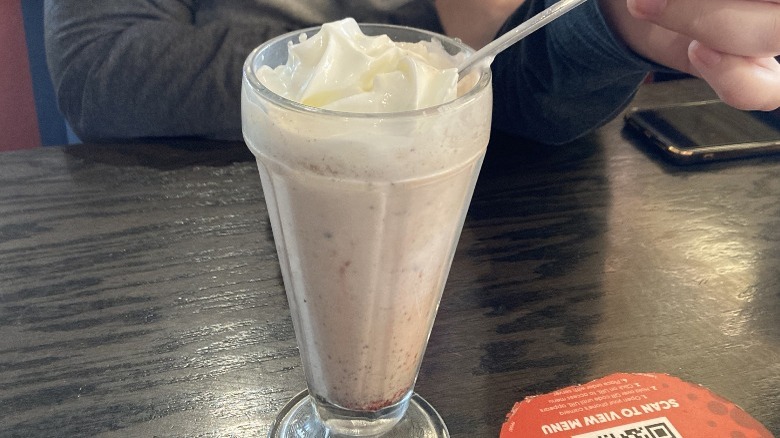 Steven Luna/Mashed
This tempting treat consists of hard vanilla ice cream, whole milk, Oreo cookie crumbs, and crushed peppermint candies. A swirl of whipped cream tops the whole shebang. While the photo on the menu and in advertisements include a mountain of whipped cream covered in a small avalanche of Oreo crumbles and candy canes jutting out of the peak, the version available for review was missing these toppings. The whipped cream was less than fluffy as well.
These may seem like minor infractions, but it's no small disappointment when delivered to the table, considering the buildup for ardent fans of mint-chocolate everything with visions of supremely decorated desserts dancing in their heads. Still, the blend in the glass is as promised, a whipped mixture of classic chocolate sandwich cookies, cool and crunchy mint pieces, and heavy-duty ice cream with a generous helping of milk included to froth the whole thing up nicely.
It costs quite a bit of Christmas money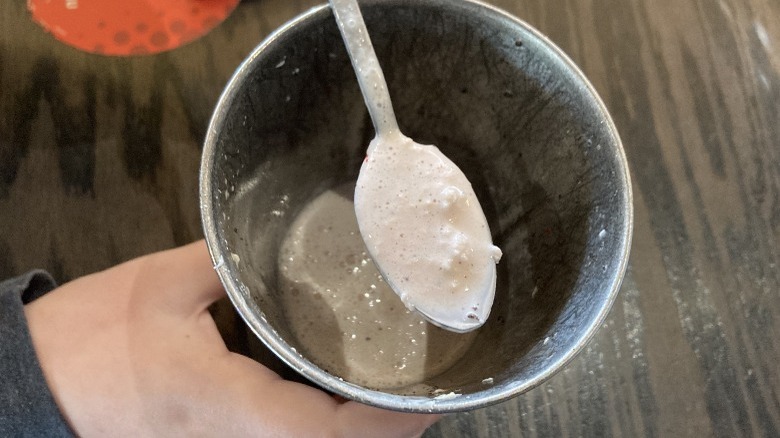 Steven Luna/Mashed
Depending on your location, the Red Robin website lists the Oreo Peppermint Crunch milkshake at a retail price between $6.49 and $7.49. Considering that this dessert is enough to serve two a satisfying share of the whole shake, dividing the price in half means each milkshake comes in at under $4.00 each, before tax. This is a fair deal for Red Robin, where desserts cost between $6.00 and $10.00 or more.
For anyone hoping to take this saucy shake for a spin without breaking the bank, bring a fellow sugar fiend along to share in the fun. One of you gets the glass, and the other gets the frosty stainless-steel tumbler, but both of you get an equal rush of chilled wintery goodness. It's a wise way to spend your holiday entertainment dollars. If you have no choice but to go solo, you'll get a generous amount of sweet treat for your money, which is a gift in itself.
The Oreo Peppermint Crunch milkshake is available for a limited time only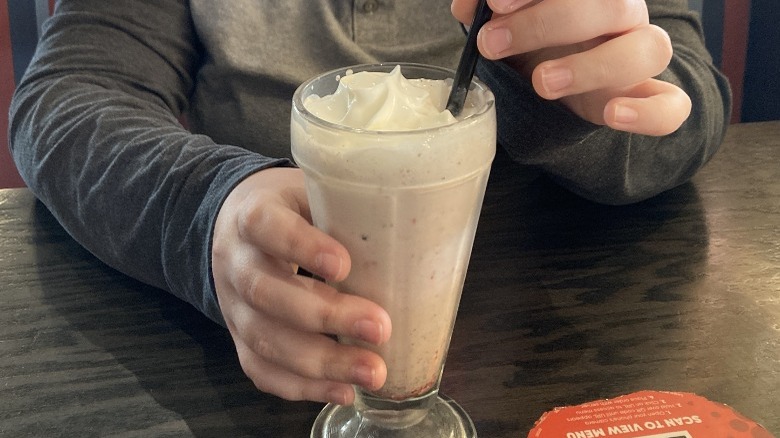 Steven Luna
According to a press release at PR Newswire, the Oreo Peppermint Crunch Milkshake became available at Red Robin in late October, but will only be a part of the menu for a limited time — and time is short before the clock strikes Christmas. Like a certain famous snowman or the big man himself and his magical sleigh, this special treat is sure to be gone soon. Milkshake fans, mint lovers, and fans of cool winter flavor combinations should act fast to get in on the magic before the opportunity is gone.
For anyone who misses the moment but still craves a cookies and cream milkshake with Oreos in the starring role, Red Robin offers an Oreo Magic Milkshake that includes everything but the peppermint. Adding your own crushed-up candy canes leftover from your stocking or a few starburst mints from your pocket could bring back the holiday enchantment with a bit of a homemade twist.
It's a cut above the other Red Robin shakes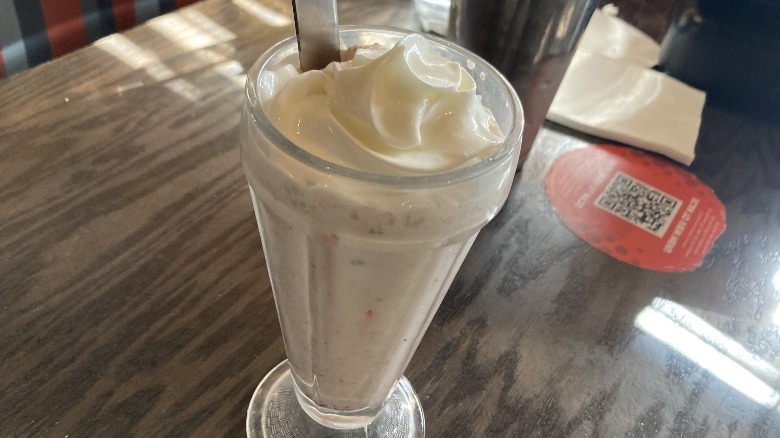 Steven Luna/Mashed
Shakes get their own billing on the Red Robin menu, separate from the other desserts, which makes the Oreo Peppermint Crunch something of a diner diva. The current selection features an Oreo Cookie Magic milkshake, sans the minty mix-in. Adding a blast of peppermint to jazz it up for the holidays is a savvy adaptation of the original. In addition to the classic soda shop lineup of chocolate, vanilla, and berry-flavored shakes, the chain has also offered limited edition gingerbread milkshakes in Christmases past, setting a tradition for sweet holiday sips to ring in the season.
As for other dessert options, Red Robin's selection of cakes, cookies, and other treats varies by location. While all look satisfying, nothing on the list cries out "holiday dessert." Anyone interested in having a full-blown Christmas treat experience will have a clear option when it comes time to put in their dessert order.
The nutritional value isn't surprising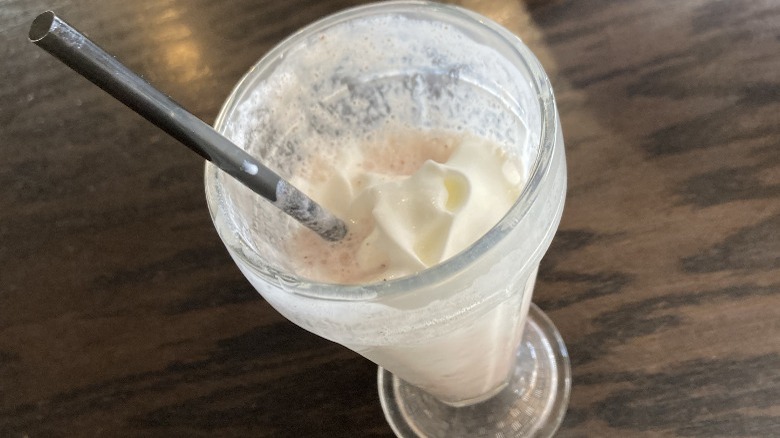 Steven Luna/Mashed
The eye-popping 1150 calories found in the Monster-sized Oreo Peppermint Crunch milkshake may seem excessive for a single dessert item, especially when that number breaks down to 420 calories, 128 grams of sugar, and 29 grams of fat. But this oversized shake comes in two parts, one in the glass and one in the mixing tumbler, which turns a single order into a treat for two. There may not be a whipped cream cap for the tumbler serving, but just knowing the Oreo Peppermint Crunch Milkshake can be split in half means the questionable nutritional value consumed in each will go down a little easier. You can also try ordering the kid's size, which reduces the numbers considerably. And since it's only available while the winds of winter blow, the window for indulgence is brief. You can enjoy one of these rich treats for Christmas and still be on point for your New Year's resolutions. Remember: it's a dessert. If it was supposed to be good for you, it would be a kale salad.
The Oreo Peppermint Crunch milkshake tastes like the very best of winter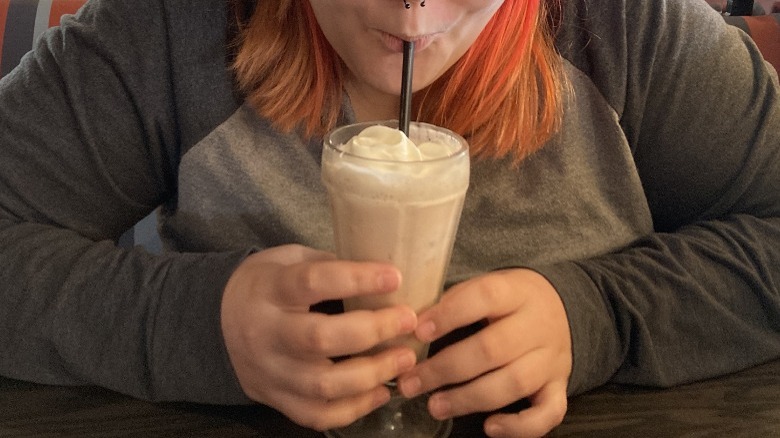 Steven Luna/Mashed
What's not to love about vanilla ice cream studded with Oreo cookie crumbles and crushed peppermint candies? The flavors are a dependably complementary combination, with a fun chill from both the frosted milkshake magic and the sprightly mint sensation on the tongue. These tastes join the creamy texture of a traditional malt shop concoction to create a blend that calls to mind white chocolate bark studded with mint pieces, a winter classic that peppermint lovers will thrill for.
To sip or to spoon? For this shake, either works. The Oreo bits lend a soft smush familiar in other cookies and cream ice cream treats, which is never a bad thing. In this case, it's spectacular, a fun contrast to the crispy peppermint bits that crackle as you chew ... and yes, you chew this milkshake. It's the best way to savor the mix-ins and take advantage of the suite of flavors you've paid dearly for. But the holiday season is all about generosity and happiness. Allowing yourself this special treat to enjoy while Christmas magic lingers in the air is about the most generous gift you can give and receive in one creamy, minty, chocolatey swoop.