Taco Bell Is Giving Away Mexican Pizzas For A Limited Time But Only Through The App
Even if you don't often eat at Taco Bell, chances are you've heard about its Mexican Pizza. Fans of the iconic dish were elated in 2022 when rumors of the Mexican Pizza's permanent return were confirmed. This came after a brief reappearance in stores in 2020. What makes this item so different than others on the menu? While not everyone is impressed with the Mexican Pizza, for some, it's a revelation. "The best part was the flaky, crispy shells," said one happy diner on Reddit. "So different from the regular crunchy shells that they use for tacos."
But it hasn't always been easy for customers to get their hands on one of the chain's Mexican Pizzas. After its return in the spring of 2022, it was already out of stock by June. Others have found there to be a financial barrier to enjoying this classic Taco Bell treat. "Mexican Pizza[s] are delicious, but $5 a pop though?" said one incredulous, budget-minded Reddit user. "30% mark up for nostalgia," joked another. But Taco Bell's Mexican Pizza is back in stock, and not only that, the chain is offering a deal on its app for a free Mexican Pizza ... but there's a catch or three.
How to get free Mexican Pizza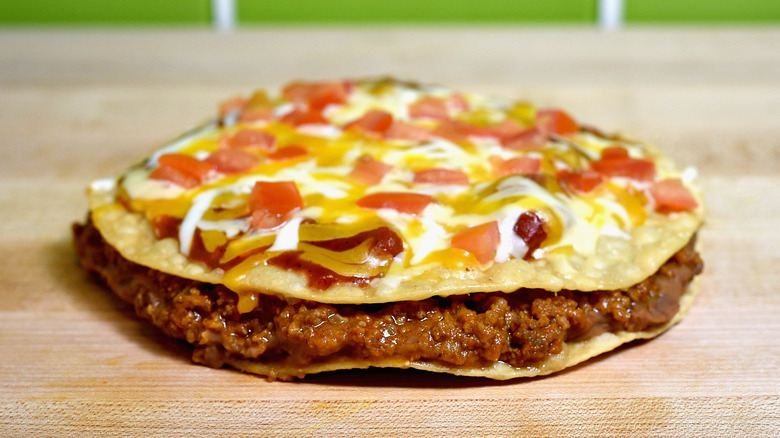 Joshua Blanchard/Getty Images
In order to get a free Taco Bell Mexican Pizza, customers will have to download the app and be registered Taco Bell Rewards members (via Taco Bell). Then there are two other catches: Customers have to place their order in the app for delivery, not pick-up, and they need to spend at least $15 on other items in order to get one Mexican Pizza for free. The fine print notes that "no product or ingredient substitutions, upgrades or add-ons" are allowed when redeeming the offer.
This app-only deal will remain in place until February 1. But that's not the only Mexican Pizza news floating around right now. There are also rumors that Taco Bell is testing out a new Triple Decker Mexican Pizza in Omaha, Nebraska (via Reddit). And Taco Bell isn't the only chain trying to satisfy the demand for this style of pizza. Taco Cabana just announced that it's going to start selling a "Double Crunch Pizza," which sounds very similar to Taco Bell's item and costs $5 (via QSR). Those who want to offer themselves a pizza for free (with the catch that they have to buy ingredients first) can also try a copycat Taco Bell Mexican Pizza recipe at home.