How To Order A Chicken Cordon Bleu Sub At Subway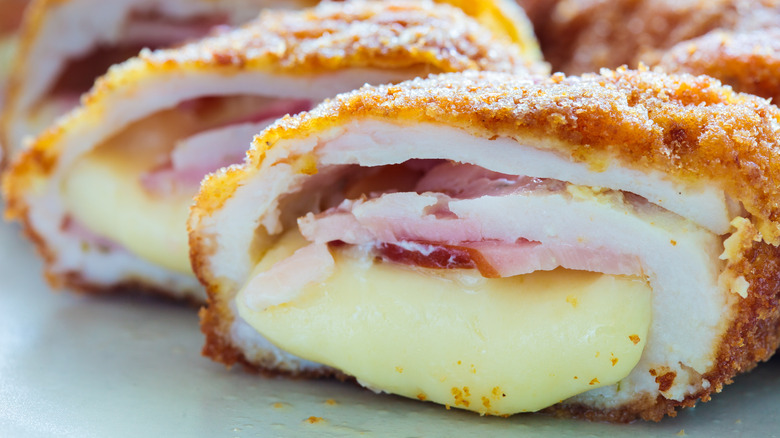 Xalanx/Getty Images
When people think of Subway, a few things probably come to mind. Maybe images of submarine sandwiches dance in your head. You might even have the iconic smell of freshly toasted subs perpetually lingering in the back of your mind, associated forever with the experience of picking up a $5 footlong in your youth, back when getting a sub for $5 was actually possible. (Subway got rid of the $5 footlong in 2016.) But while the sandwich smells of yore might seem immune to most of the changes that affect the world at large, Subway's menu has seen more than a few changes over the years.
2022 introduced customers to "The Vault," a collection of subs inspired by NFL athletes. In fact, Subway teamed up with Patrick Mahomes of the Kansas City Chiefs to create the "No-Look Chicken" sandwich. But just remember that when customers aren't looking, a different chicken sandwich might pass them by. Not only does the chain come out with new sandwiches, but you can make an absurd number of Subway sandwich combos using the ingredients it already offers. Patrons can even create a sandwich version of a fine dining favorite: the chicken cordon bleu sub.
Secret menu chicken cordon bleu
If you've never made a chicken cordon bleu recipe, it's a tiny bit sandwich-like own in that you have bread surrounding meat and cheese. Specifically, a flattened slab of chicken gets wrapped around Swiss cheese and sliced ham. That whole combination is breaded and then fried or baked. The Subway secret menu version of the dish keeps the spirit of the original alive. To order it, you'll need to be specific — it's likely that the person who's making your sandwich will have no idea what you're talking about if you just ask for a chicken cordon bleu sub. Instead, says Restaurant Clicks, you should pack your sub with Swiss cheese, sliced ham, and grilled chicken, and have the whole thing toasted.
As it turns out, Subway used to sell an official Chicken Cordon Bleu sub, which was basically the same idea as this suggested menu hack. As far as we can tell, it was last sold stateside back in 2011 (via Brand Eating). The chain also had a Chicken Cordon Bleu Melt sub that was reportedly available in the US Virgin Islands in 2018 (via YouTube), and Subway Jamaica was selling them as recently as the summer of 2022. If you decide to order one, don't forget the condiments — Restaurant Clicks recommends honey mustard, but we think it would be tasty with Subway's Roasted Garlic Aoili, too.