Buffalo Wild Wings Is In Overtime At Super Bowl 2023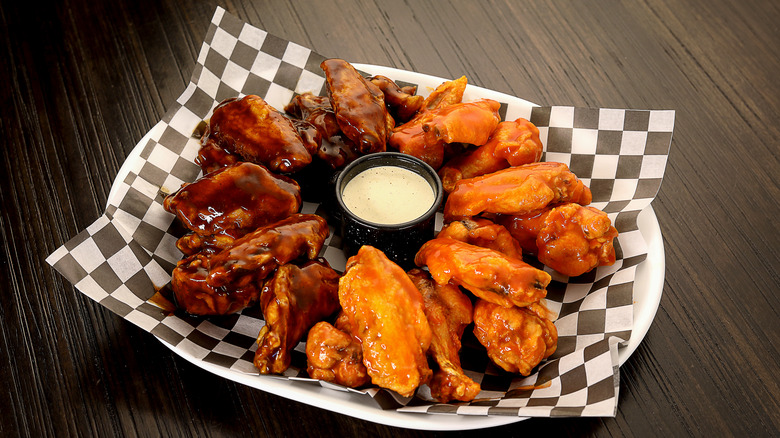 Joraca/Shutterstock
There are some Super Bowl snacks that might surprise people with their popularity. There's a ridiculous amount of popcorn eaten during the Super Bowl, for instance, but for some reason, it just hasn't made its way into pop culture like other foods associated with the game — for instance, chicken wings. Of people surveyed by Mashed, 35% said chicken wings are the best food to bring to a Super Bowl party. In 2022, the National Chicken Council predicted that 1.42 billion wings would be eaten for the Super Bowl, and chicken wing chain Buffalo Wild Wings allegedly sells 13,500 wings per location over Super Bowl weekend (via Forbes). 
The good news is that wing lovers probably won't have to spend as much on their snack of choice this year as they did in 2022, thanks to the fact that chicken wings are 22% cheaper this year – unlike those who prefer snacking on the ever-more-expensive chips and beer (via USA Today). But if shelling out for wings is still a little too rich for your blood, Buffalo Wild Wings might have your back. The chain just announced the return of its yearly Super Bowl promotion, and anyone who likes the thought of getting free food will want to pay attention to what goes on in the game. 
Free Buffalo Wild Wings ... maybe
For the fifth year in a row, Buffalo Wild Wings is connecting its fans' fate to the fate of Super Bowl LVII (via Inspire Brands). If the biggest football game of the year goes into overtime, then Buffalo Wild Wings is ready to reward the people with a free order of six wings, bone-in or boneless, on Monday, February 27 between 4 p.m. to 7 p.m. Customers can choose from any of the chain's seasonings and sauces, and no additional purchase is necessary, though the deal will only be available for dine-in and take out ordered in-person, not through a delivery app. 
So, how good are your chances at scoring free chicken through Buffalo Wild Wings' promotion? Not very good, unfortunately. BetMGM notes that the only time the Super Bowl has ever gone into overtime was in 2017, when the New England Patriots faced off (and won) against the Atlanta Falcons. That doesn't mean fans should feel totally hopeless, though. B-Dubs notes in its press release that this year, more than 20 NFL games have gone into overtime. Sure, it's not as common in the Super Bowl games, but who knows, maybe this year could be the year for an exciting game and free wings to boot.