A Ridiculous Amount Of Popcorn Is Eaten During The Super Bowl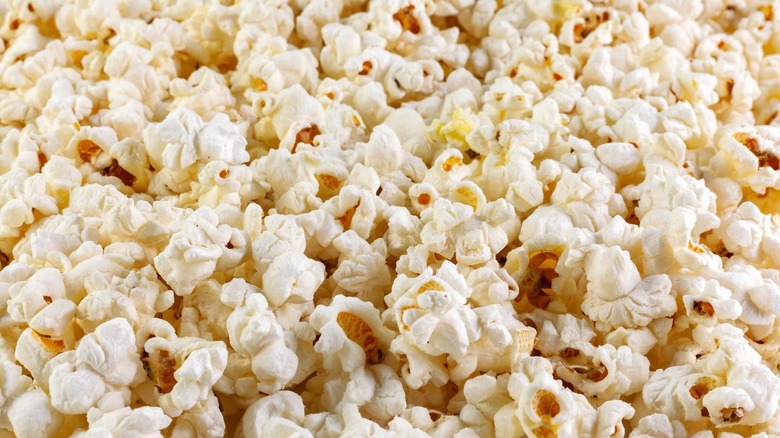 Mykhailo Baidala/Shutterstock
Super Bowl Sunday is fast approaching, and the only thing more exciting than the game, the commercials, and the half-time show (which this year will feature Snoop Dogg, Eminem, Mary J. Blige, Kendrick Lamar, and Dr. Dre) is of course the food. American sports fans are obsessed with snacks and drinks, just about as much as we are the actual game. Per Tiger Fitness, many households plan for the NFL championship match by buying snacks that rack up approximately 6,000 calories per person. Some people even go that extra mile and build their very own Super Bowl snack stadium to feed their guests in true sportsman-like style.
From chicken wings to potato chips to guacamole and beer, we will definitely be chowing and guzzling down a lot of foods and beverages during the course of this much anticipated event. Seriously, the numbers are a little eye-popping. Consider this: Americans will eat 162.5 million pounds of chicken; 139.4 million pounds of avocados; and 12.5 millions pizzas, which the Hungry Fan notes that, lined up, is the equivalent of crossing the Golden Gate Bridge 1,392 times. Clearly, this game day is not for the faint of heart or stomach! In fact, when we tell you the ridiculous amount of popcorn that will be popped, eaten, or tossed at the television, it will definitely give you pause.
We're going to eat 3.8 million pounds of popcorn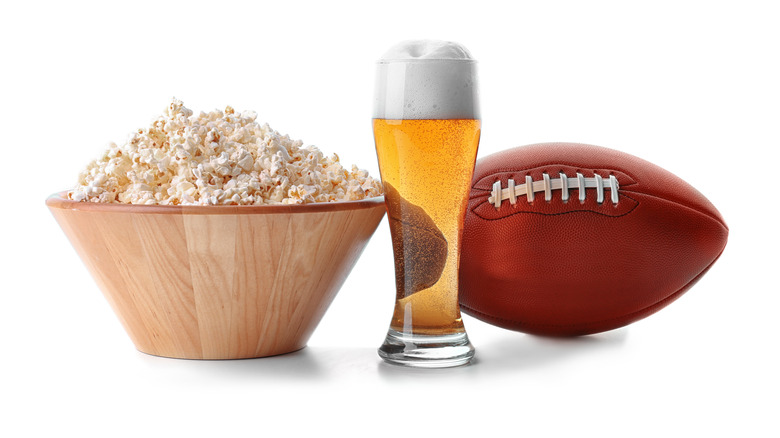 Africa Studio/Shutterstock
According to Tiger Fitness, game day revelers will eat 3.8 million pounds of popcorn on Super Bowl Sunday. Sweet or savory, popcorn is definitely a favorite go-to. And while that number might seem small when you look at other snack foods being eaten, it is really quite large. Hungry Fan notes that, collectively, the amount of buttery popcorn, potato chips, and roasted nuts that will be consumed as the Rams and Bengals face off will be greater than "the viewing audience by 1000x."
In reality, popcorn is a favorite snack food. Per the Nutrition Journal, it ranks at number 10 for the "savory" snacks people like to eat, with most munching and crunching on it at least nine times a year. However, when you look at the total amount of food that will be consumed during the Super Bowl, 3.8 million pounds is just a fraction. Businesswire recently shared that, in the United States alone, we will consume 112 million pounds of snacks during this ultimate game day, which is exactly how much 270 jumbo jets weigh if you need a little perspective. Of course, when snacking during the game, we just need you to pass the bowl of popcorn — no perspective needed.