Cottage Pudding Is More Simple Than You Might Expect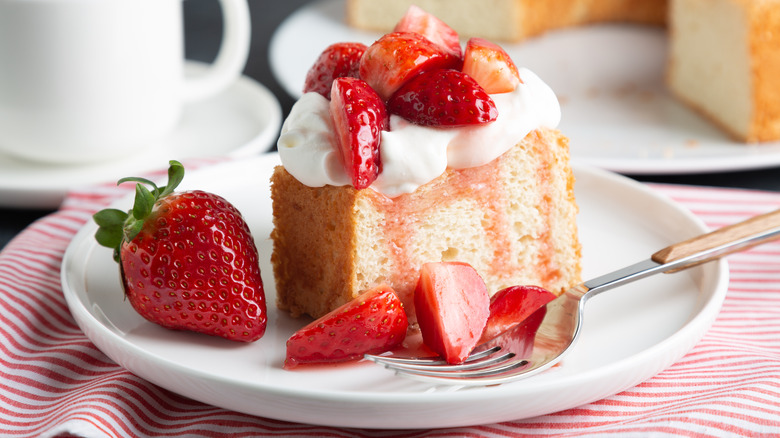 Asife/Getty Images
We may receive a commission on purchases made from links.
The term "cottage pudding" may not sound like the most appetizing thing in the world, but this homey, old-fashioned sweet may just win you over yet. First of all, it's a pudding not in the American sense, meaning a gelatinous custard, but in the British sense, meaning simply a dessert (per The English Kitchen). In fact, it seems to belong to a sort of hybrid class of desserts popular in the late 19th century that involved a dense cake with a sauce spooned over it, creating a highly moist, sauce-saturated texture. According to Revolutionary Pie, the "cottage" part of the term refers to this being a modest dish ideally suited to the table of cottage-dwelling folk.
Despite its British-sounding name, early recipes for it are uniquely American. The first known recorded recipe for the dessert comes from the popular 19th-century American women's magazine "Godey's Lady's Book" in 1863 or 1864 (per Britannica). Now celebrating its 160th birthday, this dish is as pleasing to the palate now as it was in the 1860s, and our research recommends a more traditional recipe. This is definitely one of grandma's (or great-grandma's) favorite desserts that need to make a comeback.
Cottage pudding: a simple cake, simply made
There's nothing fancy about this simple dessert that first turned heads during the Civil War, but its simple goodness is sure to please and it's easy to make (per Revolutionary Pie). While the original "Godey's Lady's Book" recipe recommends serving the dish with a sweet sauce made from wine and butter, it can be served with vanilla, chocolate, or lemon sauce (per Monterey Herald) — or really, any kind of pour-over sauce you like, such as strawberry or even butterscotch, or simply a homemade whipped cream recipe. One recipe particularly recommends a lemon-nutmeg sauce (per The English Kitchen). This spongy cake will soak up whatever you pair with it.
Cream together ¼ cup of butter and ½ cup of sugar. Add 1 beaten egg and combine well. In a separate bowl, whisk together 2 cups of flour, 1 tablespoon of baking soda, and ½ teaspoon of salt. Alternate adding this mixture with adding 1 cup of room temperature milk to the butter and sugar, making sure to stir in as you go. Spread the mixture evenly into a buttered square baking dish. Bake at 375 degrees for 25–30 minutes. Allow it to cool for 15 minutes before serving it with sauce. This recipe is adapted from Fannie Farmer's "The 1896 Boston Cooking-School Cook Book."