Homemade Whipped Cream Recipe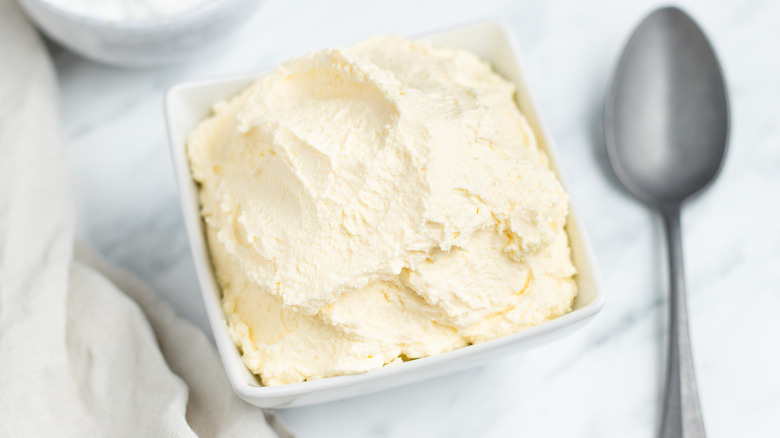 Catherine Brookes/Mashed
How do you make whipped cream? The concept may seem simple enough: get some cream (the kind labeled "heavy" or "whipping," since cream with a lower percentage of milk fat really won't whip up too well), beat the heck out of it, and stop before it becomes butter. Yes, this is pretty much how it works, but there are still a few tips we'd like to share that can help you make the tastiest, fluffiest whipped cream.
As recipe developer Catherine Brookes describes it, "Whipped cream is deliciously light, fluffy and perfect for serving with many different desserts." She tells us, "I like it best served with warm desserts such as puddings, pies or crumbles," adding that "you can also use it to fill cakes." As any Starbucks lover also knows, whipped cream is great on top of coffee drinks, and no ice cream sundae would be complete without the stuff, either.
While this recipe is for whipped cream sweetened with sugar, you can also make it unsweetened, or else you can add some flavoring. Brookes suggests "you could maybe add some cocoa powder, cooled coffee, or caramel," though you should probably go easy on the coffee, no more than a teaspoon or so, or else stick to adding powdered coffee, as too much liquid will mess up the texture. Another thing you could do is swap out the vanilla extract Brookes uses for almond, mint, lemon, or any other flavor you fancy.
Gather the ingredients for homemade whipped cream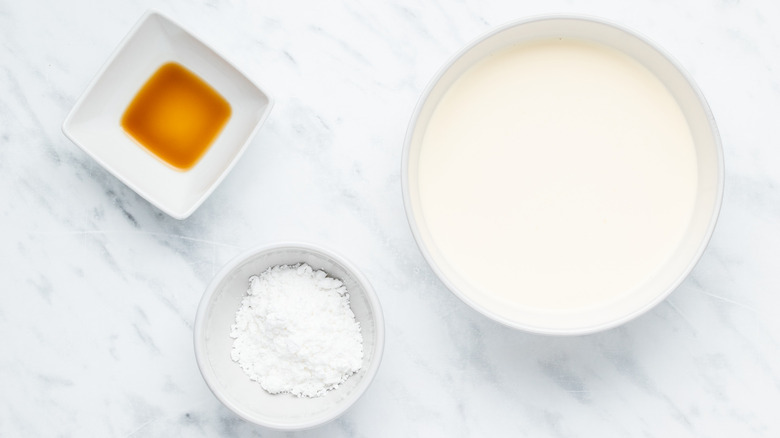 Catherine Brookes/Mashed
To make whipped cream, you pretty much just need the heavy cream, but here Brookes is using vanilla extract for flavoring and powdered sugar as a sweetener. As to why she favors powdered sugar, she explains that it "dissolves much more easily and keeps the cream smooth, light and fluffy whilst adding sweetness." If you don't have any on hand, though, you can certainly use granulated sugar in its place.
Chill the ingredients and tools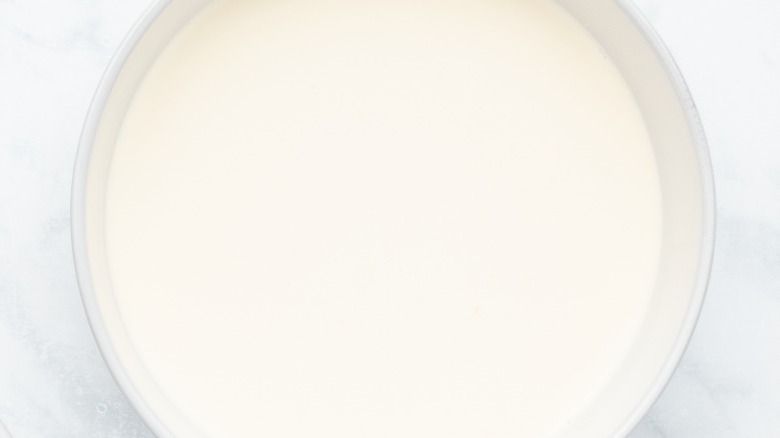 Catherine Brookes/Mashed
Before you make whipped cream, there's one tip that will really expedite things for you: take the bowl and the beaters and stick them in the fridge for a half hour, or the freezer for 15 minutes. Make sure the cream itself stays in the fridge until needed, too. The colder the cream, the better it whips.
We're assuming, of course, that you're going to be whipping your cream with the aid of some type of electrical appliance, although if you're super gung-ho and have a really strong arm, you could use an eggbeater or a whisk or even shake your cream in a lidded jar. Still, even in this case it's best to chill the equipment, as well, and to begin with very cold cream.
Whip the cream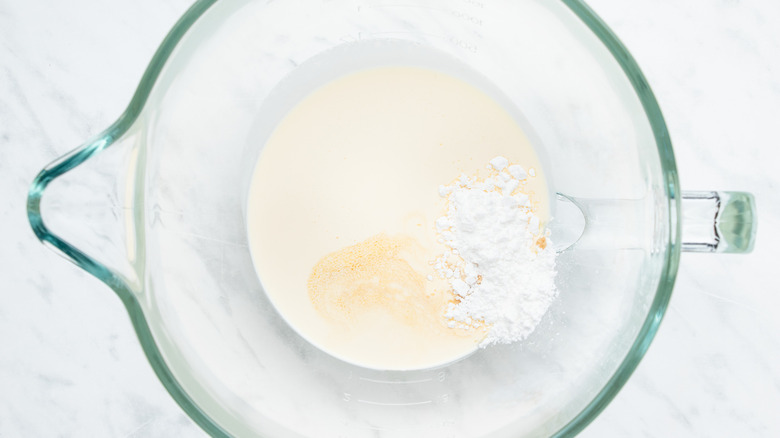 Catherine Brookes/Mashed
Combine all of the ingredients in a bowl and begin beating them with an electric mixer. Brookes advises starting out on a low speed for a few minutes, then finishing up on high. She says that this method takes her about 5 to 7 minutes for the cream to reach the "stiff peak" stage, at which point you'll know it's done.
To test for optimal peakiness, switch off the appliance and lift up the beaters. If the cream forms little points and these points stay up by themselves without collapsing, it's done. If the points fall over, the cream is still at the "soft peak" stage and needs more whipping.
Serve or refrigerate the whipped cream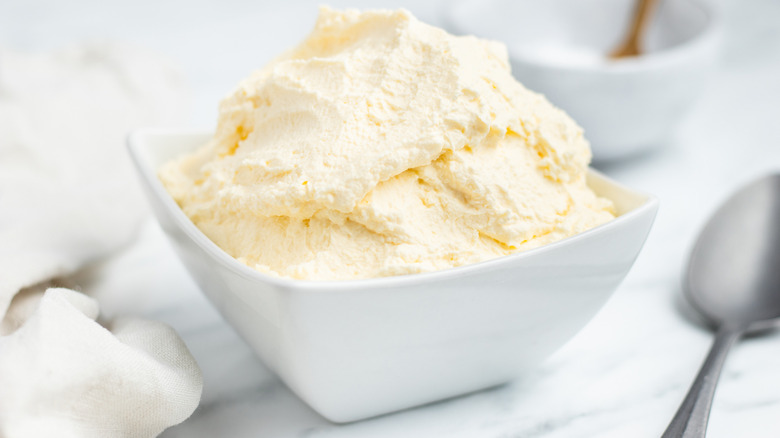 Catherine Brookes/Mashed
Although Brookes says she hasn't noticed her whipped cream deflating noticeably, she does say to "store it in the fridge and use within 3 days." If you let it sit for too much longer, eventually the air that gives it its shape will evaporate and you'll have just plain (sweetened) cream instead of the whipped kind. What's more, you really can't re-whip it, either.
Another handy tip for long-term whipped cream storage involves blopping a tablespoon or so at a time onto a baking sheet, then putting it in the freezer. Once your whipped cream mounds are frozen solid, transfer them to a plastic baggie and keep them in the freezer until you need them.
Homemade Whipped Cream Recipe
Why go for store-bought when you could enjoy creamy and delicious homemade whipped cream?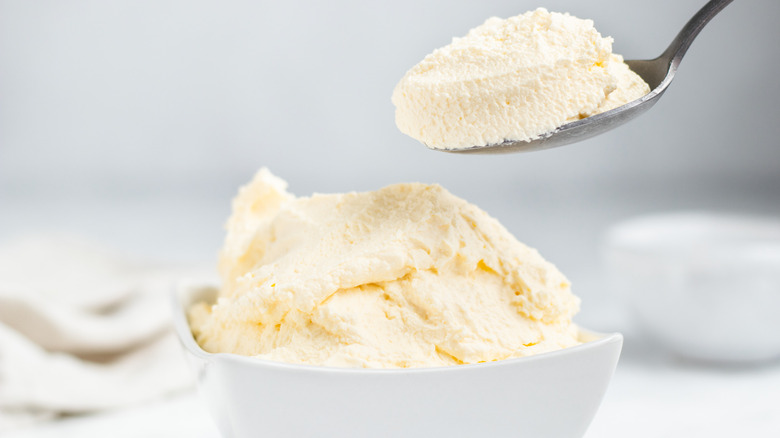 Ingredients
1 cup heavy cream
2 tablespoons powdered sugar
½ teaspoon vanilla extract
Directions
Combine all ingredients in a bowl.
Whip the cream using an electric hand whisk or stand mixer on low speed.
After a few minutes of beating, change to high speed.
After 5 to 7 minutes of beating, and once there are stiff peaks, the whipped cream is ready.
Nutrition
| | |
| --- | --- |
| Calories per Serving | 148 |
| Total Fat | 14.7 g |
| Saturated Fat | 9.1 g |
| Trans Fat | 0.0 |
| Cholesterol | 54.3 mg |
| | |
| --- | --- |
| Total Carbohydrates | 3.8 g |
| Dietary Fiber | 0.0 g |
| Total Sugars | 3.8 g |
| Sodium | 15.2 mg |
| Protein | 0.8 g |