IHOP's Secret Menu French Fry Omelet Is For Vegetarian Foodies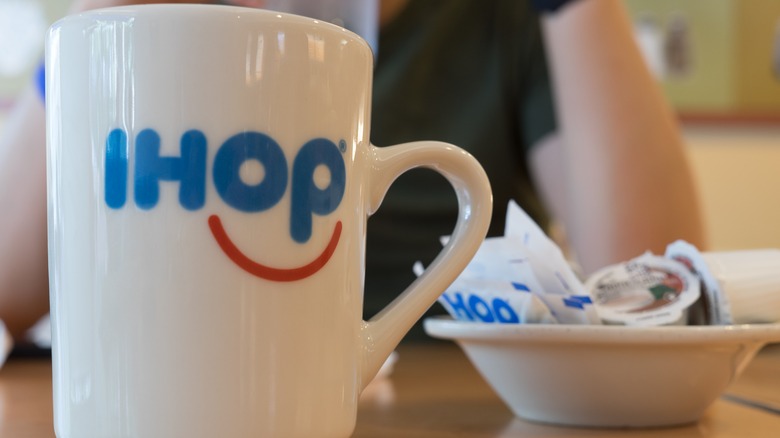 Niko Natsuki/Shutterstock
Despite being known for its wide assortment of pancakes, IHOP definitely does cater to the meat lover, with sausage, bacon, and ham being popular side additions to the classic breakfast spread. It only recently released plant-based sausage patties, which it also integrated into the menu of its New York City Flip'd location, where it served up a Plant Based Cali Sandwich (via Fox Business). 
Complete meals at IHOP that are both vegetarian and high in protein are few and far in between — aside from its protein pancakes and omelets. And, while these versatile egg meals are certainly not boring — with it releasing the cheeseburger omelet last year — many of the variations are not vegetarian. However, it was definitely extra in all sorts of ways — with ground beef, tons of cheese, and pickles sprinkled in and throughout. 
People who don't eat meat don't need to be excluded from the fun, though, because there actually is a secret menu item that will elevate a normal IHOP omelet tenfold.
This french fry omelet is the perfect IHOP brunch item
According to Cheapism, the onion-and-french fry omelet is a budget-friendly meal that is loaded with onions and crispy potatoes, with Swirled calling it a "hash brown omelet." 
In the past, IHOP has made other specialty vegetarian omelets such as the Spinach & Mushroom Omelet, which can be customized according to a diner's nutrition and fitness goals. But some people on the International House of Pancakes Facebook page had less than glowing opinions of the dish, with commenters saying things such as "Don't like spinach or mushrooms only cheese and ham!" and "That looks so Gross, Loose the Shrooms and add cheese" on a picture of the menu item. 
Meanwhile, the onion-and-french fry omelet has consistently been a hidden fan favorite. Though Junk Food Blog makes it clear that it might not be the healthiest choice, it does take the best of both breakfast and dinner by combining two menu classics — french fries stuffed inside an onion omelet — making it well worth a try on your next IHOP visit.