Classic Swedish Pancakes Recipe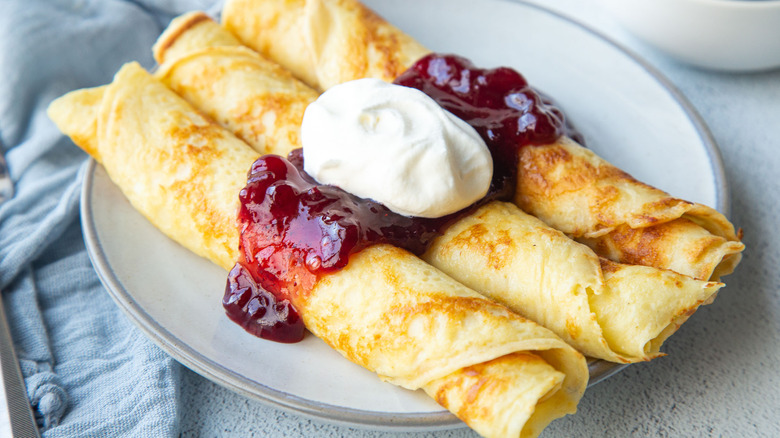 Kate Shungu/Mashed
If you're a fan of breakfast fare, then there's a good chance that you'd enjoy classic Swedish pancakes. Unlike American pancakes, Swedish pancakes are light and thin, somewhat resembling a French crêpe. These thin pancakes are often served rolled up, and the pancakes themselves don't have too much sugar, making them a great breakfast option for those with or without a sweet tooth. And, if you happen to fall into the latter category, you can top your pancakes off with sweet toppings, like whipped cream or classic lingonberry jam to really up the ante. 
Recipe developer Kate Shungu has graced us with this classic Swedish pancake recipe, and it's one that will no doubt elevate your homemade brunch. "I love how easy yet impressive these pancakes are — they look fancy, but they're made with just a few pantry and fridge ingredients," Shungu says. Indeed, you will need only 6 ingredients to whip up the pancakes themselves, and just 2 more to really make them an Instagram-worthy dish. If you're ready to switch things up from big, fluffy American pancakes, this Swedish rendition is just the solution.
Gather the ingredients for classic Swedish pancakes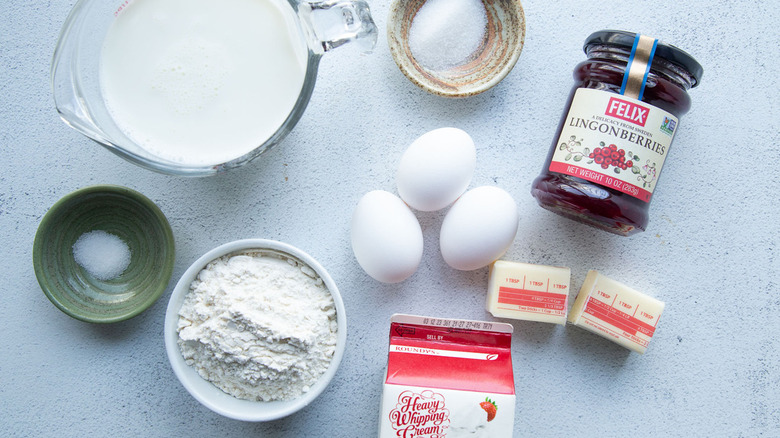 Kate Shungu/Mashed
To make the Swedish pancake batter, all you need is some butter, eggs, milk, flour, sugar, and salt. Now, Swedish pancakes wouldn't be quite as iconic without that lingonberry topping, and though it's technically optional, it's one that Shungu really insists on using. "The key here is serving the pancakes with lingonberry jam, which is popular in Sweden," she explains. Whipped cream is also a topping you can't go wrong with, and you can simply whip some up with a little bit of heavy whipping cream.
Mix the pancake batter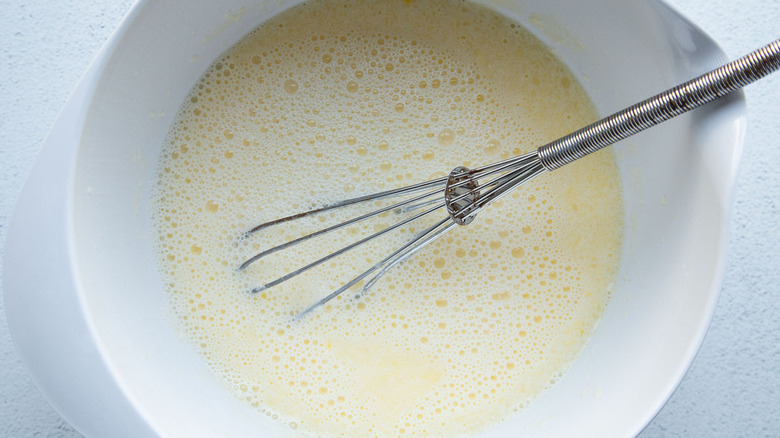 Kate Shungu/Mashed
To get started on the batter, melt 3 tablespoons of butter, and pour it into a large mixing bowl followed by the eggs and milk. Whisk everything together until smooth. Next, whisk in the flour, sugar, and salt until you have a smooth, cohesive batter.
Cook the pancakes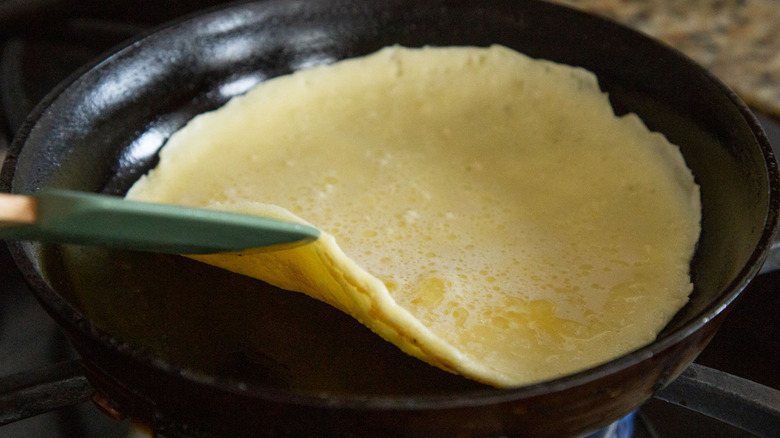 Kate Shungu/Mashed
Melt 1 teaspoon of the remaining butter in an 8-inch skillet, then pour in ⅓ cup of the pancake batter. Tilt the pan to spread the batter all across the bottom. Cook the pancake for a minute or 2 initially, until it is barely browned on the bottom. Flip the pancake and cook for a minute more, just until that side is slightly browned. "Take care that the pan doesn't get too hot. If it does, the butter will brown before you can add the pancake batter," Shungu advises. "To fix this, just wipe out the pan in between each pancake, and lower the heat as needed."
Once the pancake is fully cooked, remove it from the skillet, and carefully place it onto a plate. As you cook and stack more pancakes, it's a good idea to place a sheet of parchment paper between each one to prevent any sticking. Continue cooking the pancakes, adding more butter to the skillet as needed. 
Top the Swedish pancakes with lingonberry jam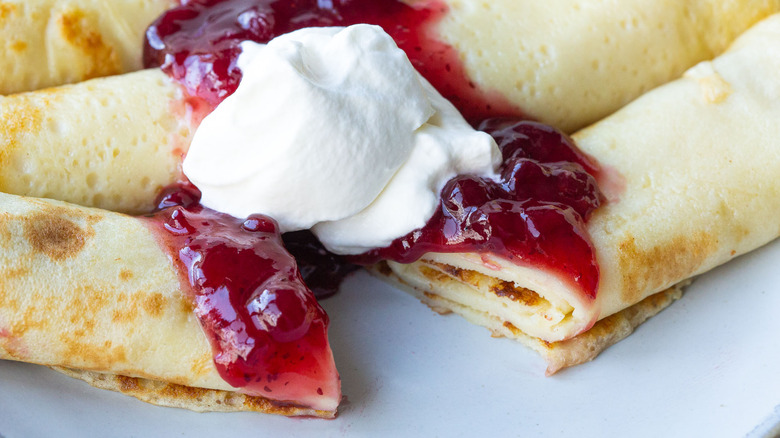 Kate Shungu/Mashed
Once you're ready to serve the pancakes, either roll them up or fold them into quarters. Then, top them off with that perfectly-tart, sweet lingonberry jam — if it's good enough for IKEA meatballs, then it's certainly good enough for these Swedish pancakes. If you're feeling up to it, you can also whip up some whipped cream, and give your pancakes a dollop of that. These pancakes are great on their own, though Shungu does note that "A side of fresh fruit, and a savory dish, such as bacon or breakfast sausage, would be delicious with these."
Classic Swedish Pancakes Recipe
Ditch the fluffy, American-style pancakes for this Swedish pancakes recipe topped with lingonberry jam.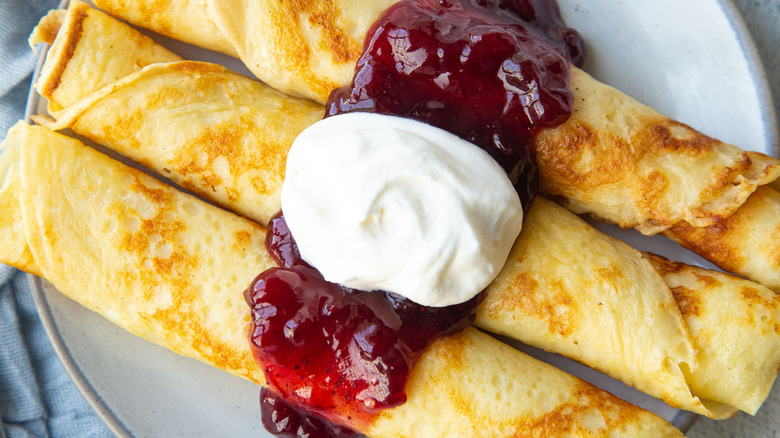 Ingredients
6 tablespoons butter, divided
3 eggs
2 cups milk
1¼ cups all-purpose flour
2 teaspoons sugar
¼ teaspoon salt
Optional Ingredients
lingonberry jam, for serving
whipped cream, for serving
Directions
Melt 3 tablespoons of butter, and place it in a large bowl. Add the eggs and milk, and whisk until smooth.
Whisk in the flour, sugar, and salt.
Melt 1 teaspoon of the remaining butter in an 8-inch skillet. Add ⅓ cup of the batter, and tilt the pan until it covers the bottom. Cook for 1 to 2 minutes, or until it's light brown. Flip carefully, and cook for an additional minute.
Remove the pancake from the pan, and place it on a large plate. Continue the process with the remaining butter and pancake batter. Place pieces of parchment paper or wax paper in between the pancakes to prevent them from sticking together.
When you're ready to serve, roll the pancakes or fold them into quarters. Optionally top with lingonberry jam and whipped cream.
Nutrition
| | |
| --- | --- |
| Calories per Serving | 169 |
| Total Fat | 9.9 g |
| Saturated Fat | 5.7 g |
| Trans Fat | 0.3 g |
| Cholesterol | 71.2 mg |
| | |
| --- | --- |
| Total Carbohydrates | 15.2 g |
| Dietary Fiber | 0.4 g |
| Total Sugars | 3.4 g |
| Sodium | 98.7 mg |
| Protein | 4.8 g |