Paris' Oldest Café Was A Regular Thomas Jefferson Hangout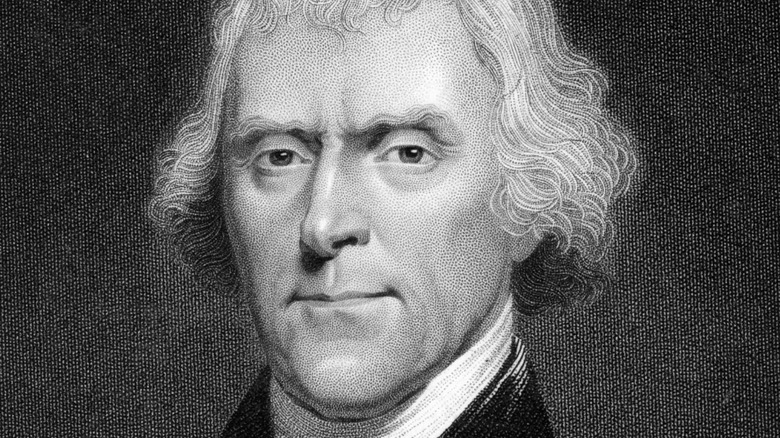 Print Collector/Getty Images
One thing that Europe has over the United States is history. For example, in Salzburg, Austria, you can dine in a restaurant that's over 1200 years old, while Germany and the U.K. have eateries dating back to the 12th century. France, too, has a 14th-century tavern in Rouen, but the oldest café in Paris, Le Procope, is a relative newcomer. It was founded in 1686, which makes it 13 years younger than Newport, Rhode Island's White Horse Tavern. Still, nearly 350 years of history is nothing to sneeze at, especially as this restaurant has hosted some pretty famous faces in its time.
Among Le Procope's more prominent patrons during the 18th century were philosophers Jean-Jacques Rousseau and Denis Diderot; mathematician Jean-Baptiste le Rond d'Alembert; and writer Voltaire as well as revolutionaries Georges Danton, Jean-Paul Marat, and Maximilien Robespierre. The latter three quite possibly plotted the overthrow of the French monarchy within its walls. In the 19th century, Paul Verlaine sat at a table pondering poetry — and absinthe. Even if you're not up on your French history, there are a few former La Procope patrons whose names you're sure to recognize: Thomas Jefferson, aka POTUS #3, was known to hang out there, as was Mr. $100 bill, Benjamin Franklin.
You, too, can dine where our founding fathers once ate
How do we know that Franklin and Jefferson frequented Le Procope? The restaurant has commemorative plaques attesting to the fact. Hanging in the window is a sign that marks the site where Franklin drafted the 1778 Treaty of Alliance between France and the United States that would see France recognizing the United States as its own country and supporting its fight for independence. Another plaque found within the restaurant was donated by the Virginia Society and states that Thomas Jefferson dined at the restaurant numerous times between 1784 and 1789. During this time, he was the U.S. ambassador to France. His enslaved servant, James Hemings, became America's first French-trained chef.
So what was Jefferson's go-to order at Le Procope? We've been unable to find a record of this, but it seems likely that our former First Foodie may have tried to sample most of what was on the menu. If you'd like to eat like a founding father, we have good news for you! The restaurant retains certain historical recipes on its menu today, including veal stew, coq au vin, braised beef cheek, and the ever-popular calf's head casserole, which dates back to 1686. If you try the last-named dish, you'll have a truly unique dining experience.