This Might Be The Oldest Restaurant In The World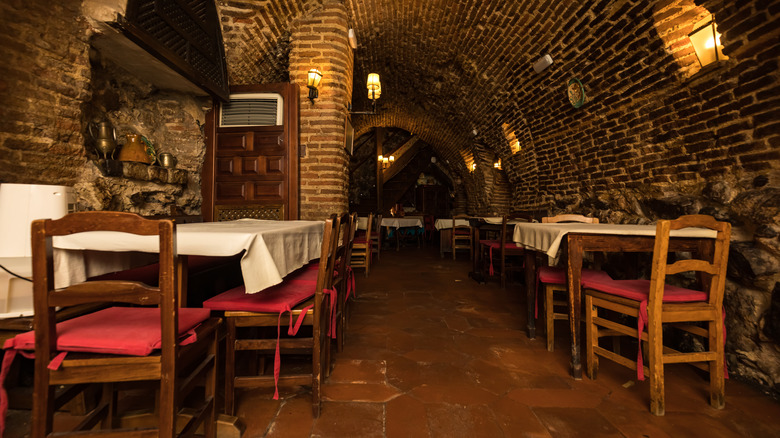 David Benito/Getty Images
Probably one of the most interesting facets of food and restaurants is their history. The invention of recipes and the origins of famous restaurants is quite fascinating when thinking about the countless wars some locations have survived, along with the popular chefs associated with these restaurants. In fact, Guinness World Records is devoted to honoring restaurants that have spanned time, history, and, sadly, ruin. And little did we know, the coveted title of the world's oldest restaurant actually belongs to an eatery located in the heart of Madrid, Spain, called Restaurante Botín, per Guinness World Records. 
The restaurant was made famous in Ernest Hemingway's novel "The Sun Also Rises," and was, reportedly, written about in several F. Scott Fitzgerald books as well, per a YouTube interview with co-owner and general manager of Restaurante Botín, Antonio González. According to CNN, the restaurant was founded by French cook Jean Botín and his wife. Botín first opened its doors in 1725 and until COVID-19 wreaked havoc across the globe and restaurant industry, Restaurante Botín never closed up shop. "When we closed the restaurant during the pandemic, we felt devastated because it never closed before, even during the Spanish Civil War, my grandfather kept Botín open," González told CNN. 
Fortunately, the long-standing restaurant has since resumed taking reservations, per Restaurante Botín's official site. Although Restaurante Botín still holds the record as the oldest restaurant, there may be a slight discrepancy as to the title-bearer of the oldest restaurant.  
Other restaurants date back even further than Botín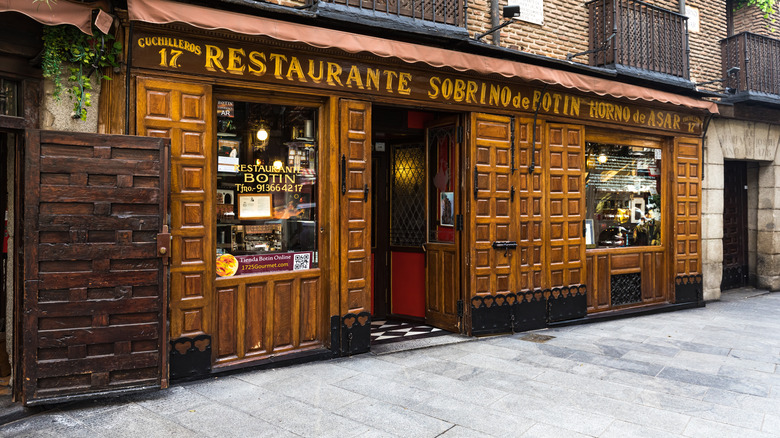 David Benito/Getty Images
According to Travel+Leisure, Restaurante Botín isn't the oldest restaurant still serving people today. In fact, on the outlet's list of 10 oldest restaurants, a Slovenian restaurant rounds out the list at number 10, having opened in 1467. If you're doing the math in your head, that's more than 250 years before Restaurante Botín opened. Coming in ninth place is a restaurant in Japan that opened just two years earlier in 1465.
The timeline continues to jump back through history regarding Travel+Leisure's top five oldest restaurants, with most of the dining spots opening during the 12th century. But the one restaurant the travel magazine deems as the oldest is St. Peter Stiftskulinarium, which opened in 803. The Austrian restaurant has served famous musicians and actors stretching through time, including classical music composer Wolfgang Amadeus Mozart and actor and director Clint Eastwood, per Travel+Leisure. That's quite the impressive guest list, underscoring the fact that some restaurants truly traverse time, talent, and generations. 
Regardless of records and titles, there are plenty of authentic eateries to add to your travel bucket list. Whether you're a history buff or you love literature and music, many of these historic restaurants should satisfy your appetite and wanderlust.