Lemon-Herb Chicken Quarters Recipe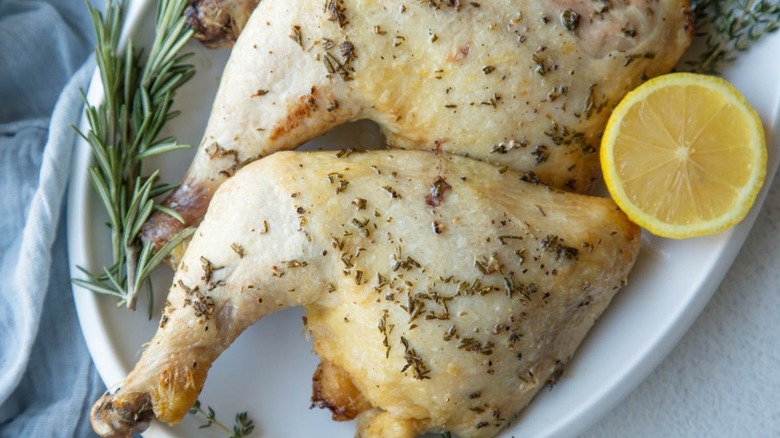 Kate Shungu/Mashed
Recipe developer Kate Shungu feels that "chicken quarters are under-utilized because people often prefer to purchase drumsticks and thighs separately." In her experience, though, quarters are less expensive, making for what she calls "a great way to save money at the grocery store." In addition to being budget-friendly, she also notes that they're "really juicy and tender" and tells us that "roasting them in the oven is a simple way to prepare them that doesn't take a lot of effort."
If you're not a fan of dark meat, you can certainly use this same recipe for chicken breasts, as well. Not the boneless, skinless kind, but the bone-in ones. "Depending on the size of the chicken breasts," Shungu cautions, "you'll likely need to increase the cooking time." Breasts, however, don't need to reach such a high temperature as thighs. Shungu says the thighs won't be cooked through until the internal temperature reaches 170 F, but breasts are done at 165 F.
Assemble the ingredients for the lemon-herb chicken quarters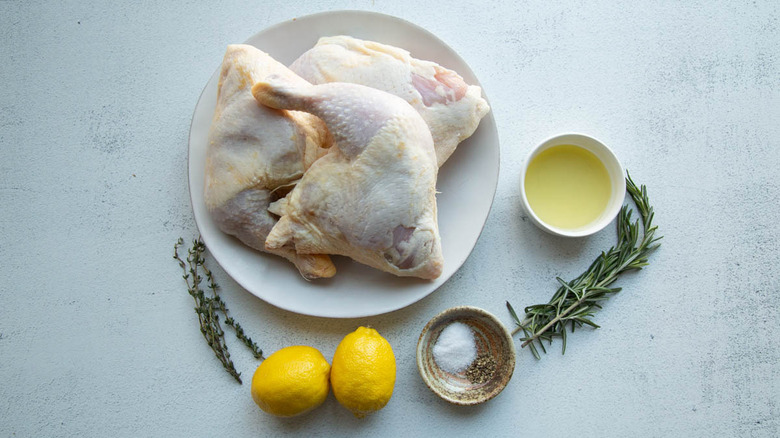 Kate Shungu/Mashed
In addition to chicken quarters, you'll need olive oil, lemon juice (from fresh lemons), and herbs to flavor them with. Shungu uses fresh rosemary and thyme, but dried will do in a pinch. You'll also need both salt and pepper, but that's it, just 7 ingredients in all.
Make the lemon-herb oil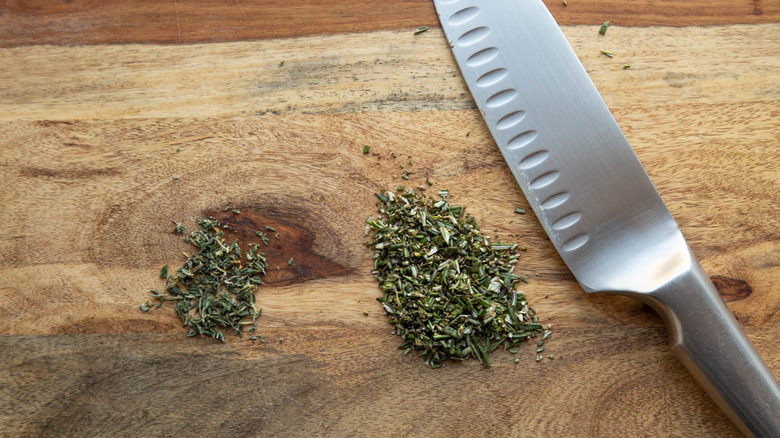 Kate Shungu/Mashed
Before you make the oil that flavors the chicken, you'll first need to squeeze the lemons and measure out the necessary amount of juice. Depending on the size of the citrus, Shungu says you might only need a single lemon, but it could take 2. If you're using fresh herbs, you'll need to chop those, too. If you need to make a substitution here, though, Shungu says, "You can use half the amount of dried herbs in place of the fresh." Once you've prepared the ingredients, combine the lemon juice and herbs with the oil.
Dip the chicken in the oil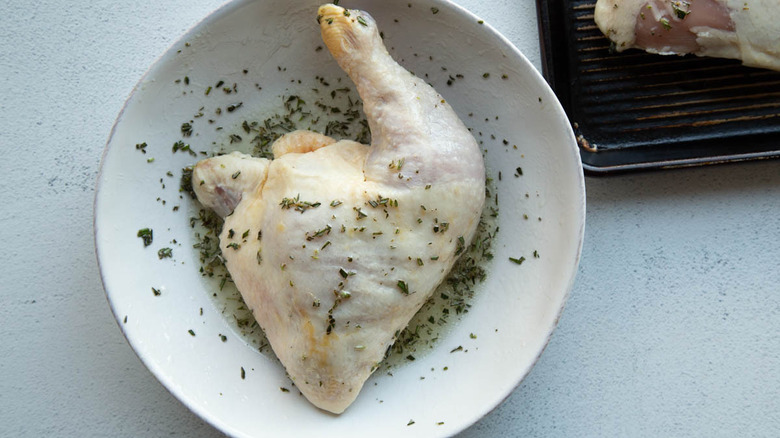 Kate Shungu/Mashed
Pour the lemon-herb oil into a shallow plate or dish, then dip each chicken piece until it is coated on both sides. As an alternative, you could also brush the chicken skins with the oil. Put the chicken into a baking pan, being careful not to crowd the pieces, then sprinkle it with salt and pepper.
Bake the chicken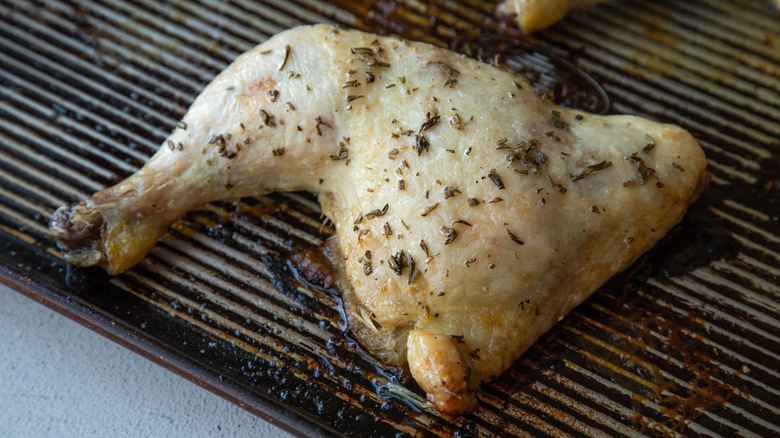 Kate Shungu/Mashed
Bake the chicken for 40 to 45 minutes or until it reaches 170 F when you insert a meat thermometer into the thickest part. At this point, it's ready to eat, although you may want to add a few sides like rice and a green salad.
Shungu notes that this chicken can be reheated in the oven to crisp up the skin, although leftovers are good cold, too. You can also re-purpose any uneaten chicken the same way you would leftover rotisserie chicken – use it to fill enchiladas, make chicken salad, or as the base for a soup.
Lemon-Herb Chicken Quarters Recipe
This recipe transforms an affordable, underutilized piece of dark meat chicken into a juicy and tender dish with zesty lemon and fresh herbs.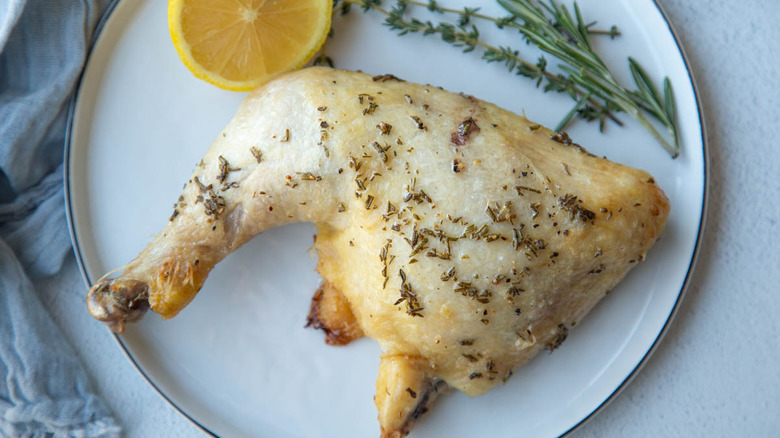 Ingredients
3 tablespoons olive oil
3 tablespoons lemon juice
2 tablespoons chopped fresh rosemary
1 tablespoon chopped fresh thyme
3 pounds chicken leg quarters
1 teaspoon salt
¼ teaspoon black pepper
Directions
Preheat the oven to 400 F.
Combine the olive oil, lemon juice, rosemary, and thyme.
Dip each chicken leg quarter into the oil, coating it on both sides.
Sprinkle the chicken with salt and pepper.
Bake the chicken for 40 to 45 minutes or until the internal temperature is 170 F.
Nutrition
| | |
| --- | --- |
| Calories per Serving | 1,096 |
| Total Fat | 86.0 g |
| Saturated Fat | 21.7 g |
| Trans Fat | 0.3 g |
| Cholesterol | 421.8 mg |
| | |
| --- | --- |
| Total Carbohydrates | 2.4 g |
| Dietary Fiber | 0.4 g |
| Total Sugars | 0.4 g |
| Sodium | 1,126.7 mg |
| Protein | 74.4 g |