I Shopped At Aldi For The First Time And I Think It's Overhyped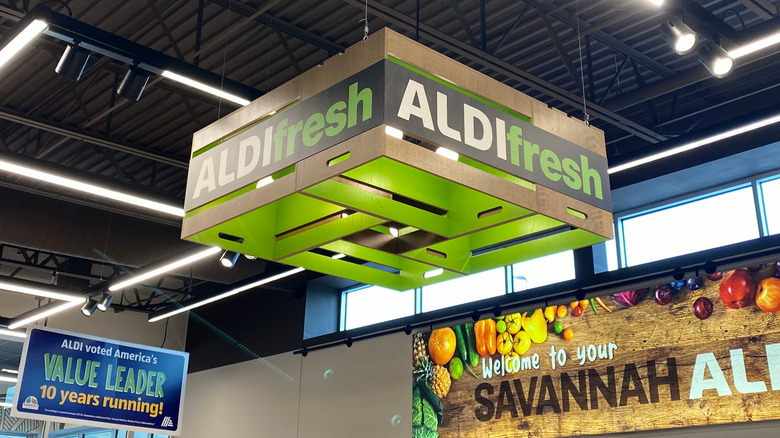 Kevin Chen Images/Shutterstock
For years now, I've been hearing friends and family members talk about their Aldi experiences, both good and bad. While many people have proudly added the German discount supermarket chain to their shortlist and consider themselves lifelong loyalists, others have criticized its lackluster offering. I've always been one to have to try things out for myself, and I generally take people's positive testimonials more seriously. After all, in 2022, the PG 100, Progressive Grocer's annual survey that ranks the top food retailers in North America, placed Aldi at no. 24, just a few notches above its longtime rival, Trader Joe's. I decided to venture out and head to my nearest Aldi this past weekend. 
First and foremost, the prices were unbelievably low. For instance, a dozen eggs cost $3.68, which is extremely reasonable for today's sky-high egg rates. Fruit cartons, fresh veggies, and loaves of bread were all well under $5 per unit. There was even a Seamazz brand whole-cooked North Atlantic lobster for $10.99. I must have muttered, "No way!" under my breath at least 30 times. Truth be told, I do understand some of the hype behind the Euro-based grocer, but I also found a handful of aspects to be both eye-roll and panic-inducing.
It costs a quarter for a cart but the floor layout is simple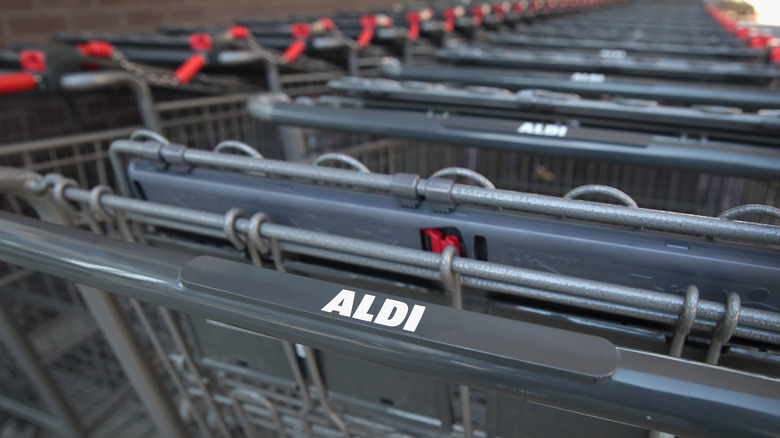 Scott Olson/Getty Images
When I arrived, I had forgotten the rumor I had heard about Aldi's shopping carts costing a quarter to rent, not to mention complimentary bags are not provided at checkout. I brought my own reusable shopping bag because A) I wasn't sure how much I would buy, and B) I'm used to carrying one around with me whenever I go shopping. I didn't have any change on me (as I hardly ever do), so I awkwardly asked an associate if I could borrow a quarter from the register to rent the shopping cart. Thankfully, she handed me one and instructed me to simply give it back when I'd finished with it. Shoppers do indeed get their quarter back once they return their cart, but the system is beyond frustrating. A quarter for a cart? What's the point? What if the cashier hadn't been so kind to lend me one?
After the cart fiasco, I began exploring the aisles and was pleasantly surprised by the sheer simplicity of the layout. Even the light brown tile floor boasted an unexplainable coziness. This Aldi was unpretentious, and every segment was clearly labeled: condiments, jams and spreads, spices, produce, deli, coffee, tea, soup, pasta, sauces, and so on. There were very few, if any, in-your-face advertisements clearly pushing impulse buys, let alone promoting any particular brand. But, the products I came across were recognizable enough to speak for themselves. But simple or not, the layout wouldn't be easy to navigate if I didn't have a cart...
Aldi's own-brand packaging was confusing but the products are great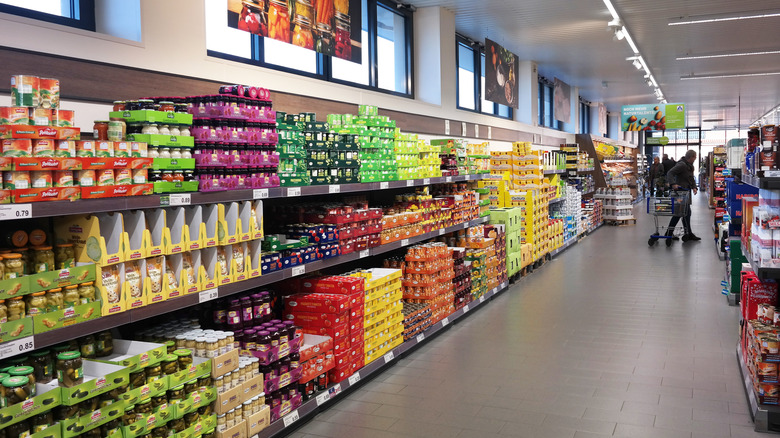 defotoberg/Shutterstock
I'm the type who veers toward the lowest prices without sacrificing quality. As with plenty of markets, a lot of popular name-brand products were placed directly next to Aldi's store brands, but here, it seemed the latter was a mockery based on Aldi's nearly identical packaging and logos — like some sort of ploy to trick me into buying their products over brand names. For instance, stacks of PurAqua Belle Vie sparkling water (which had appetizing flavors like Pineapple Strawberry and Cherry Lime) were adjacent to the all-too-familiar LaCroix. Millville Toaster Tarts were beside the Pop-Tarts. Summit Diet Cola neighbored Diet Coke. But, I tossed only private-label products into my cart: Pineapple Strawberry Belle Vie sparkling water, Clancy's potato chips, Peanut Delight peanut butter, and yes, Willow toilet paper.
I have to admit, I chuckled when I saw the Millville Frosted Flakes boxes' polar bear mascot in lieu of Tony the Tiger. As it turns out, some of these private-label products are genuinely just as good as the big-name brands. In fact, I poured myself a bowl of Aldi's Honey Nut Crispy Oats when I got home, and I'd be lying if I said they tasted different than my beloved Honey Nut Cheerios (which were available, too, but for $4.33 as opposed to $2.19 for their dupe). The water, chips, PB, and TP? All shockingly excellent quality. I would fail a blind taste test — for the edible products, that is.
The Aisle of Shame had some weird products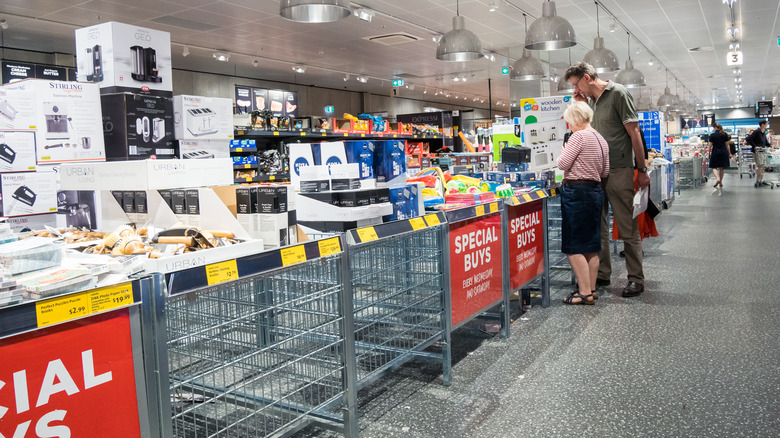 Nils Versemann/Shutterstock
The Aldi Finds aisle — also known as the "aisle of shame" — was chock full of limited-time-only goods. Some of the non-food products were admittedly out of left field: seat cushions, coffee-scented candles, fake miniature plants, greeting cards, exercise balls, dog collars, hammocks, and ... children's winter boots? There was even an Aldi playset for kids. I guess there weren't any "live, laugh, love" signs, which was refreshing. I was pretty weirded out by this section but can totally understand why people, presumably maximalists, love the haphazard merchandise.
Every Wednesday, Aldi stores restock these shelves with new products, ranging from kitchenware, home décor, cosmetics, apparel, snacks, pantry goods, and everything in between, according to Scott Patton and Joan Kavanaugh, Aldi's vice presidents of corporate buying (via CookingLight). You can even scope Aldi's website to see what's in stock for that week, which is a fun little tip.
Yet another thing I knew about Aldi but had never taken advantage of was its impressively affordable wine selection. When it comes to vino, I seldom seek out the prettiest label or most luxurious description. Will it get the job done? Sign me up! The last item I snagged was a bottle of the Peaks & Tides Cabernet Sauvignon, which cost a whopping $12. That evening, I poured myself a glass (to the rim because YOLO) and, as I had hoped, it tasted like perfectly palatable fermented grape juice. Aldi wine FTW!
The checkout process at Aldi was overly stressful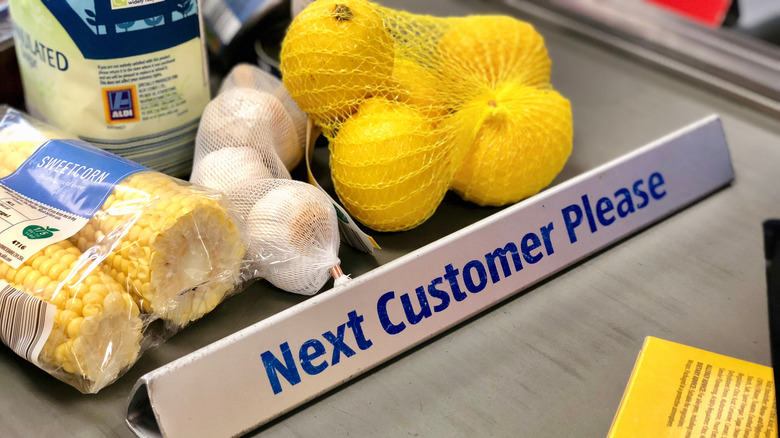 photocritical/Shutterstock
Time to check out! The place wasn't crowded for a Saturday afternoon, but there was one register open, which was concerning. Perhaps this allowed associates to perform other tasks around the store? When it was my turn to set my items on the belt, the cashier very speedily scanned my items and tossed them into the empty cart at the end — other than the bottle of wine, which would've been disastrous. The motion wasn't aggressive, but I could hardly keep up and was awfully confused by the cart situation. Why was the cashier putting my groceries into a different cart when I had my own?
Before I could pull my wallet out, the cashier rattled off my total: $28 for 15 items! As I packed up, the next customer was already checking out. There was a shelf along the wall to get situated — or, as we say in Milwaukee, recombobulated. The entire checkout process was quick but unnecessarily fast. I returned my cart to the corral and handed the borrowed quarter to the cashier. I almost forgot as I was frazzled from checking out. I'll never understand why Aldi carts cost $0.25.
These quirks may take some acclimatization. Apparently, the cart rentals, charging for bags, and streamlined staff allow Aldi to keep prices jaw-droppingly low. I'd say it's a fair tradeoff, but not enough to make it my go-to store.