The Real Reason You Should Only Shop At Aldi On Wednesdays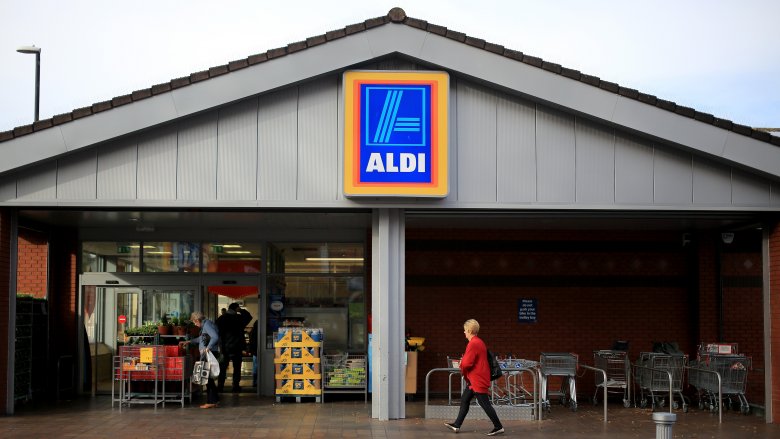 Matt Cardy/Getty Images
For more than 40 years, Aldi has delivered good quality products at ridiculously low prices, but the chain is also known for introducing specialty items that fly off the shelves almost as quickly as they come in. If you don't want to miss out on these one-time only products and make sure you're taking advantage of the lowest prices Aldi has to offer, we're letting you in a shopping hack revealed by Aldi's corporate headquarters. The best day of the week to shop at Aldi is on Wednesday (in most markets).
Wednesday is the best day of the week to head to the stores because that's when Aldi rolls out its newest items at the best prices. We're talking 40 to 50 new specialty items packing the shelves at your local stores (via Delish). These limited stock items are known as Aldi Finds and if you want them, Cooking Light says you better show up early. Aldi sends in only a certain number of each item and once those items from the Aldi Finds section are gone, they're gone forever. Aldi says these items are ordered months in advance and there is no way to predict how popular an item will be. Want to be prepared before you leave the house? Aldi posts all of their weekly ads on their website, so you'll know what kind of Finds to expect before you even get there.
You never know what you'll find in the Aldi Finds section. They stocks their shelves with items for all aspects of living from camping gear and home design to car accessories and kitchen gadgets. Seasonal items are also a big perk. You might find great sales on college dorm decor and lunchboxes for back to school. Or fun pool floats in the summer. Holiday season also brings gifts with prices that seem too good to be true. Aldi Vice President Scott Patton says the reason the store is able to offer these quality product lines at such low prices is due to the "suppliers focus on producing the single best item they can, keeping costs low by not making multiple varieties of the same item itself."
Don't be surprised if Aldi puts a limit on how many you can buy, though. If an item is selling extremely well and they don't want to run out too early, Aldi says each store has a right to max out your purchase, meaning you may not be able to cram your cart with as many as you can fit. There is one glimmer of hope if you stumble upon an Aldi Find that you just can't live without: Some Finds are put on the shelves as test items to see how well they do. Those items that sell well may be added permanently to Aldi shelves, but since you won't know that at the time, if you want to be one of the lucky ones to snag a limited time item, set your alarm. Sales wait for no one. 
Aldi Finds aren't the only reason to hit up the German-born store on Wednesdays. Eat This, Not That shared inside secrets from an Aldi employee who said that on Wednesdays shoppers can take advantage of the "produce picks of the week." Pineapples are a prime example of produce that gets marked down, and you can score one for only $1. If you're an avocado fan, you'll definitely want to head to the store on Wednesday where you might find them on sale for just 69 cents each. Even if they aren't quite the ripeness you're looking for, grab a few. You can always speed up the ripening process at home. 
Before you put your car in drive and speed on over to the nearest Aldi, remember a couple things: You'll have to bring your own grocery bags. If you don't, it'll cost you. Aldi doesn't give away their bags for free. It's one of the many reasons they're able to keep their prices so low. And lastly, if you live in a rural area, your new items may actually roll out on Sundays. Be sure to call your nearest store to confirm. It'll be heartbreaking if you miss out on these amazing products because you showed up too late.