14 Foods That Surprisingly Pair Nicely With Hot Sauce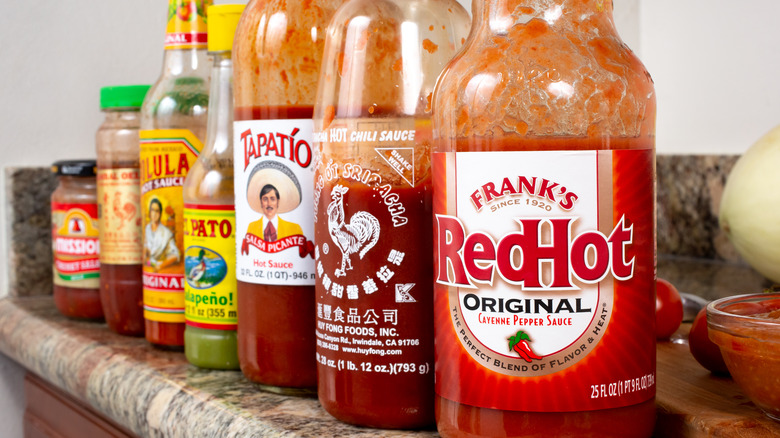 The Image Party/Shutterstock
Hot sauce fans love to spice up as many dishes as they can. In the U.S., hot sauce is becoming hugely popular as the go-to condiment, with sales rocketing in recent years. There're even gourmet hot sauces with incredible ingredients, quirky names, and cool designs. An example is the California-based small-batch brand Char Man, which is based on an old legend and features delicious slithers of charred fire-roasted habaneros.
From Sriracha to Tabasco, and Cholula to Tajin, Chamoy, Tapatio, and the orange-colored Yellowbird, the world of hot sauces is a flavorful culinary exploration awaiting your taste buds. You don't need anyone to tell you how great hot sauce is with Buffalo wings. However, there are so many other foods that benefit from some spicing up, and you may find they pair surprisingly well with hot sauce. For inspiration, here are 14 for you to try and oodles of variations as well. Of course, why stop here when you can experiment will all types of weird and wonderful hot sauce combinations? The world of flavor experimentation is your oyster (but you might want to put some hot sauce on that).
1. Ice cream
The idea of hot sauce and ice cream might initially give you the chills. However, the heat of the topping contrasts dreamily with the cold creaminess of ice cream. The easiest way to try this is to literally drizzle your favorite hot sauce on a spoonful of ice cream. You don't want to commit to dousing scoops with the spicy stuff until you know whether you're a fan or not.
If you want to really taste some fire, try making deep-fried ice cream in a crunchy chili crust with hot sauce and chocolate drizzled on top. Scoop balls of ice cream into plastic wrap and freeze. Smash Flamin' Hot Cheetos to crumb size and blend with Paqui One Chip Challenge seasoning (or another hot chili pepper seasoning as a substitute). Dip the frozen ice cream balls in flour, then whisked egg, then the fiery crumbs and freeze for a little longer. Then deep fry the balls in hot oil until browning and crispy on all sides. To finish, melt some chocolate in a bain-marie along with a good glug of hot sauce. Drizzle the sauce all over your fried ice cream balls along with any other toppings your spicy sweet tooth desires. You could stick a Lil' Nitros hot gummy bears on top if you dare. 
Another idea is combining Frank's RedHot Original Cayenne Pepper Sauce with peanut butter, condensed milk, and double cream to make a spicy homemade ice cream, even better when sandwiched between two cookies. 
2. Brownies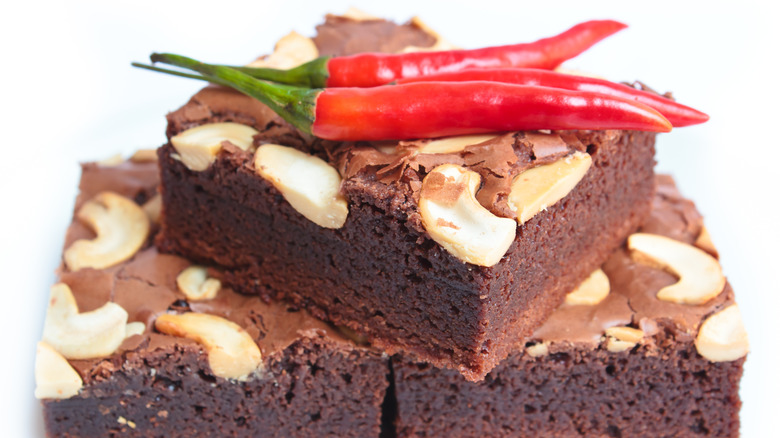 Tachjang/Shutterstock
A scoop of vanilla ice cream or a dollop of whipped cream is the perfect pairing with a rich chocolate brownie. The cool creaminess of the dairy cuts deliciously through the gooey pastry. However, what also complements chocolate is a bit of heat. It's common to see chili and chocolate together, so why not incorporate some hot sauce into your brownie mix? Start with a good, go-to gooey brownies recipe and adapt to make them spicy.
You don't need a whole lot of hot sauce either, perhaps just a couple of tablespoons when you make enough batter for roughly 12 brownies. A fun and timely idea suggested by Frank's RedHot is to add some mini Easter eggs to the batter for some crunch to go with the heat. Spicy brownies with whipped dulce de leche frosting is another winner from Cholula using the brand's original sauce or chipotle for a smokier flavor. Sriracha hot sauce is another brand that has a heat level that's not too high that it's overpowering, making it a great addition to your brownies. 
You could even try different sauces and spice levels. Divide your brownie batter up and add different amounts of hot sauce to each portion. As long as you remember which is which, you can then test how spicy you like them.
3. Eggs
However you enjoy your eggs, a good dash of hot sauce on the side can enhance the flavor, whether that's a small splash of Tabasco on some scrambled eggs or some powerful hot sauce doused on a fried egg. But you don't have to stop there. Deviled eggs lend themselves well to a spicy upgrade. When you're making your next batch, try mashing up the yolk with some hot sauce along with other ingredients to elevate the heat and the flavor.
Spicy egg salad is another game changer. The combo of hard-boiled eggs chopped up in a mustard- and mayo-based sauce with chopped chives is already so good on a sandwich or toast. When you add crispy bacon bits and celery, it takes it to another level. Then, mix in some lemon juice, minced garlic, and cayenne pepper and tie all the flavors together with some Sriracha sauce from Thailand. Once you try it, be prepared to never make egg salad any other way again. 
4. Pancakes
What do you like to add on top of a stack of old-fashioned pancakes? Maybe you like a downpour of maple syrup, some crispy strips of bacon, or possibly some fruit and cream? If you're down with mixing up sweet and savory, and with getting adventurous with your breakfast, adding some hot sauce into the mix might be just the ingredient you need to really wake you up in the morning for a spicy start to your day.
Keep it simple with some pancakes topped with a scoop of ice cream and some hot sauce. Or you could elevate the flavor with a salty, sweet, and spicy savory sensation by adding peanut butter, bacon, and hot sauce. There are plenty of pancake topping combinations you can try. A simple one is stirring some hot sauce into your maple syrup and drizzling that on your breakfast stack for the ultimate wake-up call. Nothing is stopping you from trying out your punchy pancake recipe but make sure you test the taste before committing so your first meal of the day isn't a blowout.
5. Tropical fruit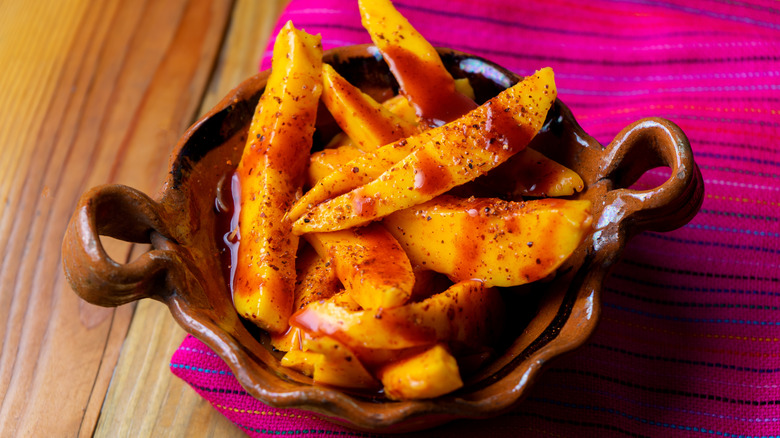 Guajillo studio/Shutterstock
Close your eyes and imagine biting into juicy tropical fruit. You might be imagining lying on a sandy beach with the sun shining and the sea lapping at the shore. The taste of pineapple and mango is sweet and refreshing. What doesn't immediately come to mind is a big dollop of hot sauce. However, if you consider that fruit is used to make plenty of spicy condiments then it's not such a big stretch. Pair a fruit salad with some hot sauce and decide for yourself.
A Thai sweet chili sauce goes wonderfully with citrus fruits too. Make the sauce yourself with fresh chili, chili flakes, and palm sugar, plus shallots and fish sauce. You could also try wrapping chunks of watermelon in fruit roll-ups and freezing, then enjoy these frozen bites with chamoy and a sprinkling of tajin. Instead of watermelon, try filling strawberries with diced mango and kiwi before you wrap them . 
6. Popcorn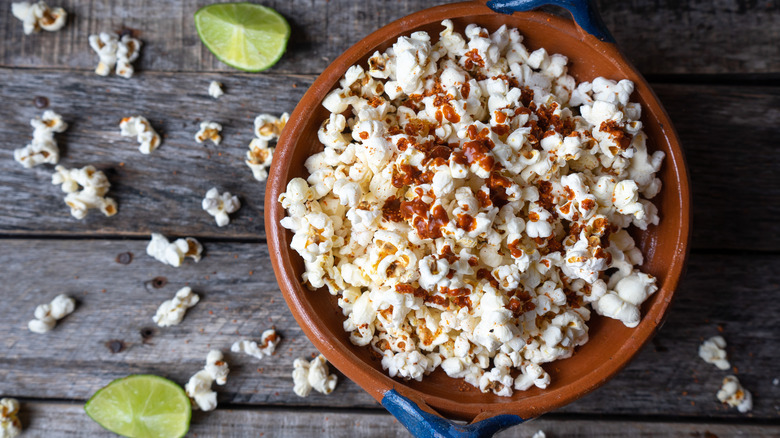 Carlosrojas20/Getty Images
If there's one snack that epitomizes movie night it's got to be a big bowl of popcorn. While there's nothing wrong with straight-up salty or sweet varieties, adding some spice really elevates this timeless treat. If you think about it, you don't balk at the idea of chips with a spicy dip, and the plain taste of the crunchy popcorn is begging for some flavor. Try adding Sriracha hot sauce combined with lime juice and zest to melted butter and mixing it with our homemade air fryer popcorn. Instead of a citrus tang, you can use minced garlic with Sriracha and some salt sprinkled on top. Or make our chili-lime hot sauce. If this sounds like too much effort, then grab a bag of popcorn fresh out of the microwave and sprinkle on some Tabasco. Make sure you shake it up or you might end up with a super-hot mouthful. Maybe you could try dipping your popcorn in a spicy dip, too.
Got to have that classic salty-sweet popcorn taste? Mix popcorn with unsalted nuts. Cover with a glaze made up of Frank's RedHot Original Cayenne Pepper Sauce, golden syrup, and sugar in melted butter with some baking soda. Bake your sticky, nutty, spicy popcorn for 20 minutes and let it cool before digging in. 
7. Skittles
There are food combinations that take you a hot minute to think about. Some pairings sound strange but make sense on some level. Then there are combo ideas that sound way out there. The thought of matching hot sauce with Skittles is one of these, for sure. It's certainly got TikTok fans in a spin with divided opinions. Love it or hate it, you know there's a part of you that wants to try it. Either way, it might be a good idea to have a tall glass of water at the ready just in case you need to get rid of the taste — or just to cool down.
There's no cooking involved here. You can literally just open a large bag of Skittles and pour on however much Sriracha you want, or dare. Dig in with a spoon and eat straight from the bag if you want to save on washing up as well. You could try dividing the candy into different bowls and varying how much Sriracha to add to get the right balance, if that exists. What about trying this culinary experiment with different hot sauces rather than the renowned Thai one? You might be pleasantly surprised by how good this is.
8. Pop Rocks
If you're considering what foods pair surprisingly nicely with hot sauce then Pop Rocks is probably not one of them. Okay, this fizzing candy might not be strictly a food in the traditional sense, but you can't argue that it's a taste sensation. If these two flavors don't sound strange enough together, you can also add a pickle to the mix. Grab a large chamoy, bite off one end, and sprinkle on some Pop Rocks. Try different flavors to see which one tastes the best. You could try different candies too, such as sour strips.
For a variation on the theme, TikToker @dolcepica suggests adding Pop Rocks to slices of dill pickle on a plate. Top each slice with red Fruit Gushers and add some chamoy candy laces. Cover with Cheetos, chamoy liquid candy hot sauce, and chamoy powder. One thing to keep in mind: You might want to seek out an alternative to this Mexican brand if you can't find it or create your own version.
9. Celery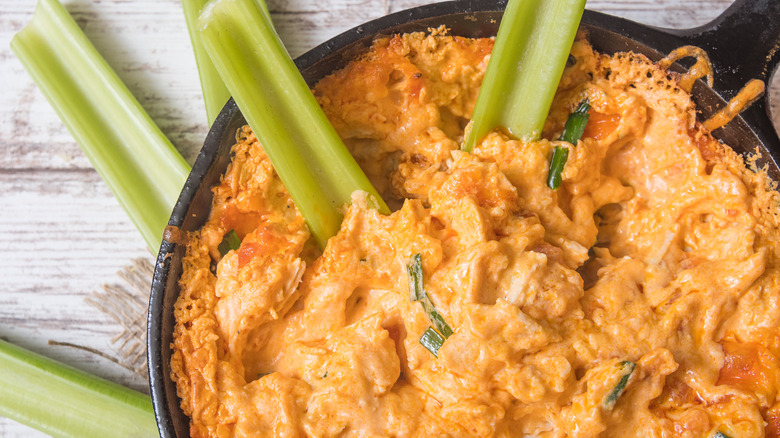 NSC Photography/Shutterstock
Celery is delicious in a creamy soup. And it's wonderful to eat stalks fresh with a delicious ranch dip as part of a pre-dinner crudities selection. Celery is also quite delightful with some cream cheese slathered over it. You can chop celery up and add it to salads, soften it in a stew, or serve it with a cheese fondue. Or if you're watching your calories and want to keep it simple, then you really can't go wrong with a pinch of salt to contrast with the watery taste. You probably haven't thought about what it'd be like with hot sauce. Now's your chance to try it.
You could add drops of hot sauce directly along your celery stalk. Another idea is to mix a few drops of Tabasco with some guacamole and create a spicy dip. Or you might prefer combining celery with some Cholula hot sauce, such as the chili garlic or green pepper varieties. What hot sauce you use depends on how thick or thin you want it and, of course, how much heat you prefer. If you want to quell the spice with a creamy, salty taste, fill the natural channel along the celery stalk with some blue cheese. Drizzle some hot sauce on top of this for a crunchy Buffalo veggie snack.
10. Avocado
Guacamole is made from avocado and it's not such a stretch to pair this vibrant fruit with some heat. Guac is a staple Mexican side dish, served with everything from tortilla chips, to tacos, to spicy nachos. The creamy taste and texture cools down any chili taste perfectly, as does a spoonful of sour cream. If you make our version of guacamole without cilantro then you'll be adding some red onion, cumin, garlic, and chipotle powder for some tangy, smoky, sweet flavors. So it's not as if this avocado dish has to be plain-tasting either.
Or try mashed-up avocado with sea salt and dill spread on toast, with a sliced soft-boiled egg on top. Along with some spicy seasoning, add a few splashes of hot sauce. A great one to try for a luxury taste is white truffle-infused TRUFF Hot Sauce. This gives your high-end breakfast an umami elevation. Alternatively, start the day with pan-fried toasted bread made with olive oil. Add a fan of avocado slices and marry some heat to this dish with a dash or more of Kumana Avocado Hot Sauce. Season and enjoy the simplicity of foods that pair surprisingly well.
11. Cauliflower
Do you remember when cauliflower was seen as a bland vegetable that had a weird odor and was often a mushy, watery mess on your plate? This is partly the fault of school canteens overcooking it. But rather than being tasteless, cauliflower is actually delicious roasted and is amazing with spicy flavors. Try making our Buffalo cauliflower. Coat the florets in a spicy batter and cook on a baking tray. Then coover these with a glaze of honey, melted butter, and Buffalo sauce before putting them back in the oven. Not only is this a great vegetarian snack or appetizer, but you won't miss the meat either — might even find you prefer this version.
You can make it a totally plant-based recipe too. Use almond milk to make the batter and dip them in hot sauce as a glaze. These are perfect for baking in an air fryer, too. For some extra crunch to give the hot sauce some texture, add some crushed tortilla chips to the coating. And perhaps serve with a refreshing lemon tahini dressing to cut through the heat
12. Pickles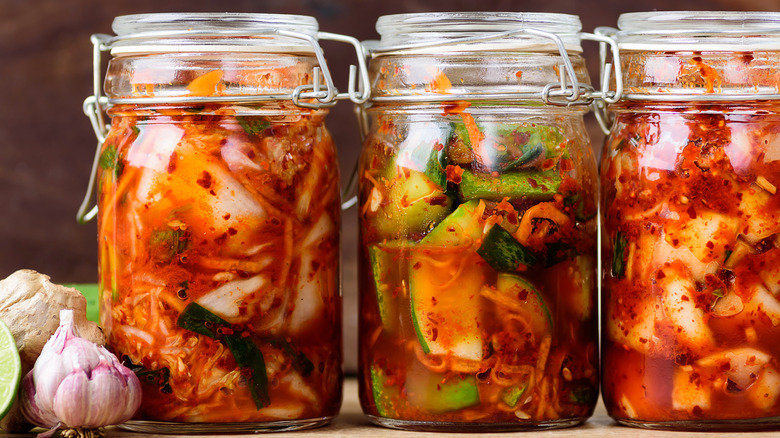 Nungning20/Shutterstock
If you look at our suggestion to pair Pop Rocks and hot sauce, you'll notice that another ingredient in the mix is pickle. If you love pickles and you love hot sauce then this combo is a must. Just thinking about the tangy and sour taste of the pickle, along with its crunchy texture, against the heat of the hot sauce, is a lip-smacking experience. The simplest way to enjoy this is to bite one end off of a dill pickle and literally just add hot sauce on top.
You could also dip a dill pickle in hot sauce and add a chili and lime crunch by then dipping it in Tajin seasoning. There are plenty different varieties of pre-packaged hot pickles to try too, such as the Tapatio Salsa Piquante Jumbo Pickle. And you can always make your own spicy pickles if you haven't got one ready to eat. Soak Hot Cheetos in pickle juice, strain it so that your soggy snacks aren't in the mix, and then pour the now red liquid back into your jar of pickles. Add some chili flakes if you want to up the heat level and let the spicy juice permeate. Or what about making your own pickle hot saucewith cucumbers, fresh dill, and roasted veggies?
13. Peanut Butter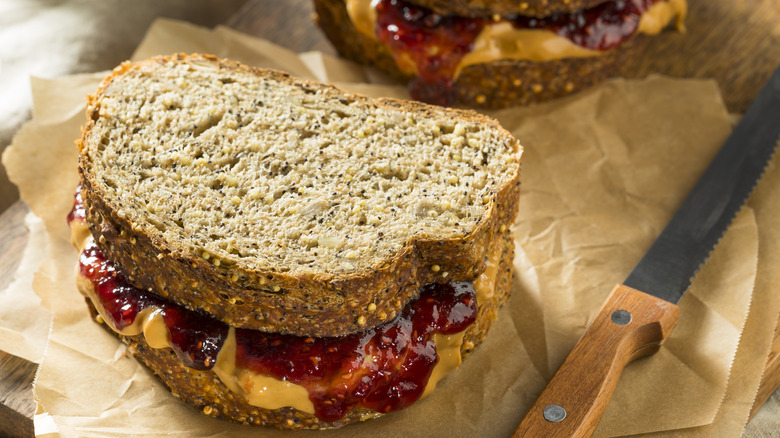 Brent Hofacker/Shutterstock
In the U.S. there may be nothing quite as classic as a peanut butter and jelly sandwich. If you love salty, nutty flavors with something sweet, then you could try doing a 360 and pairing peanut butter with hot sauce for a bit of a spicy kick. Try you next peanut butter and jelly sandwich with a few shakes of Cholula Hot Sauce. Another idea is to just put peanut butter and Sriracha together. Or you could try a peanut butter, hot sauce, and Cheetos sandwich with a tortilla. Why stop there? Peanut butter might go well with a fried egg and hot sauce, too. There's only one way to find out.
Instead of just making a sandwich, you can also spread peanut butter on toast and drizzle on some hot sauce. It's not as odd as it sounds either, since nuts pair so well with hot sauce. Take some nuts and put hot sauce on them before roasting them in the oven. The combo of hot nuts and spicy flavors is the bomb. Maybe you can add some of these to your peanut butter and hot sauce sandwich.
14. Salad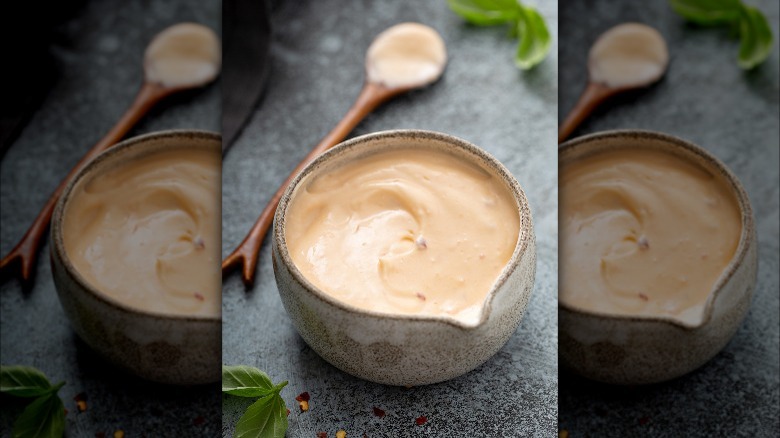 Elena Veselova/Shutterstock
Perhaps the least likely food that pairs surprisingly nicely with hot sauce is a salad. Don't just start dousing a few limp lettuce leaves in a sauce that hits high on the Scoville heat levels. As with any great food combo, it's not what you do but how you do it and the ingredients you use that counts. Think color, texture, and taste. When it comes to adding some heat, forget tangy, red sauces. Try a milder version that works as a salad dressing, such as Bravado's Creamy Herb & Jalapeño Hot Sauce.
Another benefit of using hot sauce in place of dressings such as ranch or blue cheese is that you can make sure it's not too high in calories. Of course, you can also add hot sauce to mayonnaise if you want to create your own creamy, spicy condiment. You might want to try adding some heat to an oil-based salad dressing, too.