Gooey Brownie Recipe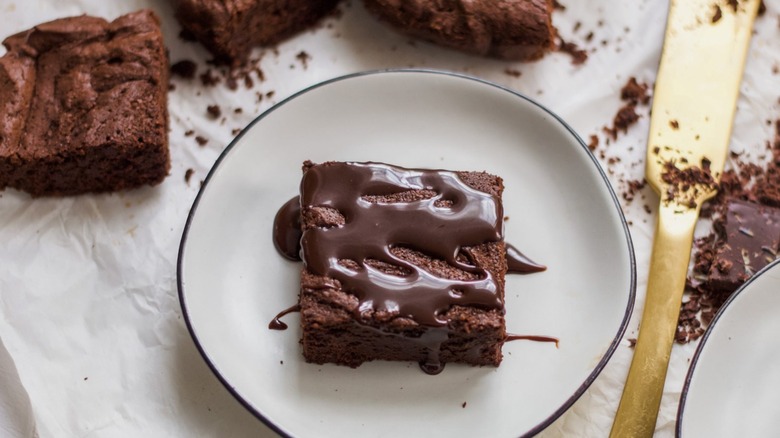 Jaime Shelbert/Mashed
What's ooey, gooey, and brown all over? A fan-favorite dessert that everyone loves: brownies! And we have a mouthwatering recipe that you simply must try within the comfort of your own kitchen. Recipe developer Jaime Shelbert has created this decadent and yet easy to prepare brownie recipe that's sure to please everyone with its sweet, rich flavor.
Did you know brownies were invented in the heart of the Midwest? According to Forbes, in 1893, socialite Bertha Palmer requested a portable dessert to serve to guests of the Columbian Exposition World's Fair in Chicago, and out came the decadent confection we know today. To experience the original recipe in Chicago, you'll need to shell out a pretty penny for a brownie at the famous Palmer House hotel today. But, if a trip to Chicago is out of the question right now, never fear! Shelbert's delicious brownie recipe is more than ready to stand up to the original.
Gather the ingredients for gooey brownies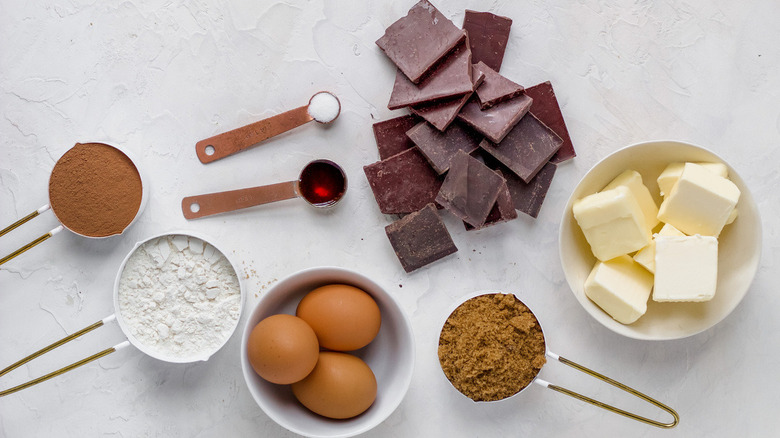 Jaime Shelbert/Mashed
You expect us to say this list is short and sweet, right? Well, you're right, given that even the most satisfying brownies can come together with a pretty simplified list of ingredients. For Shelbert's recipe, bring together 12 tablespoons of butter, 8 ounces of baking chocolate, 3 whole eggs, and ⅔ cups of brown sugar. This recipe also calls for 1 teaspoon vanilla extract, ⅔ cup flour, ⅓ cup cacao powder (as opposed to cocoa, if you can find it), and ¼ teaspoon salt. Easy, right? In fact, you may already have most if not all of these ingredients waiting for you in your kitchen.
As for baking equipment, you will need an 8x8 inch baking dish or pan, a saucepan, measuring cups, a mixing bowl, and parchment paper.
Liquify the chocolate and butter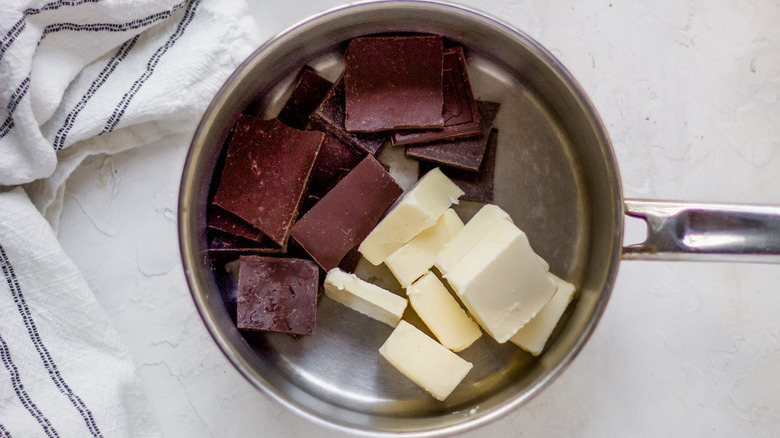 Jaime Shelbert/Mashed
First, take a moment to preheat your oven to 350 Fahrenheit so it's good and ready when you're at the baking stage. As the oven heats up, line an 8x8 inch baking dish with parchment paper and then spray it lightly with nonstick cooking spray. We definitely want to make sure that your brownies will easily release from the pan later!
Next, break your baker's chocolate into manageable pieces (about a square inch or so is fine, but don't fuss too much over the exact size, as it will all get melted down in a few minutes). Then, cut your butter and toss both that and the chocolate into a medium-sized saucepan. We asked Shelbert which brand of baking chocolate is best and she said that "I used Ghirardelli semi-sweet here." Other brands, like Baker's, will work just fine, too.
Heat the chocolate and butter over medium-low heat until they have just melted and become smooth. Stir briefly to combine them and then remove the pan from the heat to let the mixture cool.
Get to mixin'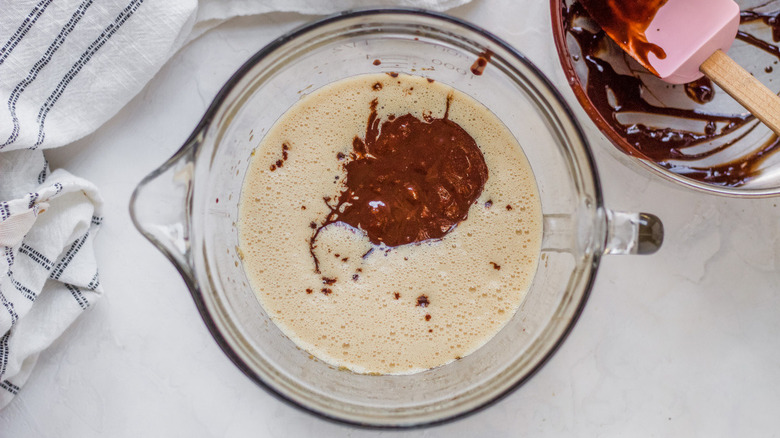 Jaime Shelbert/Mashed
Place the eggs and brown sugar in a mixing bowl. Whip them with a hand mixer on medium for 2 minutes. If you're not a fan of electric mixers, you can take to the old whisk-and-burn method. Don't worry, the burn only happens in your muscles. Be prepared to spend a little more time hand-mixing, though be sure that you don't overmix when you add the flour later, as that can lead to overly tough brownies (and no one wants that).
Once the egg and sugar mixture becomes foamy, add the melted chocolate sauce along with the vanilla extract into the same bowl. Mix these together on medium for about 30 seconds until they're properly combined.
Add in the dry ingredients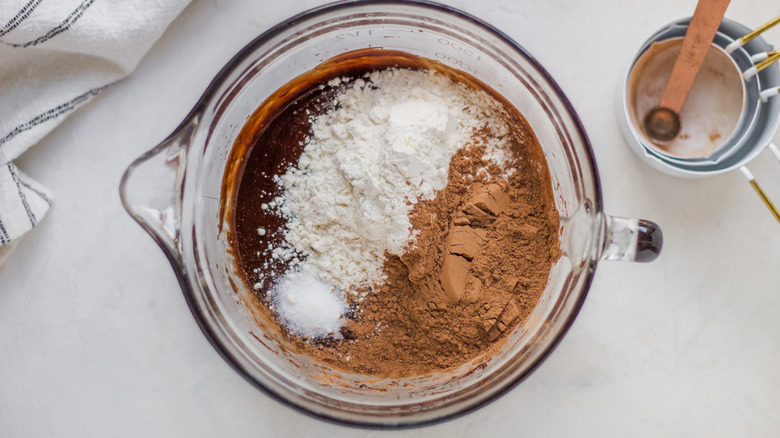 Jaime Shelbert/Mashed
In this final mixing step, pour in the flour, cacao powder, and salt to the mixing bowl. Beat one last time until everything is just combined — remember, don't overmix at this stage, unless you want tough brownies.
If you're like us, you may have tried to guess the difference between cacao and cocoa. The main difference between the two comes down to processing. According to Allrecipes, cacao is made from fermented beans that have not been roasted or are at least processed at relatively low temperatures. Its close cousin, cocoa, comes from cacao beans that have been roasted at high temperatures. Cocoa may also have some additives in the mix, can be less acidic depending on the exact process, and will be less bitter overall. Cacao may also have more nutrients than cocoa. 
But enough science — let's get to the good part! We asked Shelbert the best part of making these decadent desserts. As she said, "I love that it uses simple ingredients that you likely already have on hand in the pantry."
Bake the brownie batter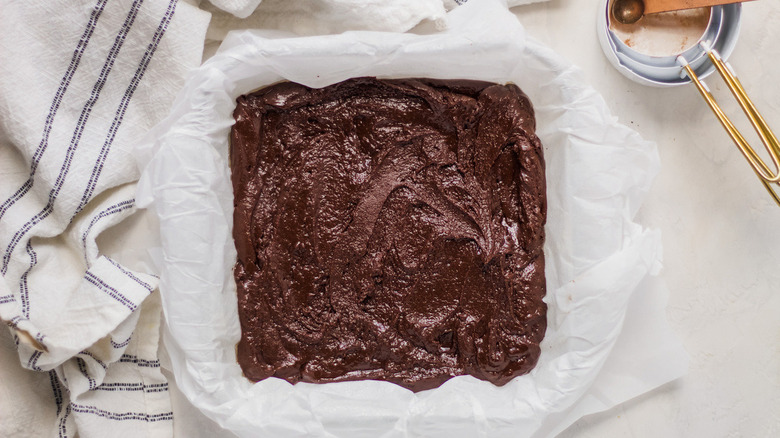 Jaime Shelbert/Mashed
Turn the brownie batter out into your prepared baking dish. The time you bake these brownies depends largely on the texture you'd like in the final product. Bake for 21 to 22 minutes to achieve the perfect gooey brownies. Set the time for 24 minutes to make the thicker, fudgy, cake-style brownies. 
We like em' gooey around here, and the Shelbert family agrees, "My kids love brownies and the fudgier and gooier the better," Shelbert says. And, of course, you can always have a hearty debate as to whether the edge pieces are best, or if the center ones come out on top instead.
How to serve these warm, gooey brownies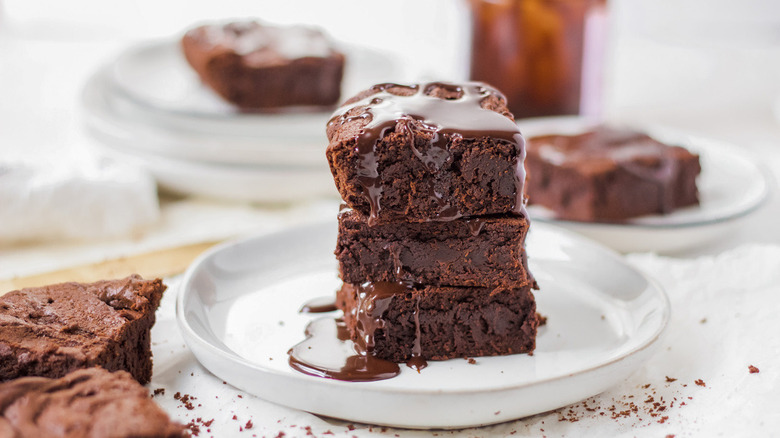 Jaime Shelbert/Mashed
Now that your chocolatey confections are complete, a bit more patience is required, though not too much. Allow the brownies to cool in the pan for 5 to 10 minutes. Afterward, you may remove the parchment paper containing the brownies. Slice them into squares before serving. 
Shelbert does recommend one serving tip, which many believe to be a grand, unified truth about desserts: brownies are best eaten warm. "These are best hot out of the oven with a scoop of vanilla ice cream hands down!"
Enjoy your after-dinner treat this evening. Remember, the only thing better than warm brownies is having them again tomorrow. And if you do have leftovers somehow, these treats will keep in an airtight container for up to five days. Shelbert notes that you can even gently reheat them to replicate the fresh-out-of-the-oven temperature.
Gooey Brownie Recipe
This mouthwatering dessert recipe creates rich chocolate brownies with a wonderfully gooey texture, using simple ingredients and accessible kitchen equipment.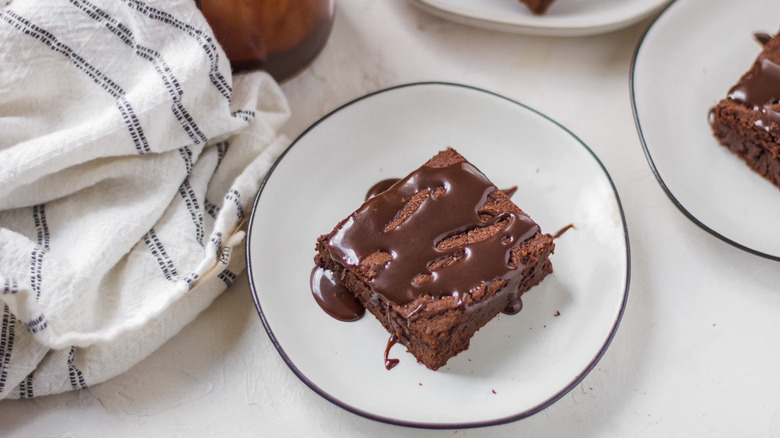 Ingredients
12 tablespoons butter
8 ounces baking chocolate
3 eggs
⅔ cup brown sugar
1 teaspoon vanilla
⅔ cup flour
⅓ cup cacao powder
¼ teaspoon salt
Directions
Place butter and chocolate in a small saucepan. Heat over medium-low heat until the butter and chocolate have just melted and become smooth. Mix to combine. Remove from heat to cool.
Place the eggs and brown sugar in a mixing bowl. Mix with a hand mixer on medium for 2 minutes.
Add the chocolate sauce and vanilla into the egg and sugar mixture. Mix on medium for about 30 seconds until combined.
Add the flour, cacao, and salt to the mix. Mix until just combined.
Turn the brownie batter out into the prepared baking dish. Bake in the preheated oven for 21-22 minutes for gooey brownies, 24 minutes for more fudgy and cakey brownies.
Allow the brownies to cool in the pan for 5-10 minutes.
Remove the parchment with the brownies. Slice and serve.
Nutrition
| | |
| --- | --- |
| Calories per Serving | 401 |
| Total Fat | 30.4 g |
| Saturated Fat | 18.6 g |
| Trans Fat | 0.6 g |
| Cholesterol | 94.5 mg |
| | |
| --- | --- |
| Total Carbohydrates | 26.8 g |
| Dietary Fiber | 5.6 g |
| Total Sugars | 10.9 g |
| Sodium | 97.0 mg |
| Protein | 7.2 g |