Guacamole Recipe Without Cilantro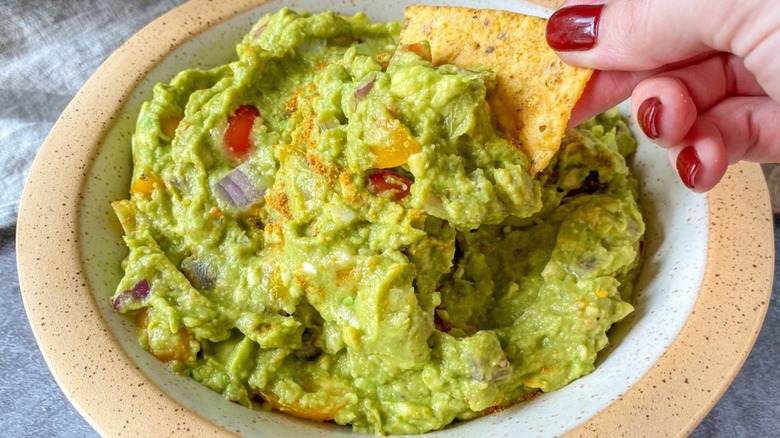 Hayley MacLean/Mashed
Cilantro is an incredibly popular herb that is commonly used in foods like curry or as a topping for tacos. Of course, we all have that friend who can't stand cilantro, and since the cilantro-hate is a very real phenomenon, we can't really fault them for that. That's why we're always on the lookout for great recipes that don't involve cilantro, and this guacamole without cilantro recipe definitely fits the bill. Re​cipe developer and nutritionist Hayley MacLean is the brains behind this cilantro-less recipe, although she also freely admits does indeed love the herb. "I am actually a cilantro lover myself," MacLean explains, before explaining that she wanted to have a guacamole recipe on hand that didn't involve cilantro, for those who don't like it.
"I love this recipe because it is perfect for a crowd of cilantro lovers or haters and everyone will still be satisfied," she continues. "With the sharp bite of the red onion and the addition of some chipotle powder, you do not even notice the cilantro is missing!" Whether you love or hate cilantro, this guacamole recipe will please anyone in the crowd, making it a wonderful go-to option for parties and gatherings.
Gather your ingredients to make guacamole without cilantro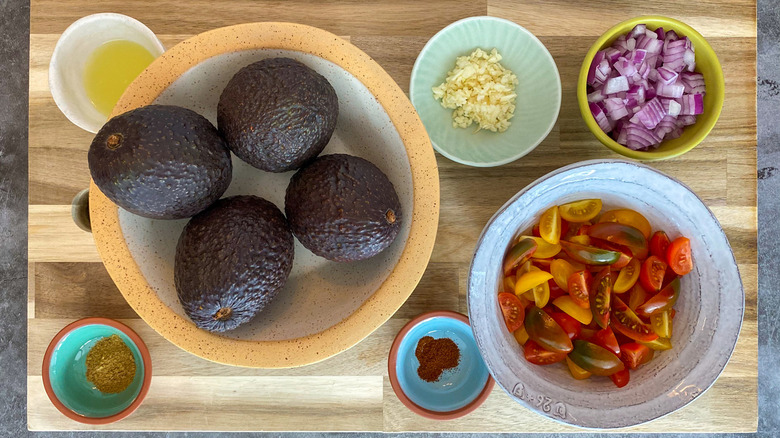 Hayley MacLean/Mashed
To make MacLean's recipe for guacamole without cilantro, you will need to get your hands on the key ingredient for any kind of guacamole: avocados. Specifically, MacLean's recipe calls for three large avocados. For flavor, Maclean's recipe relies on the juice of one lime, some minced garlic, cumin, chipotle powder, minced red onion, and some quartered cherry tomatoes. And, of course, because this is a cilantro-less recipe, this guacamole will have plenty of flavor without the herb!
Cut your avocados and remove the pits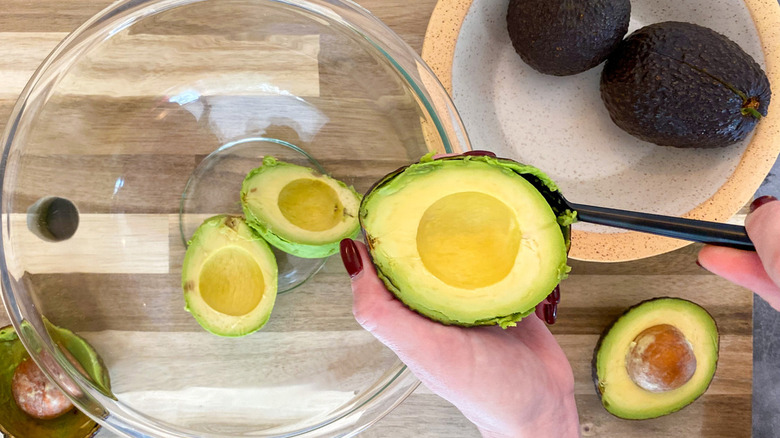 Hayley MacLean/Mashed
Prepping avocados is one of the easiest things you'll ever do in the kitchen, and it also happens to be the first step in making guacamole. While there are plenty of products on the market that are designed to cut avocados, all your really need is a knife to get the job done! "It is very easy to cut and scoop an avocado," MacLean explains. "Just make sure to cut it on a flat surface to avoid accidentally cutting your hand." After you've halved each avocado, gently hit the pit with the knife and then twist to remove it. Finally, use a spoon to scoop out the avocado flesh and place it into a large bowl.
Lightly mash the avocados and add the spices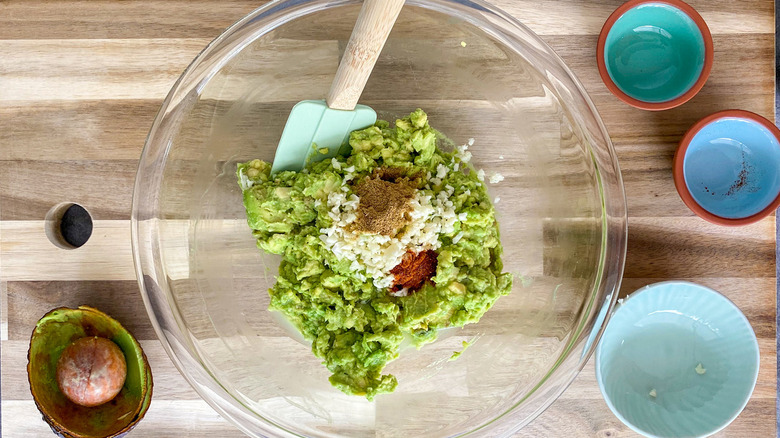 Hayley MacLean/Mashed
With all of your avocados in the mixing bowl, take a fork and mash them lightly to a slightly chunky consistency. If you're a fan of very-chunky guacamole, then you'll want to err on the side of less mashing because when you add in the seasonings, you can still mash the avocados a bit more. Now, add the minced garlic, lime juice, cumin, and chipotle powder. In case you're wondering, MacLean promises the cumin will lend a "wonderful earthy and slightly peppery flavor" that amplifies "the sweet smokiness of the chipotle powder." 
Fold in the onions and tomatoes and serve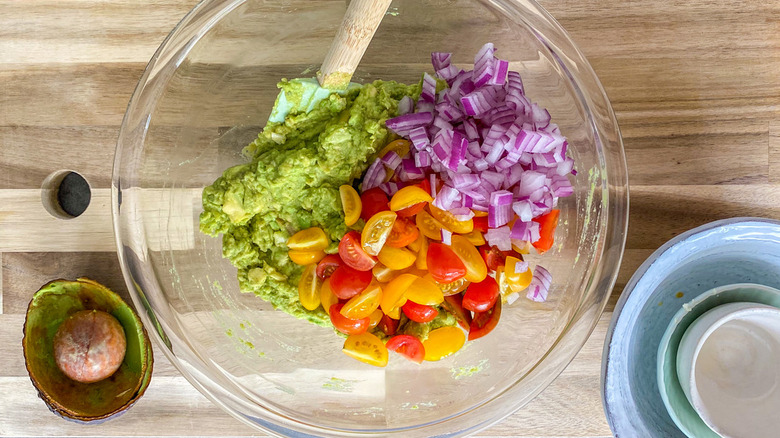 Hayley MacLean/Mashed
Fold in the minced red onion and the quartered cherry tomatoes, salt and pepper to taste, and that's it! You're ready to serve your guacamole, cilantro-free! In addition to using it as a dip for chips or raw veggies, you can also use it as a garnish for any number of dishes, and MacLean specifically suggests trying it on enchiladas, burritos, and breakfast bowls. You can also use it as a condiment on burgers or any number of sandwiches. It's even great on baked sweet potatoes and as a dip for sweet potato fries. 
If you do happen to have leftovers, there are steps you can take to prevent your guacamole from browning. For starters, simply lay plastic wrap directly on top of the guacamole before putting it into the refrigerator. This will vastly reduce airflow to the avocado mixture, which is what actually causes it to brown. "To slow the oxidization/browning process of the guac, adding the pits back into the mixture for storing is a great trick," MacLean also advises. 
Guacamole Recipe Without Cilantro
We're always on the lookout for great recipes that don't involve cilantro, and this guacamole without cilantro recipe definitely fits the bill.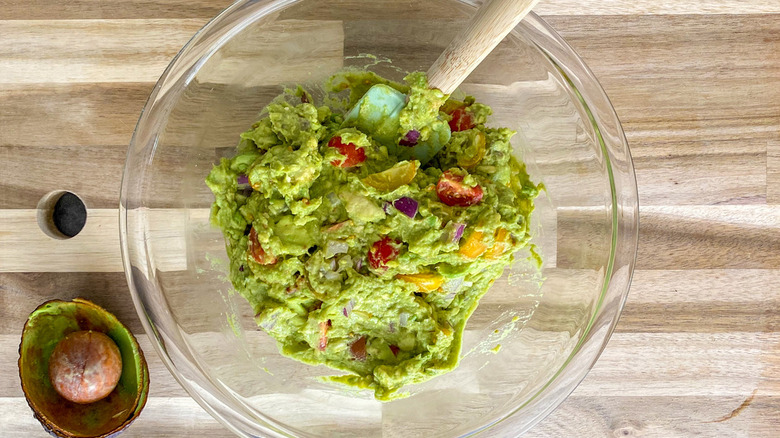 Ingredients
3 large, ripe avocados
2 cloves garlic, minced
juice of 1 lime
½ teaspoon cumin
¼ teaspoon chipotle powder
½ cup red onion, minced
1 cup cherry tomatoes, quartered
salt, to taste
pepper, to taste
Directions
Cut the avocados in half and remove the pit. Scoop the flesh into a large mixing bowl and mash with a fork to a slightly chunky consistency.
Add the garlic, lime, cumin, and chipotle powder, and then combine.
Fold in the red onion and cherry tomatoes.
Add salt and pepper to taste.
Serve immediately, and store any leftovers with plastic wrap adhering to the top surface.
Nutrition
| | |
| --- | --- |
| Calories per Serving | 219 |
| Total Fat | 18.6 g |
| Saturated Fat | 2.7 g |
| Trans Fat | 0.0 g |
| Cholesterol | 0.0 mg |
| | |
| --- | --- |
| Total Carbohydrates | 15.1 g |
| Dietary Fiber | 9.5 g |
| Total Sugars | 2.4 g |
| Sodium | 421.2 mg |
| Protein | 3.2 g |