Spicy Egg Salad Recipe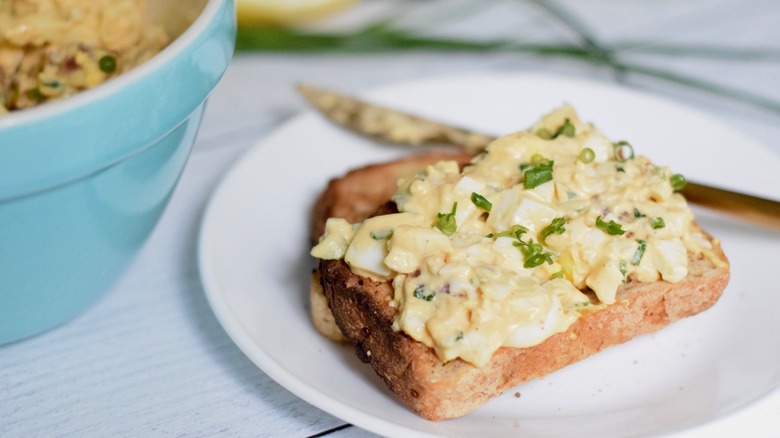 Tara Rylie/Mashed
Egg salad, or egg salad sandwiches, are often served up at bridal showers, baby showers, Easter gatherings, and afternoon tea parties. (You know — events with cute little sandwiches and adorable bite-size snacks.) The flavor profiles of these events, and thus the egg salad present at them, is light, delicate, and totally fresh, which we love! There is a time and place for every food and foodie enthusiast. But we here at Mashed couldn't help but wonder what would happen if we put a spin on the classic egg salad recipe by making it spicy, rich, crisp, creamy, and of course, extra delicious.
Chef Tara Rylie of RylieCakes does exactly that in this spicy egg salad recipe. She takes the egg salad we all know and love to the next level by sprucing it up with crisp bacon, Sriracha, and spices. Better yet, she keeps it simple and easy to whip up in less than 10 minutes, so even on busy days, this will be a solid meal to prepare. We guarantee this egg salad will move to the top of your must-make recipes list to share with friends and family.
When it comes to egg salad, it's all about the sauce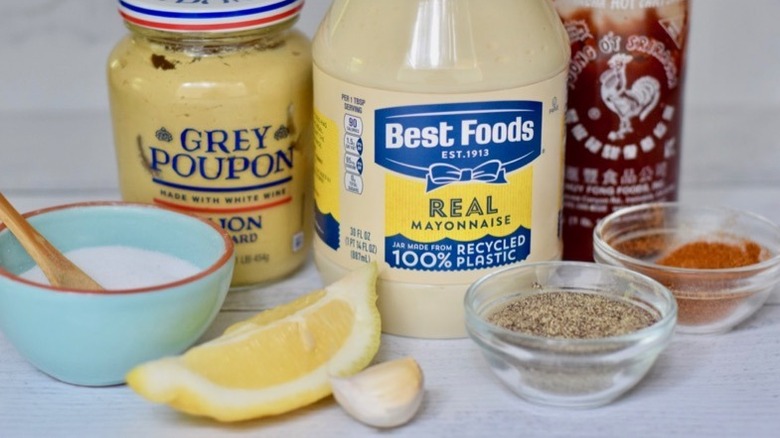 Tara Rylie/Mashed
Egg salad is only as good as the sauce that's going into it. A little mayonnaise, salt, pepper, and a squeeze of fresh lemon juice is a traditional way to throw this salad together. However, we warned you this wouldn't be your mom's egg salad! Our sauce uses Dijon mustard for a tangy kick, Sriracha and a sprinkle of cayenne for a little heat, fresh lemon juice for some zest, and a clove of minced garlic for just another extra bite. Sounds like a lot? Trust us — this combination of seasonings is just right, and this egg salad will surely knock your socks off.
If you're a true spice lover, go ahead and add a little extra Sriracha or sprinkling of cayenne powder. If you don't want your spicy egg salad too spicy, eliminate the cayenne powder altogether. The Sriracha will still give you some heat without overwhelming your senses.
Whatever heat level you choose, combine all of the sauce ingredients in a small bowl, and whisk until fully incorporated. It's that simple.
Must-have mix-ins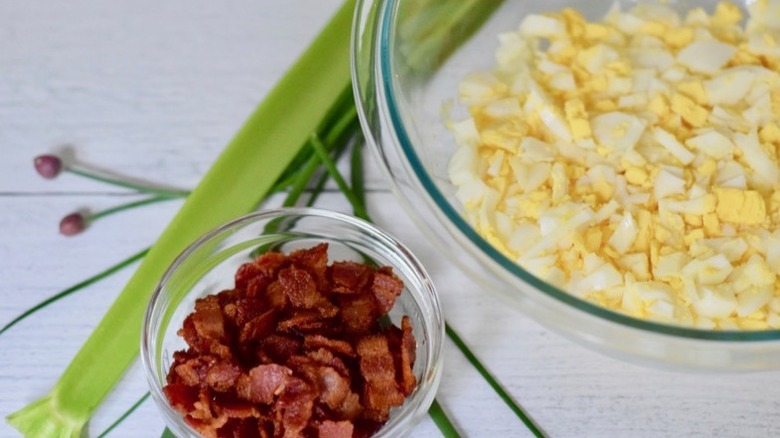 Tara Rylie/Mashed
Once your sauce is made, you can prepare the other ingredients for this salad. You'll be pleased to know this step happens to be just as quick and easy. Peel your hard boiled eggs, and then chop them up into bite-size pieces. You can leave a few larger bites if you'd like for some extra texture. Toss your chopped eggs into a medium bowl, and then add your thinly sliced celery, crisp bacon, and fresh chives.
Celery and chives keep this egg salad tasting fresh, but if you don't care for their flavor profiles, there are a few options for substitution. Instead of thinly sliced celery, you could use thinly sliced green bell pepper. You would only need to use about a quarter of the bell pepper for this salad, as a little crunch goes a long way. Instead of chives, you could use finely diced sweet yellow onion, white onion, or even scallions. Keep in mind, though, that scallions have a much stronger flavor than chives!
We don't recommend any substitutions for the crisp bacon, as there isn't much that measures up to its salty flavor and crisp crunch, but if you want to keep this dish meat-free, simply leave out the bacon.
Stir, and serve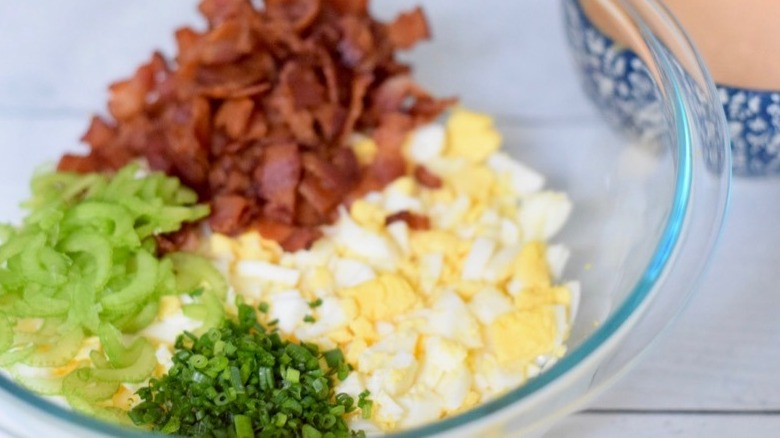 Tara Rylie/Mashed
After making your sauce and pulling together the remaining ingredients for this salad, stir them all up in a medium bowl with a spatula until everything is combined nicely. Then, add your magic spicy sauce to finish it off. Give your egg salad one last mix up, and you'll be ready to dig in! We find this egg salad is best if it chills for an hour. This allows the flavors to meld and the spiciness to develop. However, you can absolutely serve it up as is, or use it in lettuce wraps or sandwiches right away.
Store any egg salad leftovers in your refrigerator in an airtight container for up to five days. (However, this egg salad is so good, you'll be tempted not to eat the whole bowl!)
Spicy Egg Salad Recipe
This spicy egg salad is taken to the next level with crisp bacon, Sriracha, and spices.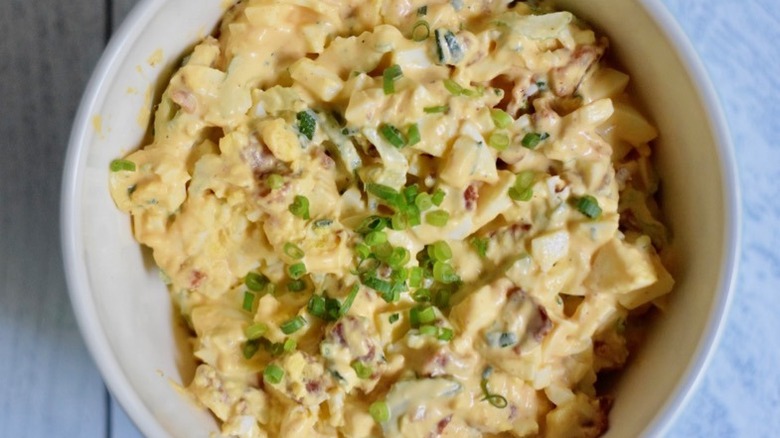 Ingredients
⅓ cup mayonnaise
1 teaspoon Sriracha
1 teaspoon Dijon mustard
1 teaspoon fresh lemon juice
1 small garlic clove, minced
¼ teaspoon salt
⅛ teaspoon cayenne
⅛ teaspoon black pepper
6 hard boiled eggs, peeled and diced
¼ cup celery, thinly sliced
2 tablespoons chives, finely chopped
6 slices bacon, cooked crisp and crumbled
Directions
Combine the mayonnaise, Sriracha, Dijon mustard, fresh lemon juice, minced garlic, salt, cayenne, and black pepper in a small bowl. Whisk to combine.
In a medium bowl, fold together the diced hard boiled eggs, sliced celery, chopped chives, and crumbled bacon. Then, fold in the sauce mixture.
Cover and chill until ready to serve.
Nutrition
| | |
| --- | --- |
| Calories per Serving | 411 |
| Total Fat | 38.5 g |
| Saturated Fat | 10.0 g |
| Trans Fat | 0.1 g |
| Cholesterol | 260.0 mg |
| | |
| --- | --- |
| Total Carbohydrates | 1.9 g |
| Dietary Fiber | 0.2 g |
| Total Sugars | 1.3 g |
| Sodium | 492.5 mg |
| Protein | 13.2 g |