Here's Why You Should Always Request An Extra Cup With Your McDonald's Burger And Fries Order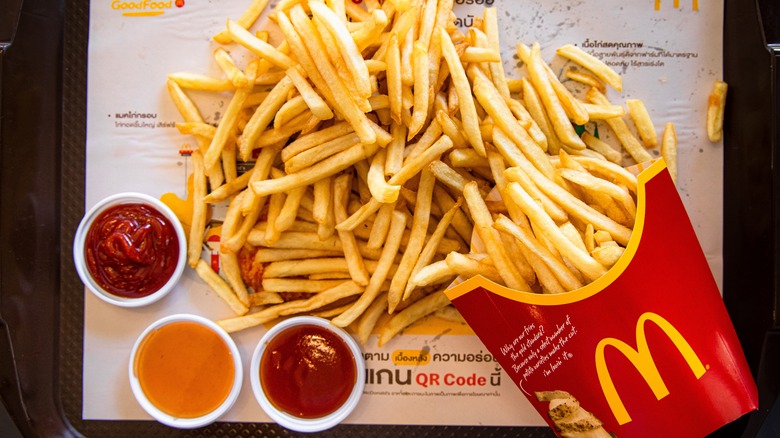 yesfotographer/Shutterstock
Hacking the McDonald's menu is sort of like a rite of passage. In the past, restaurant fans would attempt to create hacked or secret menu versions of their favorite foods. When it comes to McDonld's secret items to know about, there are special desserts, brunch burgers, and vegetarian options. Customers have gotten even more creative when it comes to hacking the menu beyond just changing up the food. A simple search for "McDonald's hacks" on TikTok will yield hundreds of videos for tips and tricks to help customers get the most out of their ordering experiences.
At the time of writing, the most viewed TikTok McDonald's hack has garnered 3.9 million views. The video, posted by @hellthyjunkfood, teaches customers how to get a budget-friendly Big Mac by ordering two McDoubles and adding Mac sauce. Customers have found several other unique ways to hack the burgers, and have even created a brunch burger, dubbed the McBrunch burger. Sometimes, the McDonald's location will determine whether your hack is successful. Some locations are extremely busy or simply aren't clued into a particular hack. McDonald's allows customers to order fries without salt — but this isn't a hack as much as it is an order preference. This is helpful if you're watching your sodium, but can be even more helpful for crafting DIY french fries.
Make yourself the crispiest, saltiest fries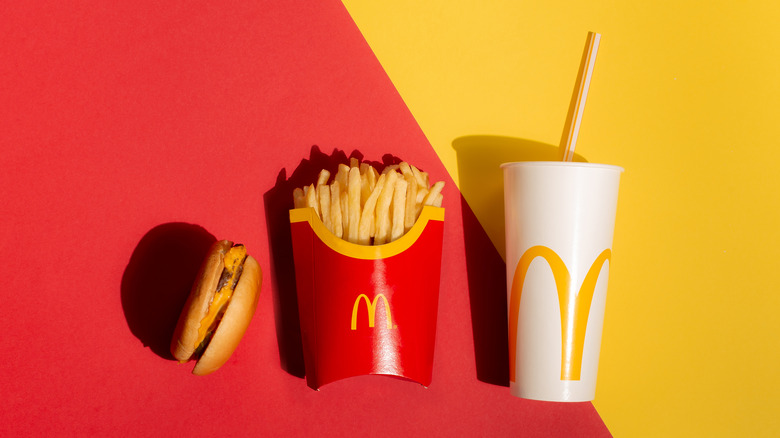 Pavlovska Yevheniia/Shutterstock
TikTok has, once again, come through with a hack to ensure you never eat a soggy fry again. It may seem like easy work to make french fries while sitting in the drive-thru, but crafting the perfect french fry is actually harder than you'd think. One well-known McDonald's hack is to order unsalted fries. By doing this, McDonald's employees will have to fry a batch fresh. While this is great, it also means the fresh fries lack any seasoning. Thanks to the newest TikTok hack from @hellthyjunkfood, customers can now get fries that are both fresh and salty.
The key is to first order fries with no salt. Once you pull up to the cashier, politely ask for an extra cup and extra salt packets. Instead of trying to unsuccessfully pour salt over the fries in the tiny fry cup, simply sprinkle the salt into the cup and then add the fries. Now, you have a perfect shaker that can evenly disperse the salt on every hot, crispy fry. Commenters were quick to share their opinions on the hack, and some didn't appreciate the extra step. One person wrote, "I usually love your vids but Ain't nobody got time for this and it wastes a cup, just go when it's busy or deal." Customers will have to try it for themselves to decide if the extra cup is worth the effort.