The TikTok Coffee Trend That Totally Changes How You Use A Milk Frother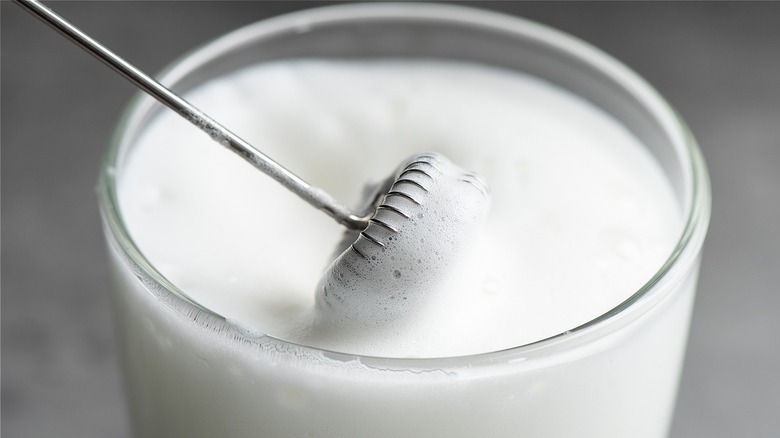 Nor Gal/Shutterstock
Milk frothers are typically used for exactly what the name describes — frothing milk. These kitchen tools allow home baristas to create luxurious, aerated foam for their drinks at home. But there's a new use for milk frothers that helps you add edible designs to your at-home coffee creations, as showcased by a TikTok trend.  
The milk frother technique is more versatile than previous TikTok coffee trends like dalgona and other whipped coffee drinks. All you need is a glass, a milk frother, and either honey or syrup. Not only is this technique versatile, but it's also pretty easy once you get the knack for it, especially when compared to the intricate latte art designs created by your favorite barista. Have you ever seen people pour flavored syrup or honey down the inside of a glass to add a decorative touch to iced lattes and other chilled drinks? This creates a cool dripping effect on the inside of the glassware, but you can take the concept a step further by using a milk frother to create fine lines and designs. 
Sweetly decorative designs
First, grab your desired clear mug, mason jar, or other reasonably durable cocktail glass. Note that this may not be right for use on eggshell-thin crystal wine glasses. Then, simply add a small pool of honey or your favorite syrup to the bottom of your glass. Dip the milk frother's blade into the honey or syrup. Lift slightly to the desired position and turn on your frother. As the blades turn, they will whirl the honey or syrup onto the side of the glass, resulting in a thin, syrupy line around the inside of the glass. 
Using the same technique shown by TikTok creator @liv.yah, you can make horizontal lines or angle the frother to make more diagonal shapes. Unlock your creativity to try out more complicated patterns, like crisscrossing the lines. Or, try playing with syrups of different colors and flavors for a combination of taste and beauty. For example, you could combine honey and chocolate syrup for two distinct colors that also have complementary flavors. If you happen to be a latte art enthusiast, this glass decorating technique adds a little something extra. While you're at it, check out these other hot drink hacks for more ideas you can use to create unique beverages at home that are just as good — if not better — than what you'd buy at a coffee shop.