The Beloved Subway Footlong Pass Is Finally Returning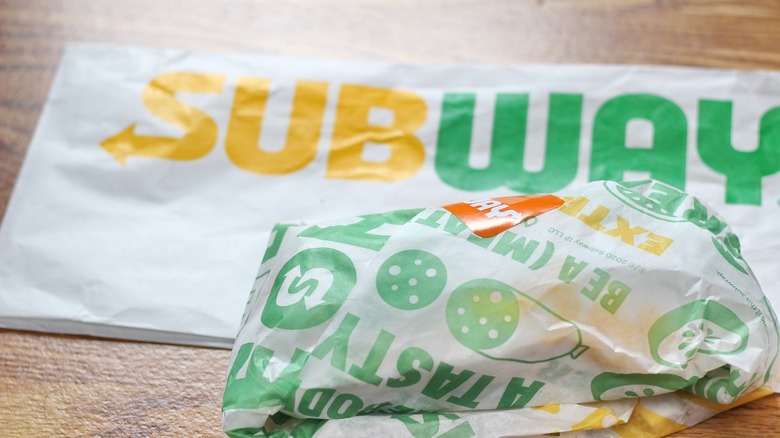 Birch Photographer/Shutterstock
Subway knows how to entice customers with a good deal. Especially during these times of high inflation, the chain has continued to offer deals to suit every budget. Most probably don't know that Subway's $5 footlong promotion was not as beloved by franchise owners as it was by loyal customers. The deal has gone away and been resurrected several times, with the newest iteration being two footlongs for only $10. The deal was brought back in 2020, much to the chagrin and protest of local franchise owners. To help deter people from taking advantage of the deal on a broad scale, Subway turned to only offering the deal through its app.
The Subway app has had its fair share of troubles since its launch in 2012. When the app suffered a pricy glitch, it sent the internet spiraling. The app now is where customers can find special deals and chances to get "bonus offers," as well as access the secret vault menu. Aside from offering up savings, ordering on the app means never having to stand in the long lunch rush lines. Subway app users are now being treated to extra special savings via a discontinued offer.
Be quick to snag the latest deal
All the way back during the summer of 2022, the chain offered up its first subscription sandwich program. App users could pay an upfront fee of $15 to "unlock" a month's worth of footlong sandwiches at half-price. The deal, known as the Footlong Pass only made 10,000 passes eligible and sold out within six hours. Those who were hankering for the deal, but weren't one of the lucky 10,000 have their shot at redemption. On March 21 at 8 am EST, the pass will be available on the app and at SubwayFootlongPass.com. This time, there will be 250,000 passes up for grabs. If you're lucky enough to get your hands on the pass, you can redeem it for a 50% sub each day in April.
If you don't manage to get your hands on a pass, the MyWay app has other deals that'll still make you feel like a winner. Throughout the month of March and April, customers can get a second footlong for half-off with the purchase of a regular footlong, using the code BOGO50. Super fans of the chain may even be able to score a lifetime supply of sandwiches if they're willing to get sandwiches permanently inked on their skin. Those that don't want to take such a drastic step can just download the app and start earning points and rewards for all future sandwich purchases.