Believe It Or Not, The Chicken Big Mac Took Two Years To Develop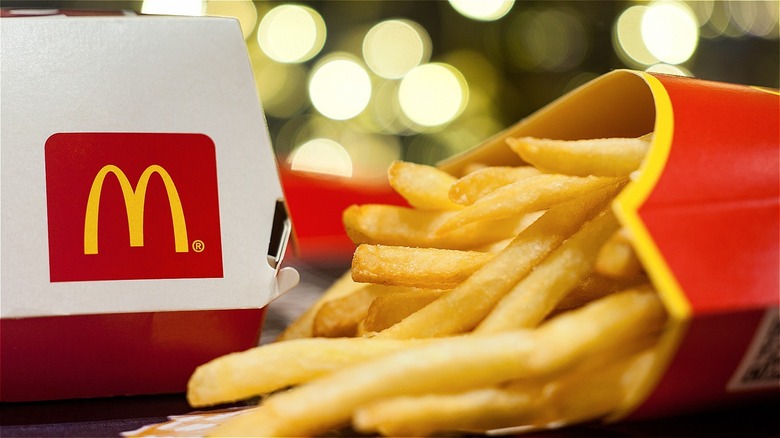 8th.creator/Shutterstock
In the United States, a burger typically means minced beef patty between two buns, but to people from other parts of the world, it can mean anything from a spicy Indian cutlet to grilled chicken in buns. Basically, anything that's served between two buns qualifies as a burger in most countries, and chicken is a popular choice of meat.
The great "sandwich or burger" debate will go on for ages, but one thing is for sure: Regardless of what it's called, Americans love chicken with buns. Fast food chains like Popeye's and Chick-Fil-A have been satisfying that appetite for a long time now. A handful of us also got to sink our teeth into McDonald's Chicken Big Mac after it became a big hit among the Brits — it sold out in the U.K. in less than two weeks.
Although McDonald's stopped selling Chicken Big Mac in the U.K. after failing to keep up with the demand, there was a promise of a comeback. Lucky for those across the pond, select McDonald's restaurants in Canada brought back the Chicken Big Mac in early March 2023.
It's incredible how something so simple as replacing one kind of meat with another can excite consumers, but if you were thinking that McDonald's simply swapped out the beef for poultry to create the Chicken Big Mac and called it a day, you couldn't be more wrong.
McDonald's took its time with the Chicken Big Mac
The Chicken Big Mac was created by McDonald's Canada's culinary senior manager Jeff Anderson. Yahoo! Life caught up with him to discuss what the process was like, and believe it or not, it took two years for the team to develop the perfect recipe.
"We had to ensure we had the right balance, the classic ingredients like tangy pickles, processed cheddar cheese, shredded lettuce, toasted sesame seed buns, and of course, our iconic Big Mac sauce. Getting that pairing and balance took quite a bit of time for us," Anderson shared. They tested it in the Greater Toronto Area before its nationwide release.
Anderson said he was eager to receive customer feedback on the Chicken Big Mac, and netizens who tried it already have a lot to say about it. One Redditor who thought it was "flavorless," said the patties were thin and the whole experience of eating it left "a lot to be desired." Another Redditor thought it was too expensive.
And then there are those who enjoyed it thoroughly. "Just had my first @McDonaldsCanada Chicken Big Mac. Was exactly as awesome as I predicted (and I predicted it would be *extremely* awesome)," a Twitter user wrote. "I've had it twice and both times I felt it needed extra sauce. Very yummy tho," a second user replied.