Taco Bell Nacho Fries Are Apparently Returning With A Texas-Based Hot Sauce Twist
Nacho Fries are reportedly back, and this time with a spicy twist! Taco Bell is apparently partnering with Austin, Texas-based hot sauce company, Yellowbird to create Yellowbird Nacho Fries. According to a leaked promotion and Taco Bell's test Door Dash delivery menu, both the original Nacho Fries and the new variant are returning to menus soon. 
Taco Bell's Nacho Fries have been so popular since its launch that the fast food restaurant estimated that every third order included Nacho Fries. That's pretty impressive for an item that's not even a permanent fixture on the menu. The Nacho Fries have gone through several iterations and have even turned into a new menu item where fries are stuffed inside a burrito. Past versions of the Nacho Fries included a 7-layer Nacho Fry, where fries are topped with black beans, cheese sauce, sour cream, tomatoes, ground beef, and guacamole. Nacho Fries officially made a return in Fall 2022, but that was a limited run as well. Now, Taco Bell is reportedly bringing back the item once more.
The Yellowbird Nacho Fries will reportedly be topped with steak, cheese, sour cream, tomatoes, and Yellowbird sauce — a Spicy Habanero Ranch sauce.
Nacho Fries will be bringing the heat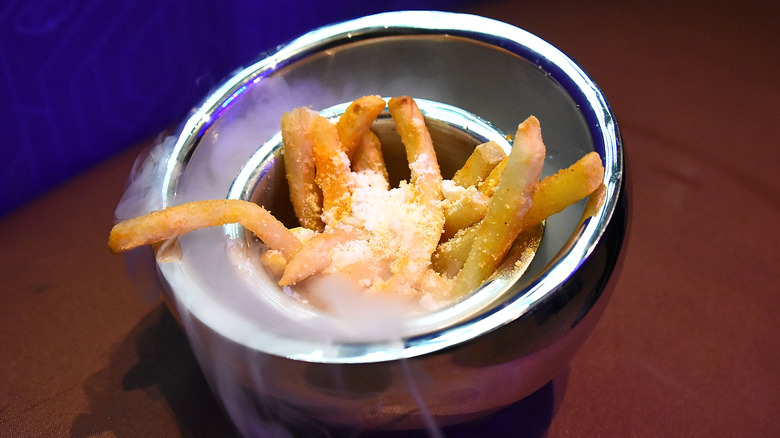 Araya Doheny/Getty Images
While we won't know the exact price until the fries hit the menu, the anticipated price for the fries is $4.99, while a side sauce packet of Yellowbird will apparently be $1. Just like the other iterations of the Nacho Fries, these will only be around for a limited time. Eat This, Not That! reports that the fries may only be around for about two weeks, which would mimic the mere two-week release of TRUFF Nacho Fries in 2022.
The newest hot sauce collab isn't the first time Taco Bell has experimented with spicy Nacho Fries. In 2021, Taco Bell experimented with one of the spiciest ingredients known to man — ghost peppers. Taco Bell's white-hot ranch sauce was a combination of ghost chili peppers and buttermilk that was blended together for a savory, spicy sauce. While habanero chilis are milder than a ghost pepper, the tiny orange peppers can still pack a punch. Once Taco Bell officially announces the Yellowbird Nacho Fries, fans will surely let the world know just how extreme the sauce tastes.