Taylor Swift Fans Are Furious Over A Sign Comparing Her Exes To Starbucks Drinks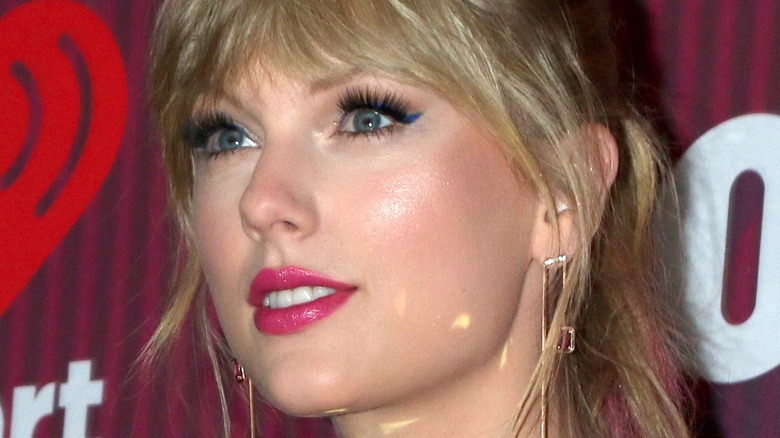 Kathy Hutchins/Shutterstock
Back in the 20-teens, Taylor Swift got a lot of flak for her serial relationship-seeking, but, to be fair, dating a number of people is something quite a lot of us do in our 20s. Still, due to her talent for capturing the experience in lyrical form, many fans suffered along with each new breakup and were overjoyed when she finally seemed to find lasting love with Joe Alwyn. Sadly, after 6 years together, Swift and Alwyn have now split up. Not an occasion for joking, you'd think, but one Starbucks evidently felt differently. It posted a sign asking "Which Taylor Swift Ex Are You?" based on your go-to drink order. According to the sign, Harry Styles = hot vanilla latte, Joe Jonas = dragon drink, Tom Hiddleston = London Fog, Taylor Lautner = vanilla sweet cream cold brew, John Mayer = dark coffee (perhaps with a few grounds left in), Jake Gyllenhaal = decaf Americano, Calvin Harris = vanilla bean frappe, and recent ex Alwyn = hot chai with oat milk.
Swift's fans were not amused, to say the least. One person who shared the sign on Twitter captioned it "this is so gross," while another found it repulsive to see the performer's pain being used as a marketing ploy. Still another person pointed out that the star was unlikely to collaborate with the coffee chain ever again, even though Swift had previously partnered with Starbucks to promote her 2021 album "Red."
Starbucks apologized, while one fan shared a tasteful alternative
The sign, it seems, may have been the idea of one Starbucks location, but it did not get the green light from corporate. Starbucks Care responded with a tweet of its own stating that this type of advertising "certainly doesn't uphold our mission and values," and assured Swifties that the offensive sign had been removed.
Thank you for bringing this to our attention. This certainly doesn't uphold our mission and values, and the sign been taken down by the store.

— Starbucks Care (@StarbucksCare) April 11, 2023
One Twitter user also helped to raise spirits by sharing what they called a "superior Starbucks sign" comparing drink orders to different Taylor Swift eras. Her debut, "Taylor Swift," aligns with hot chocolate, while "Fearless" is an iced blonde vanilla latte. "Speak Now" is the Dragon Drink, "Red" the caramel nonfat latte (Swift's actual coffee order, at least around the time that album came out), and "1989" the iced caramel macchiato. For "Reputation,"  Starbucks feels dark caramel cold brew is the best fit, while "Lover," of course, is the Pink Drink, and "Folklore" could only be a chai tea latte. To complete the litany, "Evermore" is equated with the London Fog latte, while "Midnights," appropriately enough, is a chocolate cream cold brew.
Whatever your Starbucks drink of choice may be, it's much nicer to align yourself with something positive like one of Swift's top-selling albums, rather than making a joke out of her romantic woes. The Starbucks that posted this sign deserves all the kudos, while the one that brought up her breakups might want to think twice before trying anything like that again.