11 Frozen Dumplings You Should Buy And 4 You Shouldn't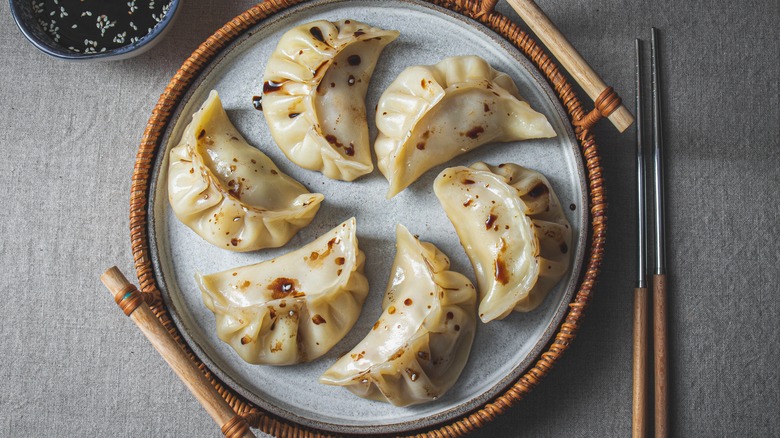 Larisa Blinova/Shutterstock
We may receive a commission on purchases made from links.
Picture this: You're borderline ravenous, rifling through your refrigerator and pantry for a snack with no good options. It's a devastating feeling, until you suddenly remember ... there's a bag of dumplings tucked away in your freezer. Congratulations, you have won The Hunger Games.
Jokes aside, these magical little meat and vegetable bundles keep remarkably well in the freezer (move aside, listless frozen pizza) — and they couldn't be easier to prepare. Minus the occasionally long-ish wait for your pot of water to boil, the biggest hurdle to a great dumpling dinner is simply deciding which packages are worth buying and which are worth skipping. After all, there are a ton of options out there and you can't always judge a dumpling by its cover.
Got your chili crisp and soy sauce at the ready? Good. Now keep reading so you know exactly which sacks of dumplings you need to keep stashed in your freezer, from brands of Korean mandu and Japanese gyoza to Shanghainese xiao long bao. Psst, for the sake of this conversation, we're sticking to Asian dumplings, as pierogies, ravioli, and pelmeni are a whole other conversation.
Best: Way Fong Pork and Mushroom Dumpling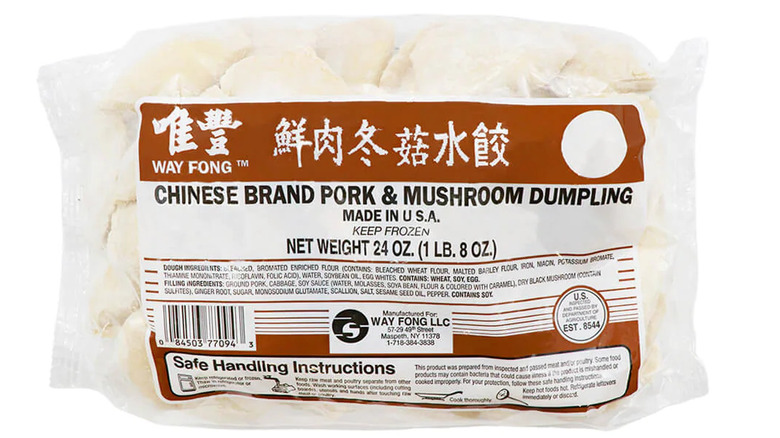 Way Fong
These stellar, simple jiaozi (that's Chinese for gyoza) dumplings have been celebrated as a household name since the early 1990s. While the packaging looks quite bland, with unfussy colors and black and white text, the product itself is far more than meets the eye. What's really unique about them is the quality of the pork: it's succulent and intensely flavored, as well as carefully seasoned.
In 2001, New York-based dumpling producer Way Fong acquired T&B Food, a meat and poultry processing plant, with the goal of using the meat for its line of dim sum products. Talk about quality control. In addition to the filling, food critics really appreciate the texture of the dough, which is chewy, thick, and old-school. Punch up the already poppin' flavor of this beloved dumpling with a simple dumpling sauce, made with soy sauce, Chinese black vinegar, and chili oil. 
Best: Prime Food Steam Roasted Pork Bun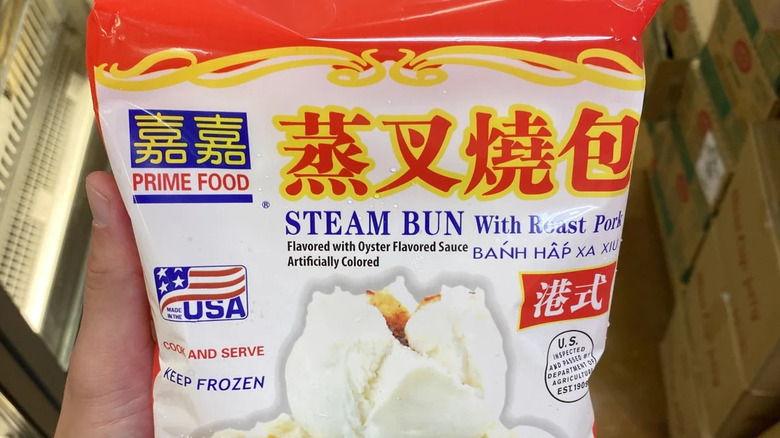 Eastside Asian Market
If you ask us, this barbecue-pork-filled Cantonese bun, also known as a char siu bao, is one of the most mesmerizing dishes you can order at a dim sum spot. Cloaked in a snowy white, impossibly fluffy exterior, when bitten this bun reveals a deeply sauced yet sweet bullet of smoked, porky goodness.
Don't live near any dim sum spots? Don't despair — the Brooklyn-based Prime Food is known to put out a line of spectacular frozen options. And as one of the largest producers of frozen Chinese food in the country, you're bound to find the brand's products at most Asian markets and almost definitely at H-Mart.
While the char siu bao is a favorite, you'd do well to explore the myriad of steamed and baked buns from Prime Food, including purple sweet potato, pork and cabbage, and a vegetarian iteration. Once you've secured your bag of buns, all you need to do is steam them for about 15 minutes — or if you're feeling experimental, give this viral microwave hack a shot.
Best: Bibigo Savory Potstickers
You can usually spot a potsticker by its signature crescent fold and (ideally) crispy exterior. Originating in China, this pleated dumpling has grown into a staple throughout many parts of Asia and become popular across the world. Traditionally, they're filled with pork and cabbage, but that doesn't mean a chicken and vegetable-filled one can't be delicious.
Case in point? The Bibigo Savory Potstickers are available in chicken and vegetable, or just plain vegetable, and are typically found at Costco. Unlike many pre-made dumplings, they come fully cooked rather than just parboiled, meaning you can have them ready to eat in six minutes or less. You can also toss them in an air-fryer if you're the type of person who stays chasing the high of a crunchy bite.
Aside from the short cook time, Costco fans also adore this brand for its thin, easily-crisped wrapper and generously portioned savory yet sweet filling. The package even includes a package of ginger soy sauce, which comes in handy if you happen to be down and out without a good sauce option.
Best: Trader Joe's Potstickers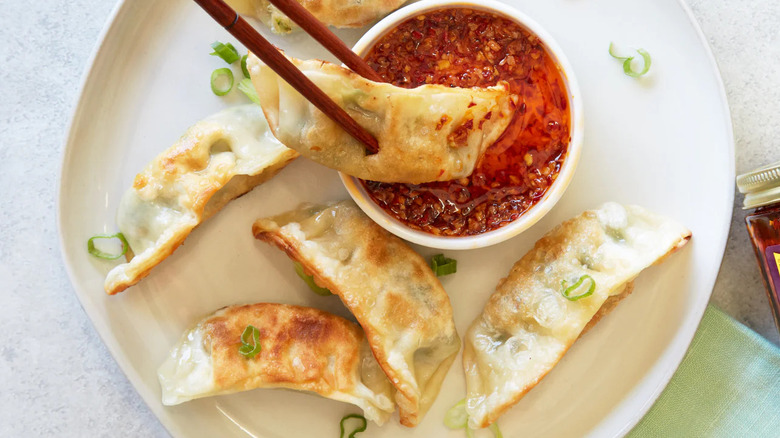 Trader Joe's
While we're on the topic of grocery store potstickers, we'd be remiss not to highlight the juicy, generously-filled ones available at Trader Joe's. If you're lucky enough to live near a TJ's, consider keeping several bags of these potstickers in your freezer at all times. A convenient, affordable choice with perfectly firm skin, these are some of the only mainstream American grocery store dumplings that have managed to win over food critics, and that's because they're consistently juicy, flavorful, and pleasantly sweet.
While the pork and vegetable dumpling is our favorite, folks also love the chicken-filled version. If you really want to kick your meal up a notch, you can also serve them "dirty" by steam-frying them in a pan and coating them with chili onion crunch and maple syrup. Aside from being tasty, a bag of more than 20 dumplings will only set you back about $4. That's what we call a win-win.
Best: MìLà Xiao Long Bao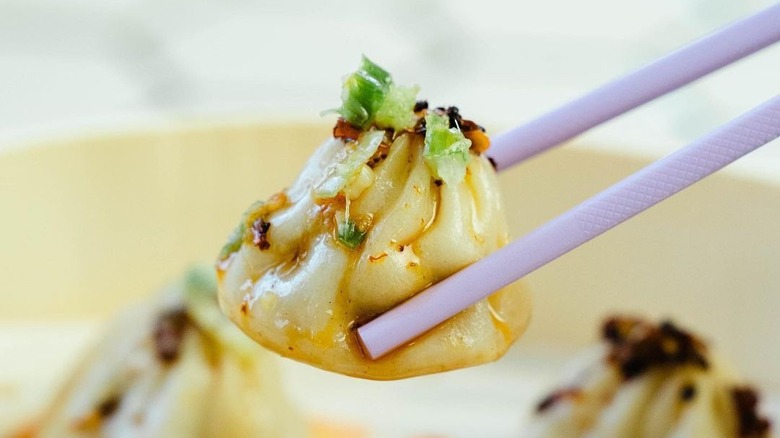 MìLà
Shanghainese xiao long bao — also known as soup dumplings or XLB — are one of the more elusive kinds of frozen dumplings to pin down. It's not that you can't find them, but there's a lot that can go wrong when these delicate, collagen broth-filled packages are frozen (which is why at most quality dim sum establishments they are typically made fresh). For instance, the dough needs to be elastic enough to stretch and accommodate the gelatinous broth reheating and liquefying, while remaining strong enough not to puncture from its soupy-once-more insides. And for a truly sublime experience, the dough should also retain a delicate texture.
But ask any food critic or dumpling aficionado: the folks at MìLà (formerly known as Xiao Chi Jie) have cracked the formula. The brand has even managed to impress Bay Area residents, who are famously spoiled for choice and quality when it comes to XLBs. Available in classic pork, shrimp, pork, and savory chicken flavors, these handmade dumplings can be shipped to you on dry ice basically anywhere. The only thing that may be tough to swallow is the $40 price tag — but on the flip side, it does include 50 essentially restaurant-quality dumplings, so we think it's worth it, all things considered.
Best: Trader Joe's Steamed Pork and Ginger Soup Dumplings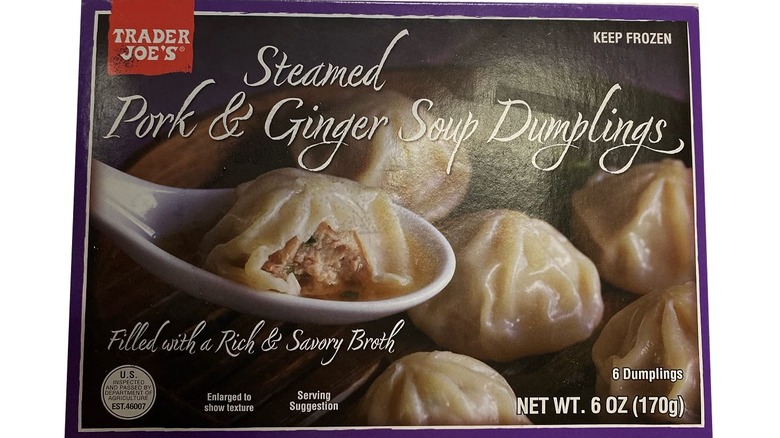 Amazon
If you're looking for a soup dumpling option that doesn't involve dry ice and (depending where you live) cross-country travel, Trader Joe's shoppers swear by this grocery chain's soup dumplings. Plump and packed with ginger, these splendidly soupy pouches come in a package of six, meaning you'll want to buy several boxes so that you don't cry out in despair when your first box disappears far too quickly.
Like all soup dumplings, we highly recommend steaming these, rather than microwaving (otherwise, all the soupiness in your dumpling may evaporate, leaving behind a sad, shriveled sack of dough). We also recommend waiting a few moments before taking your first bite (and slurp), lest you burn off your taste buds from scalding hot dumpling broth. And if you want to take your dumpling game a step further, dip them in a splash of black vinegar.
Best: Pulmuone Jumbo Kimchi & Pork Dumplings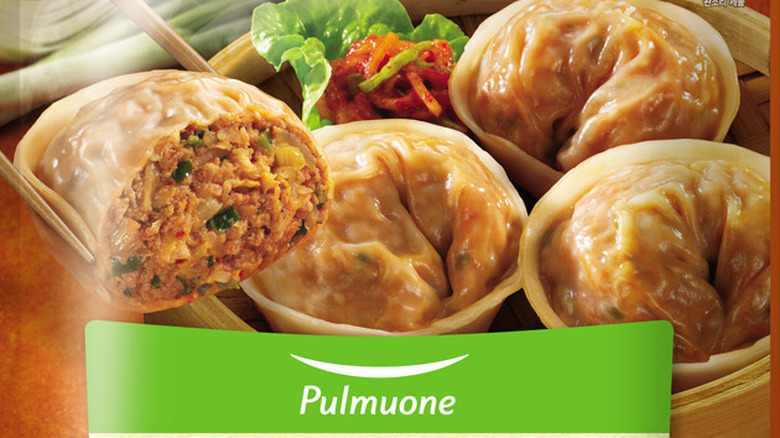 H Mart
Korean mandu is another glorious type of dumpling that can easily be recreated in your home kitchen, thanks to modern-day freezer technology. While shapes and sizes do vary from mandu to mandu, this popular dumpling is typically larger, thicker, and chewier than other varieties and is best enjoyed with a spicy-sweet chojang dipping sauce.
This particular jumbo-sized mandu, made by the South Korean company Pulmuone, carries the spirit of the large, show-stopping ones you'd find in Korea or at an Asian food court. The notes of kimchi add a flourish of heat to the pork filling, while bits of glass noodles add a bit of spring to the texture, resulting in a perfect balancing act of flavor. If you do want to tone down the spice a bit, a slice of yellow cheese can add some additional mellowness. Other great options from Pulmuone are the mini pancake dumplings with mozzarella cheese and the smaller-sized kimchi and vegetable brand.
Best: Assi Kimchi Dumplings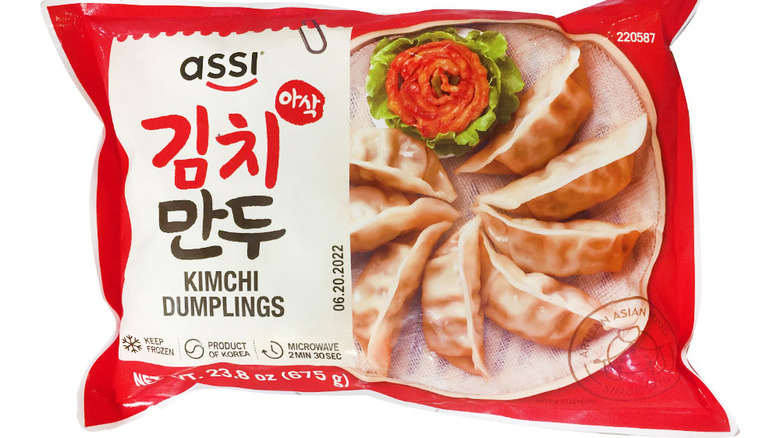 Assi
Even if you're not a huge fan of kimchi in its raw form, you still may enjoy these gentle, silky-soft Korean-made dumplings. They deliver the punchy, fresh zing that kimchi is known for but in a decidedly mellower fashion. Available at most Asian markets, these dumplings are a product of the Maryland-based Rhee Brothers, a family company that manufactures tons of Pan-Asian food, from sauce and seasoning to a fleet of delectable dumplings under its flagship brand name Assi.
In addition to making pretty great dumplings, the company itself has a cool story too. It was founded in the 1970s by a Korean-American student Syng Man Rhee, who, while studying in Washington D.C., sold dried squid that his mother shipped in from Korea to help make ends meet. After noticing the need for high-quality Asian food in the United States, Rhee and his three brothers started a food distribution center in order to help feed a growing Asian immigrant population. Nearly fifty years later, Americans are hungrier than ever for Rhee Brother products, which now offer a product catalog that's more than 150 pages long.
Best: Ajinomoto Jumbo Pork Shumai Dumplings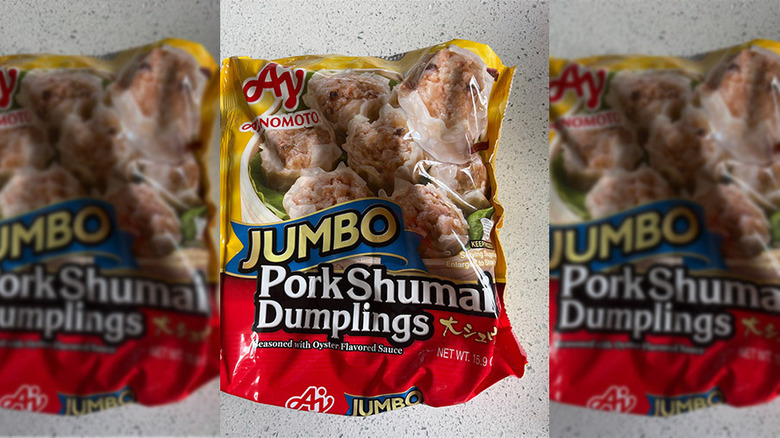 Ajinomoto
From a distance, the wrinkly, open-faced shumai look a bit like a brain crossed with an eyeball, with a texture reminiscent of a morel mushroom. These Cantonese dim sum snacks are made with a steamed wheat flour wrapper and usually topped with a "hood ornament" of fish roe or grated carrot. Securing a bouncy, almost sticky texture is crucial for a tasty shumai, as you want the filling to stay juicy without it falling away from the wrapper holding it together.
While the end result of many a frozen shumai is a sad, bland, and jiggly situation, the Tokyo-based Ajinomoto delivers the good stuff with its jumbo pork dumplings. As one of the world's largest distributors of MSG (ignore the myths, it's not that bad for you), it makes sense that these dumplings don't skimp on flavor. Ajinomoto also makes a shrimp version of its shumai that isn't half bad, though if you're fish-averse, you may not enjoy it as much.
Best: Doll Dim Sum Shrimp Rice Roll
Doll Dim Sum
These rolled rice noodles, also known as cheung fun, are another beloved Cantonese dish that you can find frequently at dim sum joints, and in places like Hong Kong, Malaysia, and Vietnam, but not very easily otherwise. These slick, slippery noodles are rolled over at least a few times into a long tube shape, and they're filled with meat and vegetables — kind of like a crepe, except made with rice flour rather than gluten. They're also sometimes served plain and drizzled with soy sauce or another umami-dense topping.
Intrigued? Try the products from the Hong Kong-based Doll Brand. The dumpling maker's version of the cheung fun is silky, shrimp-stuffed, and easily steamed for a great meal. And if you'd rather skip the meat, there's also a vegetarian edition that swaps out shrimp with mushroom, bamboo shoot, and water chestnut. While you may not be able to find this one everywhere, it should be available at H-Mart and some Asian markets.
Best: Authentic Asian Shrimp Wonton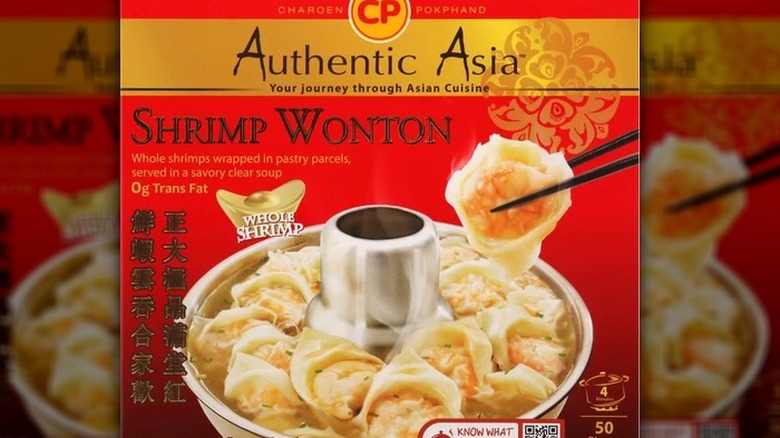 Authentic Asia
Wontons, as opposed to circular, pleated potstickers, are made with square wrappers and are traditionally boiled rather than fried. In Cantonese, the word wonton roughly translates to "swallowing clouds," due to the ethereal, gauzy way that these dumplings float when they're cooked in broth. What could be dreamier?
If you are looking to recreate the magic of cloud-swallowing dumplings in your home kitchen — say in a wonton soup, or something similar, you'd be wise to check out the Authentic Asian raw shrimp wontons. What makes them so great, beyond their soft, tender wrappers, is the quality of the shrimp: they're full-sized with a crisp, never-rubbery texture, and they cook up perfectly in soup. That's impressive, considering the journey these shrimp went through before ending up inside a frozen wonton. They also come packaged with a savory clear soup that helps make your cooking process seamless. This item is one of Well Luck Co. Inc's best-selling products, and we totally understand why.
Worst: Trader Joe's Philly Cheesesteak Bao Buns
There are times when Trader Joe's serves questionable cultural mashups and it totally works. Take, for instance, the Vegetarian Meatless Cheeseburger Pizza or the Samosa Burrito — in our opinion, those are both bangers. Unfortunately, this Philly cheesesteak and bao mashup is nowhere near as successful.
The steamed bun riffs on the traditional, fluffy bao exterior with a mix of shredded meat, American cheese, onions, and peppers inside. While the concept does seem cool (and has garnered a lot of hype on TikTok), the execution falls short on both a textural and flavor front. Those who dare to follow the microwave instructions will be faced with the harrowing vision of a dried out yet somehow mushy final product. But even when steamed, the bun appears sad and deflated. And in the words of one reviewer, thanks to a smattering of gooey American cheese, the cooking process transforms the bun's insides into a filling of "cheesy sludge." Yuck.
Worst: Baozza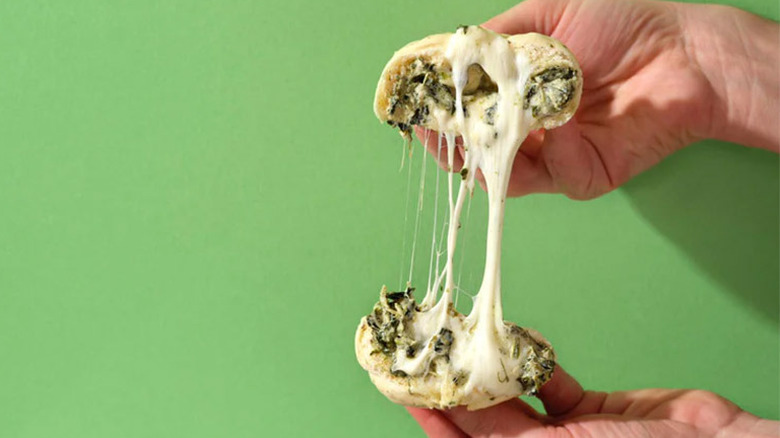 Baozza
The Baozza is basically a steamed bao bun that uses popular pizza toppings as its filling. It comes in three flavors: Margherita, Pepperoni, and Cheesy Spinach. Is it a dumpling? Or is it just a Hot Pocket? And on that note, is a Hot Pocket technically a dumpling — or something else entirely? Those are all questions we're not prepared to answer, but here's what we can tell you: this food product is making us spiral.
To make matters worse, each bao comes individually wrapped in a microwave-safe pouch, meaning consumers are essentially encouraged to prepare this bun in the worst possible method. While sampling the product, one reviewer followed the instructions of microwaving and then pan-frying the bun, only to find that their bun ruptured and began leaking out mozzarella into the pan. If you want to test it out for yourself, the Baozza is available at Walmart, Kroger, Target, and Sprouts — but we do not recommend it.
Worst: Nasoya Tofu Vegetable Dumplings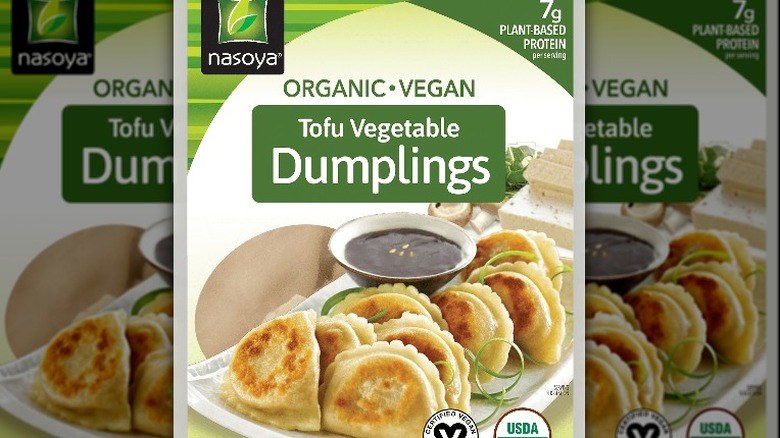 Nasoya
If you have been vegan for a while and also have not encountered a decent dumpling in recent history (or ever), these pre-cooked ones may do the trick — but otherwise, please steer clear. While Nasoya does make quality egg rolls and wonton wrappers (which are great for making your own dumplings at home), these organic, tofu dumplings are lackluster, to put it mildly. We promise you will be better off spending your money on something more flavorful and tender — just scroll back up this article for a myriad of flavorful, wonderfully-textured options.
Filled with super firm tofu, mushrooms, potato starch, onion, carrots, and a few other aromatics, these Nasoya dumplings have an unfortunately dense and chewy texture that is reminiscent of ravioli or other pasta. And while we love pasta, that's not the texture we're looking for in the Asian dumpling department. Moreover, aside from a sharp jab of ginger, the filling is thick and flavorless, making for an all-around bummer of a dumpling experience. While technically these are refrigerated — not frozen — dumplings, we still think it's worth giving y'all a head's up.
Worst: Whole Foods Vegetable Potstickers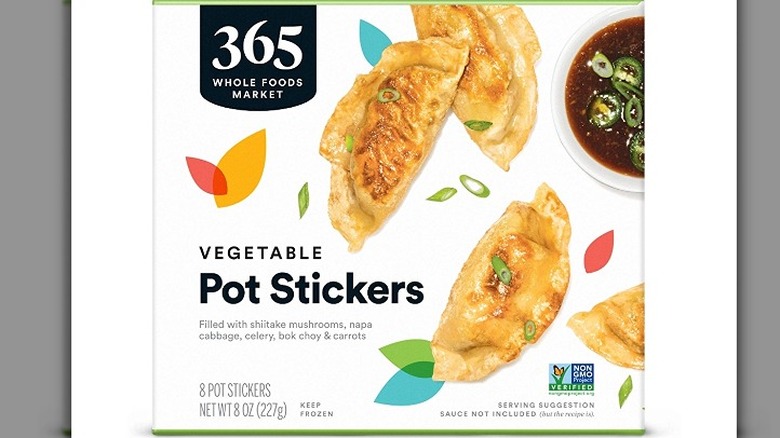 Whole Foods Market
"Mushy" is a word that the internet has commonly used to describe this bland, vegan dumpling eight-pack that's sold at and created by Whole Foods Market. In an even more damning review, Dumpling Hunter rated these potstickers zero out of five stars due to a gloppy filling that bizarrely includes rolled oats in addition to napa cabbage, celery, bok choy, shiitake, and carrots. For reference, even the Baozza earned at least one star.
Another disappointing element of this product: it does not come with any sauce. While normally, that's not a make-or-break detail, an extra something-something could've made a big difference in making up for a lack of flavor in the dumplings themselves. As another reviewer on Amazon puts it: "I was excited to try these, then no matter how crispy I made them the inside still tasted like [a] cardboard box, even with the sauce."