Strawberry Ice Cream Exists At Starbucks — But You Probably Shouldn't Order It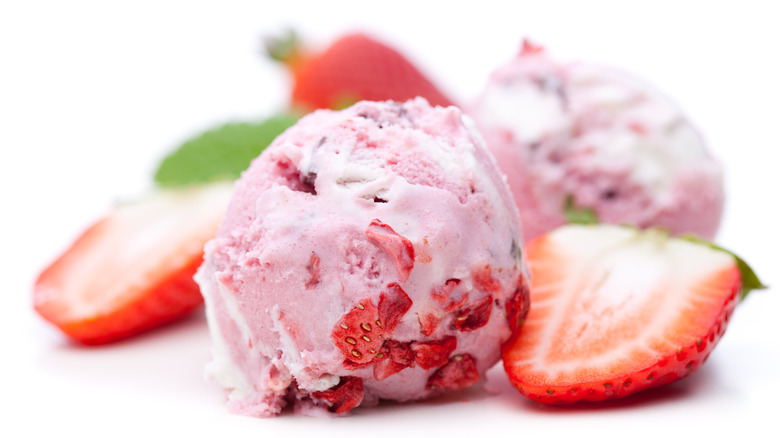 Unpict/Getty Images
Whether Starbucks employees like it or not, TikTok is overflowing with creative drink recipes using ingredients found at the coffee chain. You've got the TikTok carrot cake latte, the nameless "Christmas drink," and of course, countless variations of the Starbucks Barbie frappuccino. However, none of us expected a Starbucks ice cream recipe to come out of TikTok, let alone from Starbucks employees themselves.
And yet it was indeed a Starbucks employee who initially shared her strawberry ice cream recipe on TikTok. In her video, she blends sweet cream with strawberry puree; freezes it for an hour; tops it with a few slices of strawberry; and, voila: Starbucks ice cream. Sounds absolutely delicious, right?
That being said, you probably shouldn't try ordering this the next time you're at Starbucks, as the employees are already sick of making complicated TikTok drinks. Instead, you can make your own copycat version at home and customize it however you'd like.
How to make your own Starbucks ice cream at home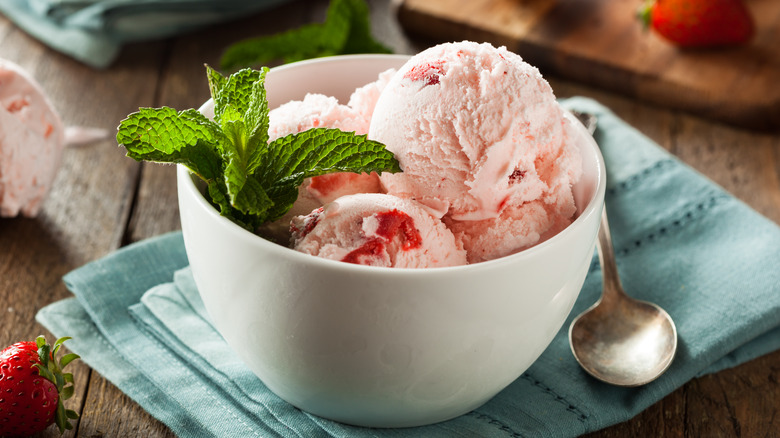 Bhofack2/Getty Images
Before you can actually make your ice cream, you have to mix up some homemade Starbucks sweet cream. You can't find an exact replica in-store, so Meghan Splawn from The Kitchn created a recipe involving half-and-half, sweetened condensed milk, and vanilla extract.
Next, you'll need to either buy a pre-made strawberry puree or make your own. Simply blend together strawberries, sugar, and water, then bring to a boil. Once cooled, you can mix your puree with your sweet cream, freeze, and enjoy, as demonstrated in the Starbucks employee's TikTok tutorial.
For an upgraded ice cream experience, several other TikTokers recommended adding white mocha for a chocolate-covered strawberry flavor. Another Starbucks employee said they made a chocolate ice cream using mocha sauce instead of strawberry puree. You can find Starbucks brand mocha sauce at Walmart, but the Torani white chocolate sauce on Amazon is a good dupe for the Starbucks white mocha. Honestly, though, the possibilities are endless.