10 Costco Food Court Items That Caused A Stir With Customers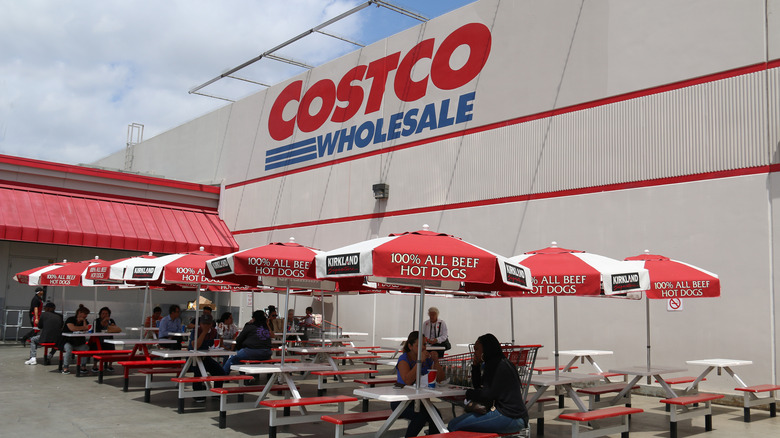 Idealphotographer/Shutterstock
If you're a fan of shopping in bulk, then you're likely already a member, savvy about how to save more at Costco. The wholesale grocery store allows you to buy bulk grocery items at a discounted price. As long as you have the pantry space, it can be a great deal and allow you to get your grocery shopping for the month done in one trip.
But there's more to Costco than the bulk grocery items. Frequent Costco shoppers are sure to rave about the free samples and their favorite food court items. Costco's food court is a great place to refuel after a long day of shopping. Popular items like the Costco all-beef hot dog, pizza, and churros keep customers coming back again and again.
Many even go to Costco specifically for their favorite food court order. Their popular food court is a great business model to get customers in the door since people typically stay to shop once they're there. Still, some of Costco's food court options have gained more notoriety than others. Changes to the Costco menu always make a splash and get long-time customers talking. We've compiled 10 Costco food court items that caused the most conversation with shoppers.
The roast beef sandwich price is shocking customers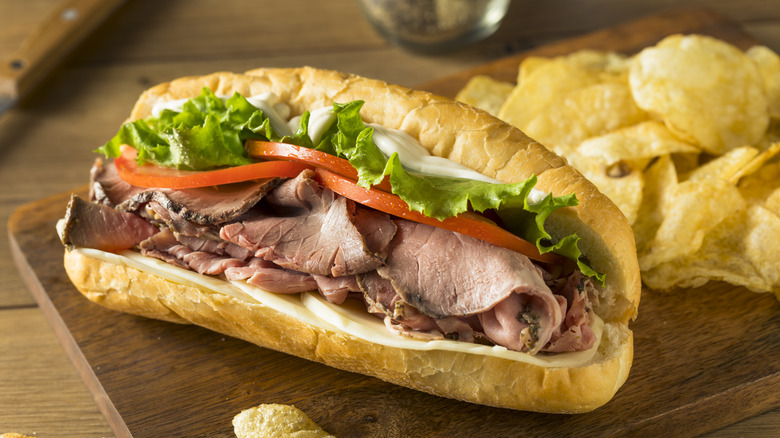 Bhofack2/Getty Images
A recent addition to Costco's food court menu began generating a lot of online buzz when people saw the steep price. Classic Costco food court items like its pizzas and hot dogs are known for being a great deal, but the same can't be said for the new roast beef Sandwich.
One Reddit user posted the Costco subreddit with a photo of the new menu item in Lynnwood, WA. Other users were quick to notice the $9.99 price tag and were less than pleased. The thread is filled with comments about how overpriced the sandwich is. One user even predicted that the roast beef sandwich would sell poorly and be removed from the menu due to its price point. "$10 for a single-serve, individual item doesn't seem to fit in well with the rest of their lineup. I would expect this to be a poor seller and get scratched from the lineup quickly," they wrote. Another pointed out you could get two rotisserie chickens for almost the same price.
Based on this initial reaction, it seems the price may have many customers sticking to their old favorites rather than trying this sandwich. However, if you're willing to spend $10 on a food court item, then it may be a delicious way to end your shopping trip. The classic deli sandwich is served in an artisan roll with onion relish, lettuce, roasted cherry tomatoes, red onions, mayo/mustard, and tasty slices of roast beef.
The açai bowl got poor feedback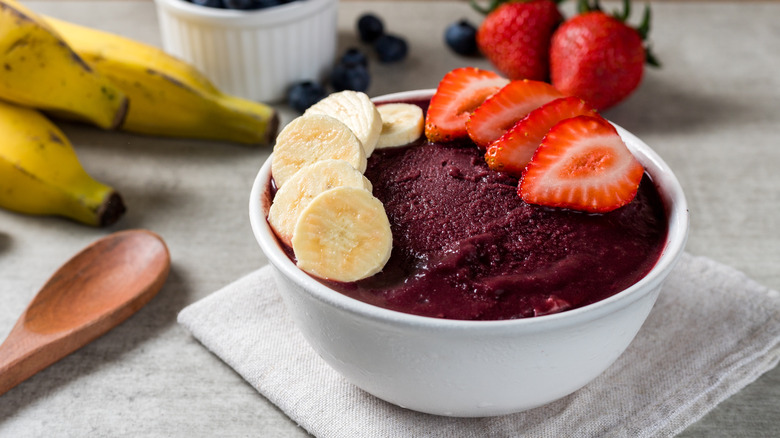 Vitor Lando/Shutterstock
In recent years, Costco has made some effort to put healthier menu items in its food court. Most of Costco's classic food court offerings are delicious but not exactly healthy. While we all love the hot dogs and pizza slices, we also know they aren't the building blocks of the optimal diet. However, the bulk food store is attempting to adjust that. One of the first "healthy" options added was the açai dessert bowl. However, whether the smoothie bowl is actually nutritious is up for debate.
When Women's Health reached out for specific nutrition information on the new menu item, Costco gave "no comment." And one dietician had a cynical opinion on the açai bowls, saying, "They tend to provide a lot of carbohydrates and larger servings of fruit than someone would eat in solid form in a single sitting, but contain minimal protein." But, the fruit bowls are still a lower sugar option than other Costco dessert items.
Unfortunately, the açai bowl also received some criticism on how it tastes. The bowl is made with an açai berry smoothie topped with fresh fruit and crunchy granola. That sounds refreshing and delicious, especially if you're already a fan of açai bowls. However, a reviewer for Business Insider said the açai mixture tastes artificial. It seems other patrons have a similar opinion. One Twitter user gave the comical critic: "The Costco açaí bowl tastes like lush bath bombs and regret."
Customers were sad to lose the Combo pizza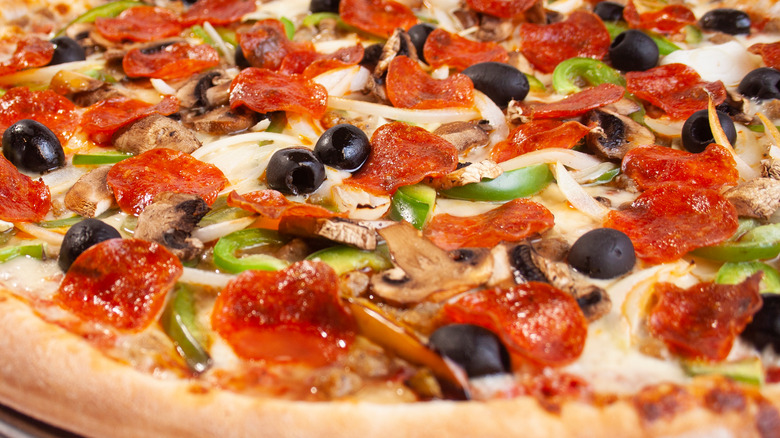 heathenphotog/Shutterstock
The Combo pizza was a beloved item for many Costco shoppers, even given how the many types of Costco pizza are made. The large pizza was topped with an assortment of meat and chopped vegetables like pepperoni, sausage, bell peppers, onions, and mushrooms. Those crisp and flavorful vegetables combined with seasoned meat and melty cheese gave every bite a mouthwatering flavor. Sadly, the Combo Pizza is no longer offered.
Fans of the meat and veggie pizza took to Reddit to voice their outrage. Many even said they've been going to the wholesale grocer less now that they can't get their favorite pizza there. "I used to go to Costco at least weekly, sometimes two just to get the combo pizza for family dinner, and my nearest Costco is about 45 minutes away!" one Redditor wrote. "Now, I haven't been to Costco in ages ... Costco not having combo pizzas has saved me a lot of money!"
With how many customers loved the Combo Pizza, it seems like a strange business decision to have removed it from the menu, but it's been a couple of years, and Costco hasn't said anything about bringing the pizza back. Another Redditor shared a response they received from Costco regarding the menu change, which read, "We understand your dissatisfaction about not having the Combo Pizza as part of our menu offering at this time. A difficult decision was made to simplify our business and unfortunately, the Combo Pizza was removed from our menu line up[sic]."
The churro came back bigger than ever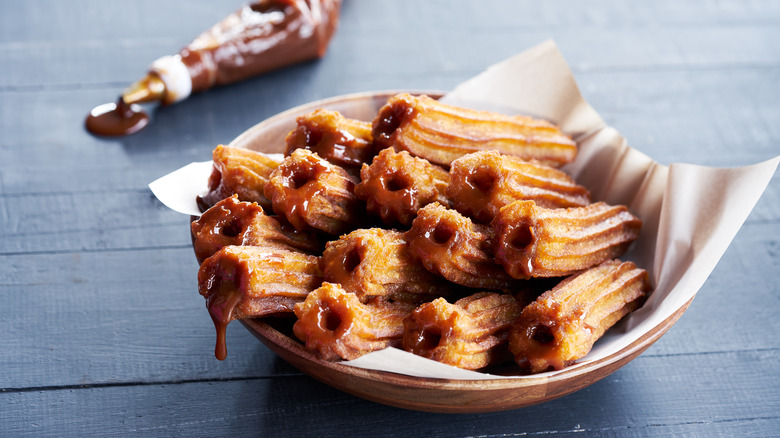 loomitz/Shutterstock
The churro was one of several Costco food court items that got axed from the menu in 2020. This was very upsetting to many shoppers, as the churro was one of the most popular options. One shopper even went so far as to make a Change.org petition to bring the churros back, which got over 300 signatures from fellow churro enthusiasts.
Fortunately, Costco shoppers didn't have to go long without churros, as they were reintroduced to the menu in 2021. But, the churros weren't exactly the same as they'd been in the past. Like the old churro, this one is a braided, cinnamon-sugar-coated pastry. However, the new churro is larger than it used to be and also costs $.50 more than the original $1 price.
Since the churro was a long-time favorite, shoppers were overjoyed to be getting it back. Unfortunately, after trying the larger churro, not everyone enjoyed the changes. Shoppers expected to taste the same pastry they loved, only bigger, but many have said the new churros are dry, stale, and other unpleasant descriptors that you don't want for your favorite grocery shopping treat. A Reddit user voiced the feelings of many when they wrote, "That churro was absolutely one of the best food court items. This twisted bread mockery of a dessert that has replaced my beloved churro needs to go. It is neither sweet enough nor crunchy enough. We've gotta get it back, guys!"
The hot turkey provolone sandwich is gone, and fans are upset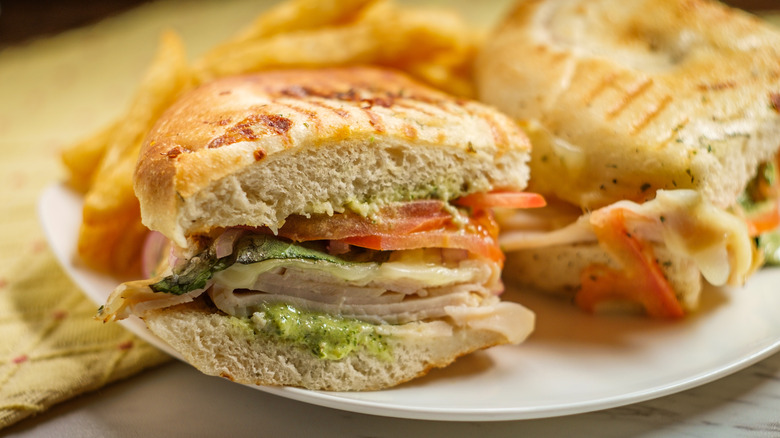 Ezume Images/Shutterstock
Another Costco food court menu item that is sadly no longer available is the hot turkey provolone sandwich. This sandwich was made with flavorful and filling ingredients like sliced turkey breast, red onion, fresh tomato, mayo, and basil pesto spread in a fresh bun. It was the perfect sandwich to fill up on after shopping and reenergize yourself for the drive home.
Alas, the tasty sandwich is no longer available — a change that has hit some Costco shoppers hard. One Reddit user posted a petition to get the provolone sandwich back. The user urged other Costco members to sign the petition, writing, "If you recall the days when you could purchase a Costco turkey and provolone sandwich after a hard day of shopping, then you will agree with me. We need the hot turkey and provolone sandwich back! My life has never been the same without this sandwich." Many commenters agreed, saying it was one of their favorite Costco options. One user even said it was the only item they'd get at the Costco food court.
Despite some consumer complaints and the petition, the hot turkey and provolone sandwich has not returned to the Costco menu. The good news is that this recipe you can easily make at home, so you can still get your hands on a hot turkey and provolone sandwich, even if it's not in the food court.
The Polish dog was discontinued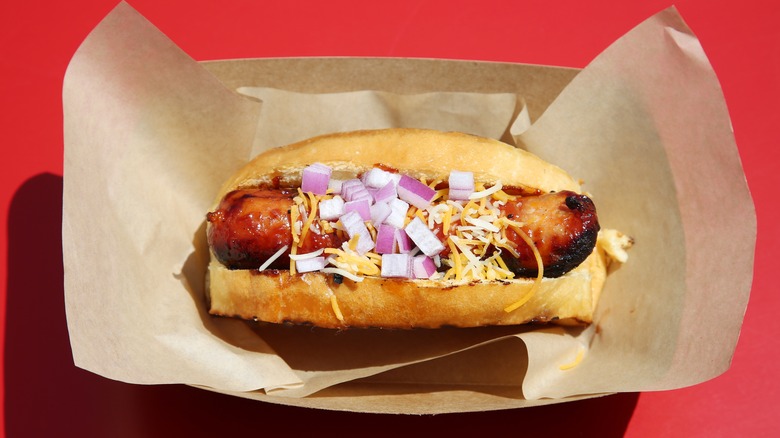 mikeledray/Shutterstock
In the past, two of Costco's most popular food court entrees were the hot dog and the Polish dog. While you can still enjoy delicious and affordable hot dogs at your local Costco, the Polish Dog has gone the way of the Combo Pizza and has been discontinued. While they seem quite similar at first glance, there were some important distinctions between the classic hot dog and the Polish sausage. Both the hot dog and Polish Dog were made with 100% beef, and they were both served in hot dog buns. But, the Polish sausage was made with garlic and an assortment of spices to give it a distinct flavor from standard hot dogs.
But Polish dog fans will now have to go with regular hot dogs at Costco. The wholesale store said they made the decision to take the Polish Dog off the menu in an effort to simplify and make room for healthier options. Costco kept the classic beef hot dog because sales show it's more popular than the Polish Dog was. Due to this statement from Costco, it seems that getting rid of the Polish Dog is likely a permanent decision. However, fans are still fighting to get their favorite dog back. A change.org petition to resurrect the Polish Dog has gained almost 9,000 signatures! So, maybe one day, Costco will bring it back.
The Chicken Bake recipe has changed slightly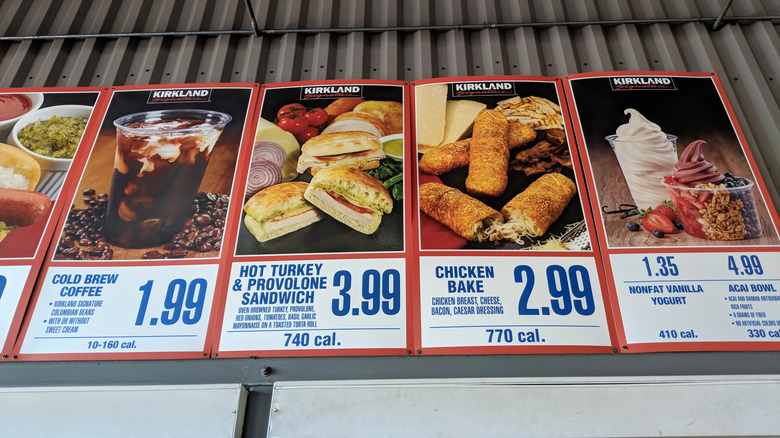 Eric Broder Van Dyke/Shutterstock
If you love melty cheese, chicken, and pizza, then Costco's Chicken Bake may be a dream come true. The Chicken Bake is made with chicken, shredded cheese, and bacon wrapped in pizza dough, then topped with Caesar dressing and parmesan cheese before baking to melty, golden brown perfection. However, in recent years, there have been changes to this popular food court recipe that have left some long-time fans disappointed.
The first change is simply that the Chicken Bake has gone up in price. Costco food court is known for selling crowd-pleasing items at an incredibly affordable price. But, the Chicken Bake, which used to be $2.99, is now sold for $3.99. That's still affordable for many, but it is a steep jump.
Many Chicken Bake lovers are especially bitter about the price jump because they feel the quality of the bake has gone down. The Chicken Bake was taken off the menu for a brief period when Costco reduced its menu at the height of COVID. So, shoppers were elated when the bakes returned in September 2023. Sadly, many feel the taste is not what they remembered. One Reddit user who claims to have been a former Costco employee said the new Chicken Bakes are subpar because they used to be made fresh but are now shipped in frozen and heated. "Since [the original Chicken Bake] wasn't frozen like the new ones are, it tended to be a juicier fluffier Chicken Bake."
Chicken Caesar Salad was a healthy option that got discontinued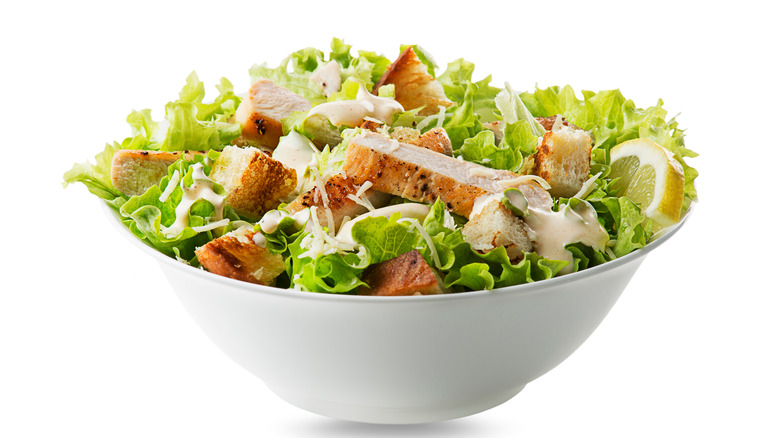 DUSAN ZIDAR/Shutterstock
Another food court item removed from the menu during the COVID-19 pandemic was Costco's Chicken Caesar Salad. But, while many items, such as the Churro and Chicken Bake, were reinstated after the height of the pandemic, the Chicken Caesar Salad seems to have been permanently phased out. As of now, Costco has given no signs that they plan to bring the salad back.
This was a shame for many guests, as the fresh salad was one of the only healthy options available at the food court. For those trying to stick to a healthier diet, being left with an assortment of hot dogs, pizza, and frozen yogurt on the menu is a real blow. It's also a surprising choice, considering that Costco has said that popular items like the Polish Dog were removed to make space for healthier options. But, now the Polish Dog is gone, and guests still can't enjoy a fresh chicken salad, which feels like a lose-lose.
Many customers discussed the loss of the healthy choice on Reddit, with one user writing, "They were so perfect to split and have for my lunches. It's not the same buying the ingredients and making myself." They also stated that they spend less money at Costco now that they can't go in for the salads. "Popping in for a few salads at the food court was easy, but of course, I could never leave with just that," they noted.
Costco's founder caused a stir over the hot dog price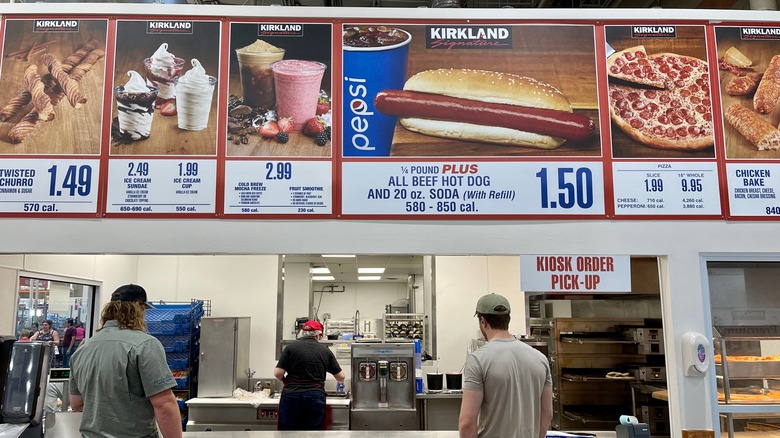 Ant DM/Shutterstock
When it comes to ranking the Costco food court menu, the all-beef hot dog will top it every time. The large hot dogs are made with 100% beef, cooked fresh, and served in soft hot dog buns. On top of being mouthwateringly delicious, the Costco hot dog is incredibly affordable. You can get the hot dog and soda combo for only $1.50, the same price it has been since the 1980s when it was first introduced. Even as other menu items have gone up in price, the hot dog has stuck right there.
That fixed price is no coincidence. Keeping the hot dogs cheap was a priority for one of the company's founders, Jim Sinegal. During a speech quoted by 425 Business, Costco's CEO told the story of a time he'd suggested raising the price to $1.75, and Sinegal shut the idea down forcefully. "I said, 'Jim, we can't sell this hot dog for a buck fifty. We are losing our rear ends.' And he said, 'If you raise the effing hot dog, I will kill you. Figure it out." So, the hot dog price has stayed the same much to the delight of customers.
To cut down on costs, Costco started manufacturing its own Kirkland Signature hot dogs. Although they still don't make a huge profit on the hot dogs, the low price gets a lot of people in the door and encourages them to shop at Costco. Needless to say, there's been some discussion about the whole thing since.
This menu combo was a huge hit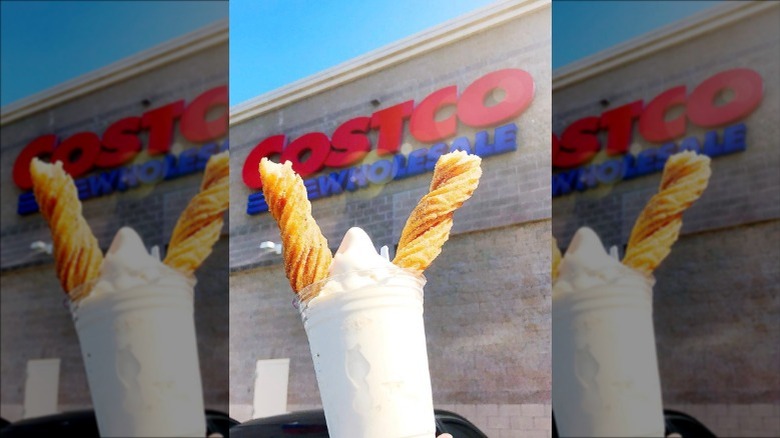 While customers have been sad to see some classic food court items disappear in recent years, Costco has also made a few additions to its menu. And if you have a sweet tooth, you're going to love the sound of this delicious dessert addition. In 2019, Costco introduced the Frozen Yogurt and Churro Dessert.
It's not an entirely new item, so much as it's a combination of two long-time favorites. Costco has sold crispy cinnamon churros and creamy vanilla frozen yogurt for years; this option just makes it possible to get the two together. Some customers made this dessert themselves by ordering the frozen yogurt and churro separately before Costco ever got the idea to make it an official menu item. So, even if it's not available on your local Costco menu, you can still get the two components to make this dreamy treat.
This $2.35 dessert order gets you a cup full of soft frozen yogurt with a churro stuck into the top. The contrast between the creamy frozen dessert and crunchy pastry makes this an amazing combo, and you'll love how the cinnamon and vanilla go together. It's truly a match made in heaven.