New Orleans' Muffuletta Is A French Quarter Sandwich Staple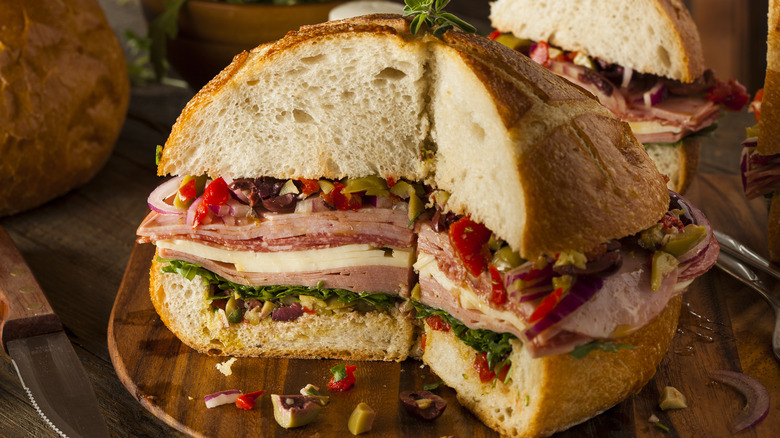 Brent Hofacker/Shutterstock
If you're still suffering through a dry turkey and cheese sandwich for lunch, consider this an intervention. We suggest adding the muffuletta, a New Orleans staple, into the rotation giving your palate a much-needed wake-up call. The massive sandwich actually gets better throughout the day, making the meal great for entertaining and enjoyable no matter when you get around to it. 
Like beignets, the muffuletta is a must-eat when visiting the Big Easy. Thanks to Sicilian Italian immigrants at the French Quarter's Central Grocery, hearty sandwiches have satisfied hangry Americans nationwide. There are four components to a properly made muffuletta — the bread, a combination of cured meats and cheese, an olive salad, and time.
An authentic muffuletta sandwich is made on a round, sesame seed-crusted flat loaf similar to ciabatta or focaccia. The outside should be crusty and hold up to the moisture from the olive salad, improving as the bread absorbs those pickled juices. The inside should be tender but not too soft so that it will fall apart when bitten.
Muffulettas usually contain an assortment of salty Italian deli meat like soppressata, salami, mortadella, prosciutto, and capicola. The deli meat should be thinly sliced and placed in even layers throughout the sandwich, making it easy to bite. Provolone is the cheese of choice, using either domestic or aged, again, thinly sliced.
It's all about the olive salad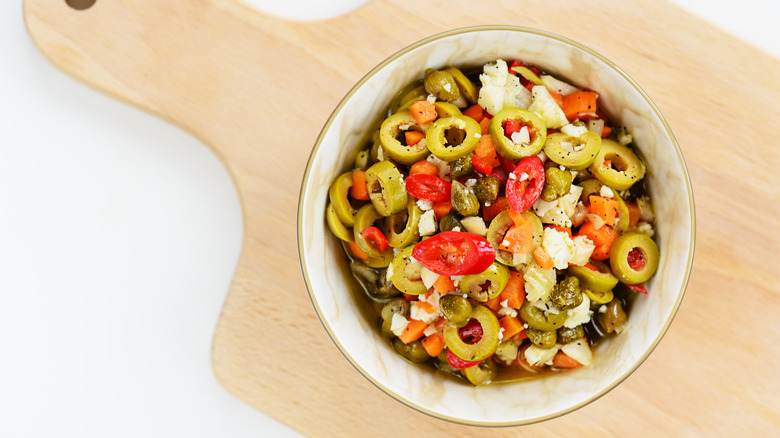 Olga Leschenko/Shutterstock
What distinguishes this sandwich from others is the olive salad. The mixture is salty, sweet, sour, and spicy, keeping your taste buds guessing. While everyone has their favorite combination, mixed olives, pickled vegetables, pepperoncini, and garlic are pulsed in a food processor until broken down but not puréed. This can also be done with a chef's knife. Anchovy paste, red wine vinegar, olive oil, and lots of Sicilian oregano finish the salad. Smear a generous layer of olive salad on the cut side of the top of the bread. Although it's a matter of preference, you shouldn't be able to see the bread when you are done.
While you can purchase this premade in a grocery store, a batch will last months in the refrigerator under a layer of olive oil, making this sandwich a breeze to throw together. A jar of giardiniera can be used in a pinch. Although it's unnecessary, making the olive salad a day ahead of time allows the flavors to marry, making it even better over time.
Arguably, the most challenging part of this French Quarter triumph is the waiting. Once the muffuletta is assembled, resist the urge to bite into it. Give the semolina bread a chance to absorb the pickling liquid from the salad, getting tastier each hour you can wait. Some cooks like to gently toast the bread, but it's optional if the bread is good.