Giardiniera Recipe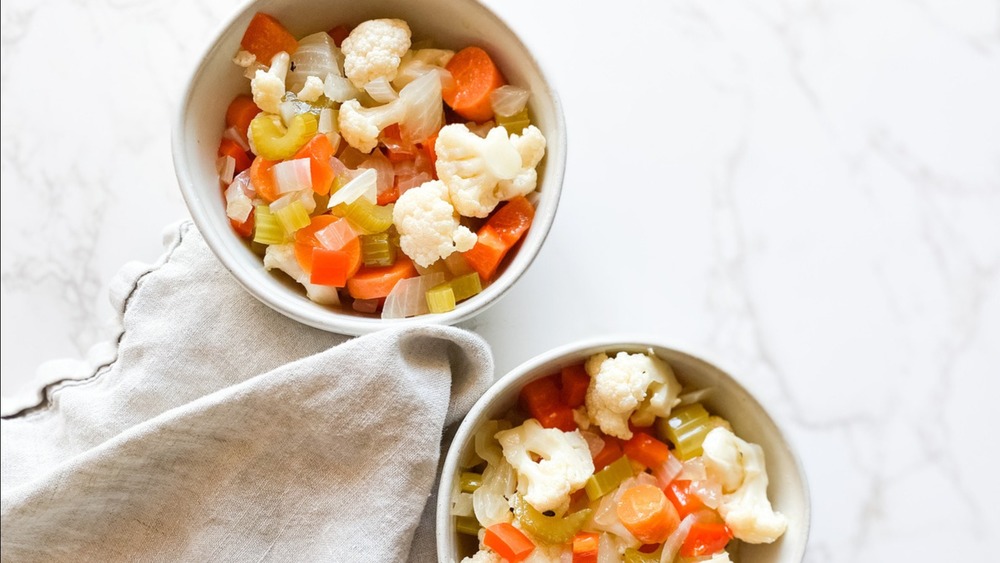 Kristen Carli/Mashed
Giardiniera is a condiment that, as its name indicates, originated in Italy, but here in the US, it branched off into two distinctive types. One style, prevalent on the east coast and closer to the Italian original, consists of vegetables pickled in vinegar and is often eaten on its own or with other types of antipasto such as cured meats, cheeses, and olives. The other giardiniera style originated in Chicago and is considered to be more of a sandwich topping –- in fact, it's a favorite condiment of Sandwich King Jeff Mauro, who says he eats it on a daily basis. The vegetables in Chicago-style giardiniera are chopped more finely in the Italian version, and they're also swimming in olive oil, which gives them a softer, more spreadable consistency.
This giardiniera from dietician and recipe developer Kristen Carli is a kind of hybrid, as the vegetables are chunky, as in Italian-style, but the olive oil's more of a Chicago thing. It differs from most giardiniera recipes of both types, however, in that the vegetables are cooked in a vinegar brine rather than being marinated raw. While there are numerous ways to make giardiniera, usually the vegetables are only cooked if the giardiniera is to be canned, which isn't the case here. The cooking does shave some time off the process, though, since you can whip up a batch in just 15 minutes and it'll be ready to eat after a few hours in the fridge.
Assemble and prep your veggies for the giardiniera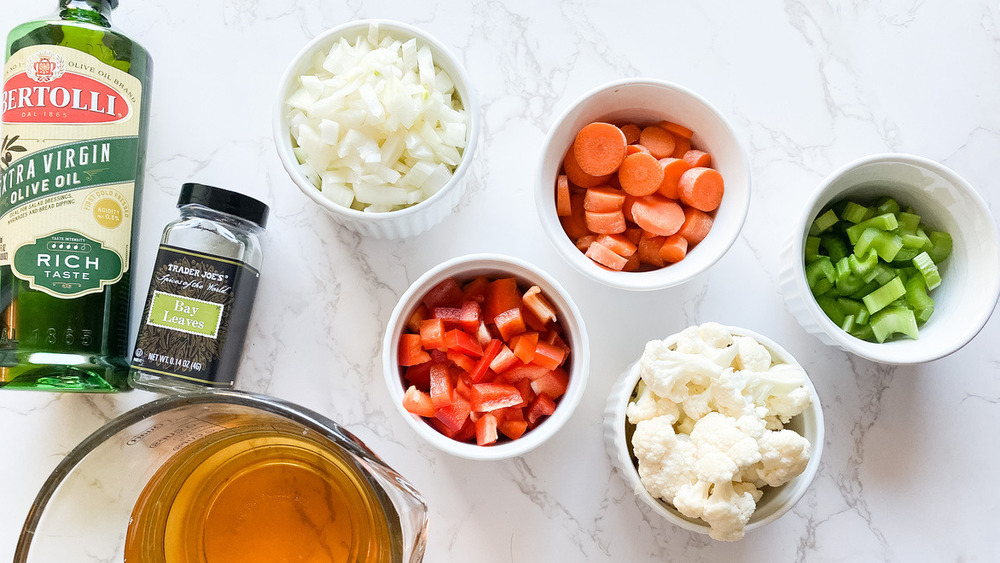 Kristen Carli/Mashed
To make this giardiniera, you'll need five veggies: cauliflower, red bell pepper, celery, carrots, and yellow onion. With the cauliflower, you'll need to separate it into florets, although you may wish to chop it more finely than that, depending on what you'll be using it for. The more finely chopped the veggies in the medley, the more spreadable the end product will be. 
The red bell pepper, the celery, and the onions are to be diced and the carrots should be sliced, although you can dice these as well if that's your preference. As to whether to peel or not to peel those carrots, this giardiniera recipe doesn't quite fit with the recipes that work well with unpeeled carrots, such as stews and purees. In a dish like this one, where all of the vegetables are front and center, peeled carrots may be more visually appealing, and you'll also avoid any slight bitterness the skin might lend.
I f you would like, you could also spice this recipe up a bit by adding some chopped jalapenos, serranos, or other types of chilis. While Italian-style giardiniera typically doesn't pack much heat, Chicago-style includes peppers more often than not.
Simmer the vegetables for the giardiniera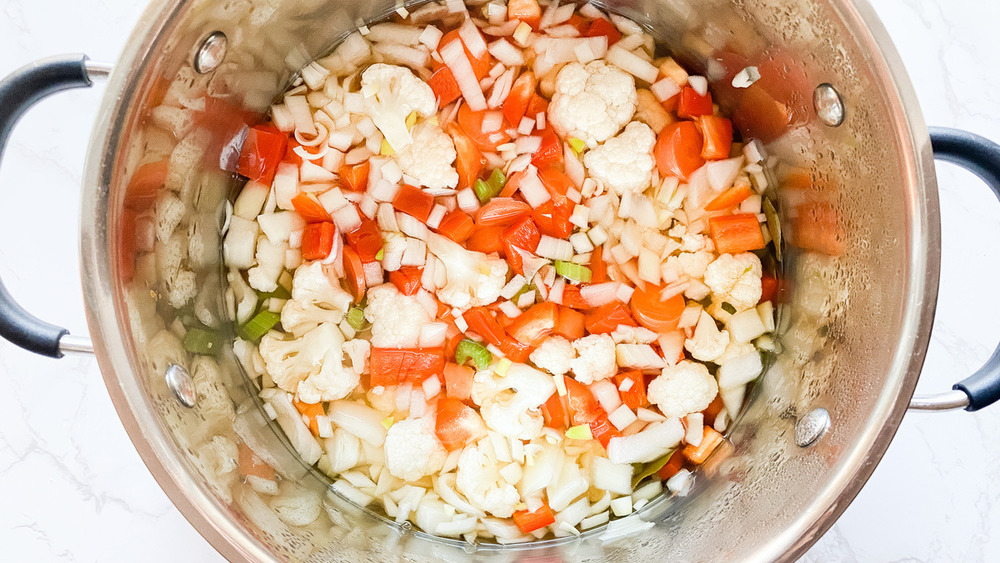 Kristen Carli/Mashed
Add the water, the bay leaves, and the vinegar to a large stock pot. Carli uses apple cider vinegar in her giardiniera, but many other recipes call for white vinegar, so you can use whichever one you prefer or have on hand. Bring the mixture to a boil, then turn the heat down until the liquid is just simmering. Add the vegetables to the pot and let them cook for 5 minutes.
After the 5 minutes is up, remove the pot from the heat and cover it. Let the vegetables sit, covered, for another 5 minutes to cool off a bit.
Marinate the vegetables for the giardiniera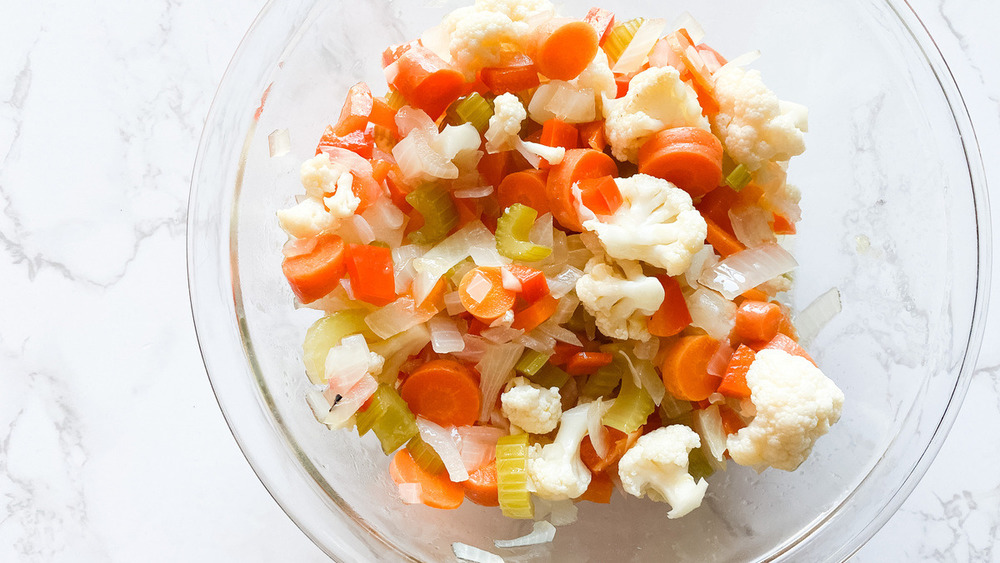 Kristen Carli/Mashed
After the vegetables have soaked in the vinegar water for 5 minutes, drain them, but reserve 2 tablespoons of the cooking liquid. Remove and discard the bay leaves. (Hate to waste anything? A kitchen compost bin will allow you to turn such leftovers into food for your indoor plants.) Pour the olive oil into a medium-sized bowl, then add the cooked veggies and the reserved liquid to the bowl. Mix well until all of the veggies are covered in oil, then refrigerate for at least 4 hours before serving. Carli says this giardiniera tastes just as good right out of the fridge as it does at room temperature.
What you can do with this giardiniera
The hybrid Italian/Chicago nature of this giardiniera make it suited to a wide range of uses. Carli says she uses it both on antipasto platters, as is frequently the case with Italian-style giardiniera, and as a sandwich topping, as is more usual with the Chicago-style. It would be delicious on an Italian beef sandwich, and would also work on a Philly cheesesteak or even a burger. You could try the giardiniera on a pizza as well, or use it to jazz up your breakfast eggs as Jeff Mauro recommends. Maybe even stir some into a pasta sauce or pasta salad or do as Bon Appétit suggests and mix some finely chopped giardiniera with mayo for a sandwich spread.
Unlike the more pickled types of giardiniera, though, this stuff doesn't have much of a shelf — or fridge — life. Carli says it will only last for about one week in the refrigerator, so be sure to use it before you lose it (to spoilage, that is).
Giardiniera Recipe
Whether it's Italian or Chicago style, giardiniera adds a pickled kick to any meal. Here's our quick hybrid version that can be enjoyed soon after cooking.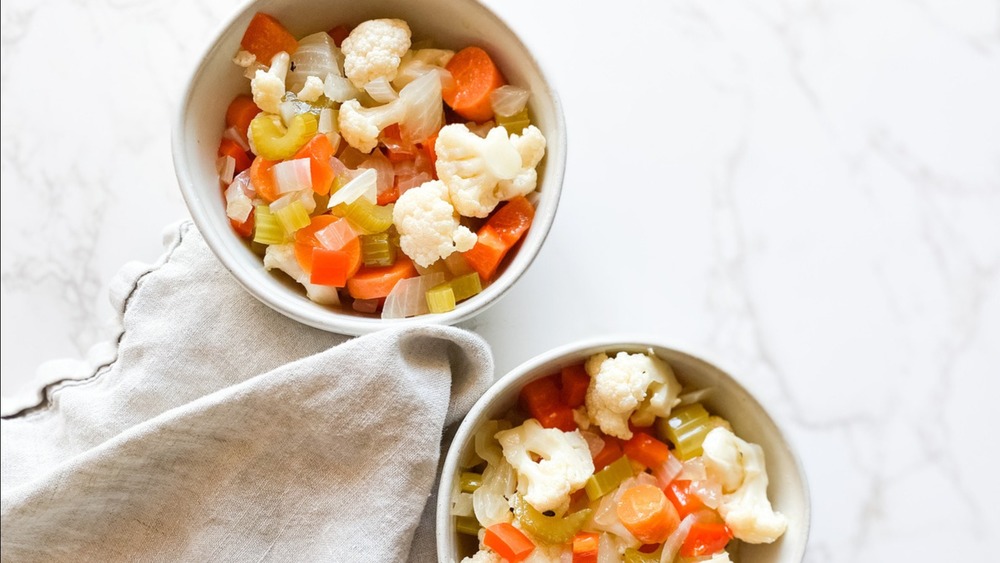 Ingredients
2 cups apple cider vinegar
1 cup water
2 bay leaves
½ head of cauliflower, cut into florets
1 red bell pepper, diced
2 stalks celery, diced
2 carrots, sliced
½ yellow onion, diced
¼ cup olive oil
Optional Ingredients
Chopped chile peppers (jalapenos, serranos, etc) to taste
Directions
In a large stockpot, bring the vinegar, water and bay leaves to a boil.
Turn down to a simmer and add the cauliflower, bell pepper, celery, carrots, and onion.
Simmer for 5 minutes, then remove from heat and cover.
Let stand, covered, for 5 minutes.
In a medium bowl, add olive oil, cooked vegetables and 2 tablespoons of the cooking liquid. Stir to combine.
Chill giardiniera in the fridge for at least 4 hours. Enjoy at room temperature or chilled.
Nutrition
| | |
| --- | --- |
| Calories per Serving | 48 |
| Total Fat | 3.5 g |
| Saturated Fat | 0.5 g |
| Trans Fat | 0.0 g |
| Cholesterol | 0.0 mg |
| | |
| --- | --- |
| Total Carbohydrates | 2.9 g |
| Dietary Fiber | 0.9 g |
| Total Sugars | 1.3 g |
| Sodium | 16.9 mg |
| Protein | 0.6 g |