Jeff Mauro's Take On The Muffuletta Is The Ultimate Breakfast Food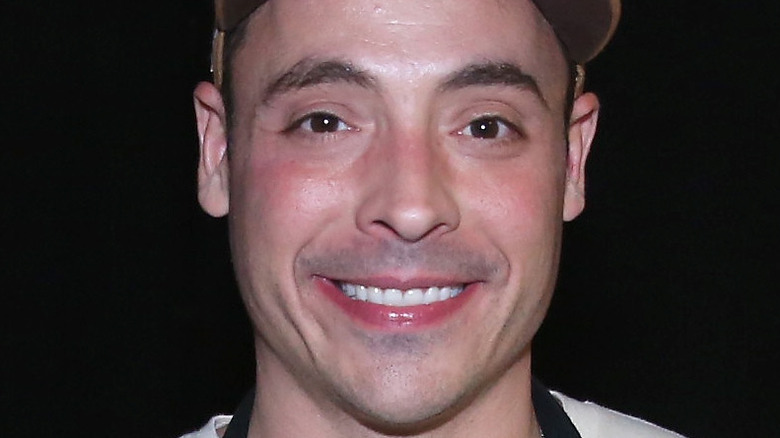 Rob Kim/Getty Images
Order's up! Breakfast for dinner is always a special favorite. Well, how about dinner for breakfast? Whenever these worlds collide, something just short of magic happens. There's something mega-satisfying about enjoying a savory dish at the breakfast table — as opposed to your everyday, run-of-the-mill bowl of cereal, stack of pancakes with syrup, cup of fresh fruit, or box of delectable doughnuts.
When you eat something with a bit more substance, it's almost as if you're treating your taste buds to a fancy (but not too fancy) party to start off the day. One of the most common instances of this feat comes in the form of a sandwich. They're great for both slow weekend A.M. wakeup fuel and munching on-the-go.
In order to be considered more suited for a morning meal, breakfast or brunch sandwiches typically involve a few elements, including fluffy eggs, wholesome veggies, tender meats, flavorful spreads or condiments, and of course, some soft and crusty bread to hold everything in its proper place. And if the sandwich gets a little messy, that simply creates more fun! Let's check out how Food Network host and Chicago icon Jeff Mauro whips up a delicious dinner-esque meal to break his fast.
What is Jeff Mauro's favorite take on the muffuletta?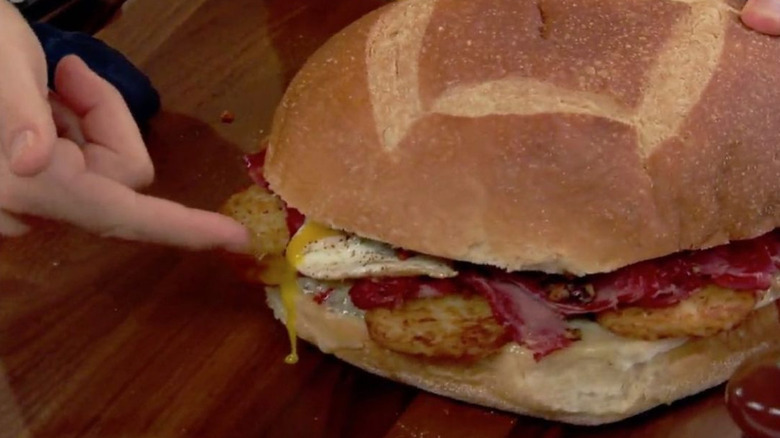 Instagram
As we all know (or as you may guess from his superlative nickname), Jeff "The Sandwich King of Chicago" Mauro sure loves his sammies. And over the years, he has perfected the art of concocting new and unique creations with familiar ingredient combinations. In a recent Instagram post, Mauro shared a mouthwatering photo of his take on a muffuletta sandwich — with corned beef hash! In the caption, he even described this masterpiece as "the one breakfast sandwich to rule them all!"
The muffuletta is an iconic Italian-inspired sandwich that has roots in New Orleans cuisine. The traditional recipe calls for Italian bread, green olives, black olives, olive oil, minced garlic, dried oregano, dried thyme, sliced provolone cheese, sliced Swiss cheese, sliced salami, sliced mortadella, and sliced capicola.
Jeff's version of the sandwich, however, combines the muffuletta classics with those of corned beef hash. You'll need green olives, Greek kalamata olives, hot giardiniera, capers, fresh parsley, red wine vinegar, olive oil, honey, some crusty boule (or any hearty sandwich bread of your choice), Swiss cheese, hash brown patties, corned beef, unsalted butter, eggs, and ground black pepper (via Food Network). You'll love each and every tangy, chewy, cheesy, beefy bite, and you'll transport yourself to a Louisiana diner in no time. Thanks for yet another masterpiece, Mr. Mauro!