The Best Sandwiches Ever Seen On Man V. Food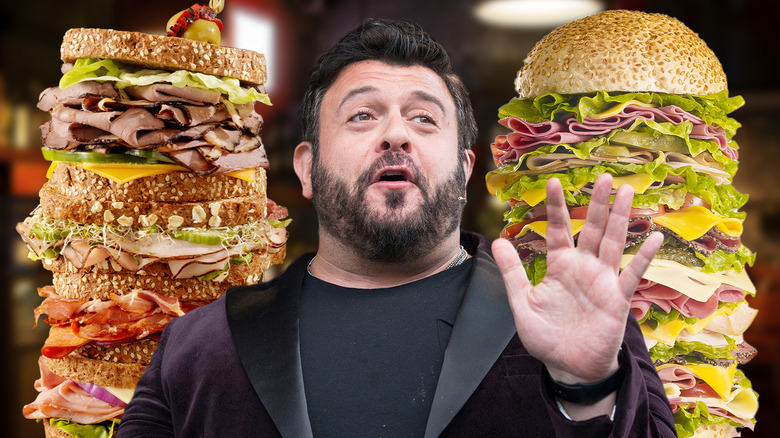 Static Media / Getty / Shutterstock
The sandwich horrors encountered by Adam Richman and, later, Casey Webb on "Man v. Food" are not what the Earl of Sandwich envisioned when he supposedly invented the sandwich. There is no way the sandwich's folkloric namesake thought this was where things were headed. Yet, here we are, getting short of breath while trying to eat a three-foot sub by our lonesome.
Since the show launched in 2008, Richman and Webb have encountered some impossibly gigantic sandwiches. These are sandwiches that can be described equally for their ability to horrify and delight. Though, not every sandwich looks like The Commish, a 5-pound monster Webb encountered at Jake's Deli in Milwaukee. (The Commish features an entire loaf of rye bread and a half-pound of sauerkraut, among plenty of other toppings.) Many sandwiches are more reasonably sized and don't require diners to sign a waiver.
Despite the monstrous portions featured in challenges on "Man v. Food," other sandwiches are deeply alluring bucket list kinds of meals. Here is a look at the most delectable sandwiches from the show.
The original stuffed sandwich
Primanti Brothers in Pittsburgh is one of those rare establishments that touts a truly iconic sandwich. It started as a Pittsburgh staple and now has locations across the state, with restaurants in Ohio, West Virginia, and Maryland as well. What made the regional chain famous is simple: Its unique sandwiches, which come topped with fries and cole slaw. Just a look at these sandwiches can make your jaw muscles ache.
While it was not a challenge faced on "Man v. Food," for most mortals, it might feel like a challenge. The "almost famous" sandwiches — a label employed on the Primanti Brothers menu — come with fresh meat on Italian white bread. No matter which sandwich you order, it also comes with Primanti Brothers' signature cole slaw and a handful of hand-cut french fries right inside the sandwich.
The result of adding side dishes to the top of a sandwich? "You have all the flavor profiles that you would expect in a full meal, literally in your hand," Richman says.
The Fat Sandwich challenge
At Rutgers University, you could once find a row of "grease trucks" that graced the campus for many years. Things have changed in the years since "Man v. Food" visited, though. Nonetheless, at that time, R U HUNGRY? and its famous Fat Sandwiches were a primary attraction among those trucks.  
The hoagies weigh roughly a pound and a half, so it is almost a challenge just to eat one. The actual challenge asks the bold to eat five Fat Sandwiches in 45 minutes. Whether or not diners accept the challenge, the Fat Sandwich comes on a flaky hoagie roll with customizable options that include the option of adding greasy spoon staples like eggs or mozzarella sticks. No matter how it is constructed, it comes topped with a handful of fries.
If a competitor conquers the challenge, they get to make up their own distinct fat sandwich that gets placed on the menu, according to the show. The grease trucks may be gone at Rutgers, but R U Hungry? has opened a couple of restaurants, including one in Newark, New Jersey, to ensure that the legend of Fat Sandwiches lives on.
A banh mi over 2 feet long
You know the iconic banh mi. The banh mi at Lu's Sandwiches in Minneapolis fits into that classic mold. The restaurant makes it on a French baguette with marinated pork shoulder, pork paté, cilantro, cucumber, pickled carrots, daikon, jalapeños, green onions, mayo, and butter. What is less typical is the restaurant's Banh Mi Challenge.
Webb went to Minneapolis to take on a banh mi taller than a toddler. It's a 30-inch sandwich with nothing particularly surprising about it, except for the part where it is absurdly gigantic. Webb makes the claim that Lu's is the banh mi in the Twin Cities. Not so secretly, there is a lot of great Southeastern Asian food in Minneapolis, especially on Eat Street, where one of Lu's restaurants is located. Jasmine Deli and Quang would probably have something to say about that claim. But, in the end, they weren't in the show. More importantly, they don't serve a banh mi that you could row down the Mississippi while blasting The Hold Steady.
The classic corned beef and pastrami and Katz's Deli
There may not be a more iconic deli in the United States than Katz's Delicatessen. Even if you've never been, you'd probably recognize it from the famous "When Harry Met Sally" scene. The hype around the deli that opened in 1888 exists for a reason. The food is just as iconic as the reputation. When "Man v. Food" rolled into Katz's, the show focused on that beloved corned beef and pastrami.
This mighty sandwich hits the plate fresh and simple because the ingredients speak for themselves. Most importantly, the meats — the star of this sandwich show — are smoked in-house for three days. The pickles, piled to the side of every sandwich, are also made in-house. The meat is so tender it can make your mouth water right through the screen.
Richman's stop at the deli was not a challenge, so there was never any doubt that he'd finish this classic sandwich piled high with meat.
Sarussi's cuban sandwich, 16 Inches long and 4 inches tall
The Cubano or Cuban sandwich is a hall-of-fame-worthy delight. It may have mysterious origins, but that doesn't stop it from being an absolute classic. The Sarussi Original at Sarussi's in Miami puts a little twist on the Cubano. More specifically, it puts a 2.5-pound turn on the style, topping its sandwich with ham, pork, pickles, and cheese, as well as the secret sauce on which Sarussi's made its name. (In true Miami fashion, you aren't getting salami on your Cubano at Sarussi's.)
In the episode, guests point to the secret sauce as the magic that makes Sarussi's worth the visit. Richman doesn't seem able to quite put his finger on what he's tasting in there (maybe that's just a ruse for the show). Nonetheless, the end result is that the Sarussi Original is a monster of a sandwich, loaded with alluring flavors.
Ohio's melt challenge
This side of bread, cheese is arguably the most essential sandwich ingredient in the U.S. With all of the excess on display in "Man v. Food," of course, there is a sandwich that tests the limits of our collective love of cheese.
Melt Bar & Grilled's 5 pound behemoth is a true challenge. At the time of the show, the Cleveland-based restaurant says its melt features 14 kinds of cheese. That includes unexpected appearances from bleu cheese, feta cheese, and goat cheese. Though, the restaurant now says it features 13 kinds of melted cheese (a number that doesn't sound so unlucky in this context), as well as three slices of bread and a hefty pile of fries and cole slaw.
Unlike most challenges featured on the show, there's no time limit on this one, but the Ohio restaurant chain still says 91% of people fail to rise to that untimed challenge. Richman, however, rose to the moment and finished the sandwich.
The Commish in Milwaukee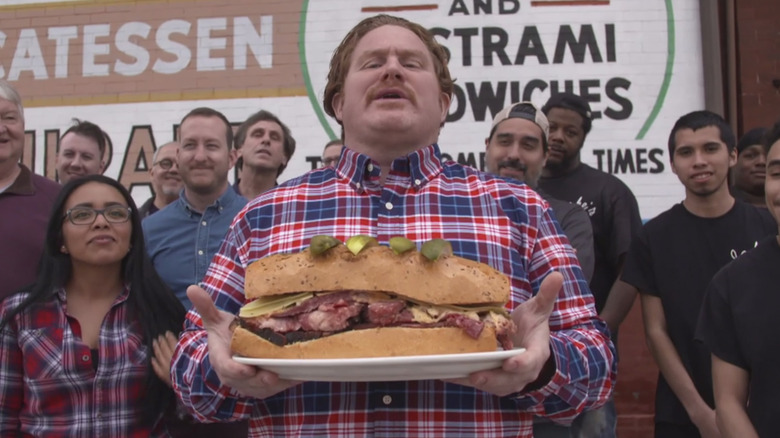 Travel Channel
Webb hit Milwaukee to devour a deceptively large sandwich in Season 5. The Commish, a food challenge concocted by Jake's Deli, doesn't have the obvious huge factor of some sandwiches the show has taken on. It isn't stacked high. It isn't the spiciest sandwich east of the Mississippi. It's just, well, girthy. 
Founded in 1955, the deli makes the sandwich on an entire loaf of rye bread with 2.5 pounds of corned beef and pastrami, a half-pound of sauerkraut, a half-pound of cheese, a half-pound of jalapeños, Thousand Island dressing, Swiss cheese, and pickles set atop the mountainous pile. It's basically an entire deli made into a sandwich.
It looks delicious, but at 4.5 pounds, it's a lot of sandwich. The restaurant told Webb it normally gets 10 to 12 sandwiches out of the loaf that makes just one Commish. Webb only had 45 minutes to finish it off and noted that only four people had ever completed the challenge at the time the episode was filmed. It was one of the rare challenges that bested Webb.
The Pigzilla Challenge
The Pigzilla falls into a similar category as The Commish; it looks incredible, but it's about five sizes too big. The Pigzilla challenge was created by Papa Buck's BBQ near Savannah, Georgia, and stars a 4-pound monster, loaded with more pulled pork than most people can (or should) eat in a single sitting. It's constructed with 3 pounds of pulled pork and a massive 1-pound bun that is so large it could be hollowed out to make a doghouse. The sandwich also gets doused with the restaurant's barbecue sauce. 
The sandwich isn't just sizeable, it's also made with love. Papa Buck's smokes the meat in-house, giving the Pigzilla Challenge some appeal despite the inevitable fullness that will follow. Of course, you could also get some of that fall-off-the-bone tender pulled pork on a sandwich that doesn't weigh 4 pounds. Nonetheless, the Pigzilla is still out there if you're feeling bold. According to the restaurant website, as of May 2023, 191 people have given it a run, but only 18 have conquered Mt. Pigzilla. 
Stripchezze's Hot Streak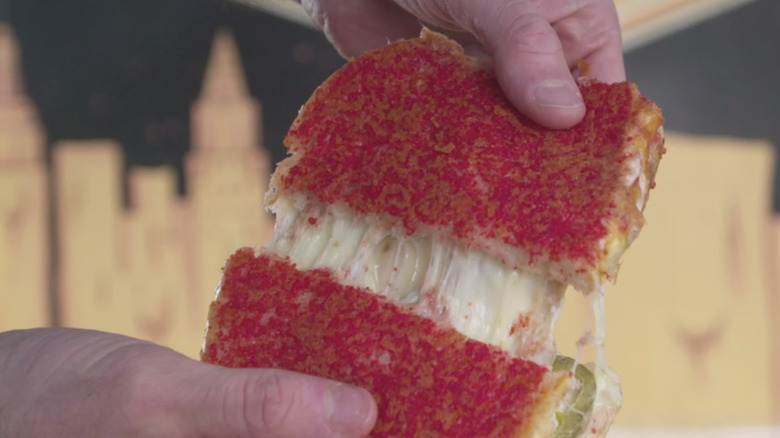 Travel Channel
In Las Vegas, concerts require costume changes, fountains are accompanied by music, and buffets need to be longer than a racetrack. Everything is done with a go big or go home attitude. Stripchezze got the memo. Even though it's a grilled cheese-focused food truck, it brings that Sin City flourish to the classic sandwich. Webb stopped by the truck and described the sandwiches as "outrageously fun." 
He honed in on the Hot Streak, which is an immensely alluring concoction. Webb notes that food truck owner Suzy Davis uses sourdough bread not only because it's delicious but because it is sturdy enough to stand up to the massive amount of cheese she piles onto her sandwiches. It comes packed with pepper jack cheese, pickled jalapeños on sourdough bread crusted in Parmesan cheese and Flaming Hot Cheetos. Oh, and it gets a drizzle of Sriracha mayo. It's not going to set your head on fire like some of the Scoville-pushing meals seen on "Man v Food," but it does bring a notable level of heat.
A Thanksgiving UFO Mash-Up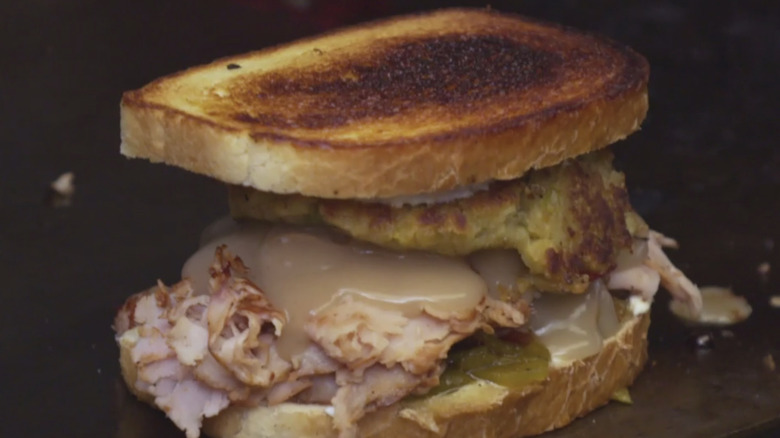 Travel Channel
Roswell, New Mexico, is best known for the conspiracy theories that call it home. It's something that the sandwich shop B'wiches has embraced wholeheartedly. Webb found that embrace in B'wiches' Thanksgiving-themed sandwich dubbed the 1947. It's named after the year of the Roswell Incident, which depending on your stance, is when a weather balloon caused confusion, the government covered up something significant, and/or little green space travelers made a pit stop in the American Southwest.
However, the only thing out of this world about the 1947 is the number of chiles that go into its creation. The show-stopping sandwich features turkey, cream cheese, green hatch chile jam, green chile cornbread dressing, gravy, and garlic parm mayo on toasted sourdough bread.  If that doesn't already sound good enough, B'wiches isn't done with the cornbread dressing when it comes out of the oven. The restaurant gives it texture by frying the stuffing before it hits the sandwich, as owner Kerry Moore showed Webb in the episode. The sandwich is proof that Moore meant it when she told Webb, "We take anything that's traditional and then we New Mexico-fy it."
The Video Game-Inspired Double Dragon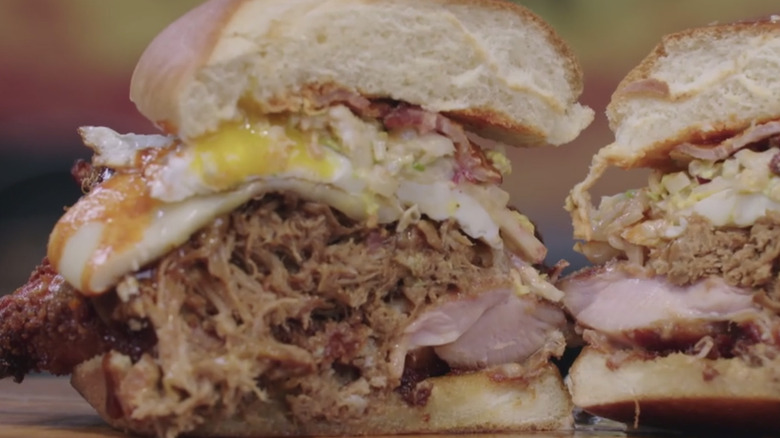 Travel Channel
The Double Dragon might sound like some kind of clever wordplay for a sandwich loaded with Dragon's Breath peppers, but Adam's Grub Truck in San Francisco says it's just about the classic video game. Owner Adam Lee told Webb, "I had a fried chicken sandwich and I had a pulled pork sandwich, and I was like, let's do the Double Dragon."
Webb describes Adam's Grub Truck as having "huge portions of explosive Asian fusion flavor." The Double Dragon doesn't deviate, featuring a huge piece of fried chicken, pulled pork, bacon, a fried egg, Asian slaw, muenster cheese, and hoisin barbecue sauce on a brioche bun. The chicken is clearly the star of the show as Webb takes viewers behind the scenes to see the thighs marinated with white pepper, soy sauce, and Sriracha before getting coated in Panko bread crumbs.
Adam's Grub Truck, unfortunately, no longer has the Double Dragon on the menu. However, the Sabretooth looks a lot like it only without the pulled pork. It has Panko-crusted fried chicken, applewood bacon, pepper jack cheese, a fried egg, Asian slaw, crispy onions, french fries, and garlic cheese spread somehow crammed into the bun.
Cajun Finn on the North Shore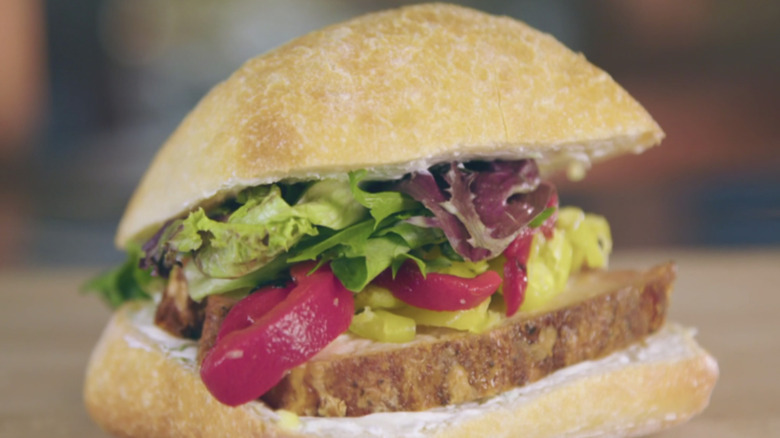 Travel Channel
Head north (even further north than Toronto). In Duluth, Minnesota, you're almost as far north as you can get in the Lower 48. It might be worth the trip, according to Webb, because that's where you'll find Northern Waters Smokehaus cooking up the Cajun Finn sandwich. 
Northern Waters smokes its own meat, including fish, and actually got its start selling smoked meats wholesale. Fortunately for mouths across the north shore, a tentative foray into retail bloomed into a full-blown sandwich haven. The Cajun Finn sandwich is made with smoked Cajun salmon, onion cream cheese, roasted red peppers, pepperoncini, and lettuce on a rustic stirato roll. It might even remind you of a delicious and playful twist on a Lox bagel. The deli reports that the Cajun Finn is still its best-selling sandwich. That is a hearty endorsement given that 29 sandwiches currently grace its menu.
A Trip to Porkland
Portland — dubbed Porkland by Webb because of this sandwich — is home to Lardo, a restaurant that loves bringing pig into almost every dish. The former food cart has a lot of sandwiches, but Webb came to the Northwest for the porchetta. Lardo cooks the meat for this sandwich in-house; the loin is seasoned with salt, garlic, rosemary, fennel pollen, and pepper before being rolled up and tossed in the oven. Once it's done, the meat is sliced and spends a little time on the flattop. Then, it's sandwich time. 
The porchetta sandwich is made with a generous spread of caper mayo, house-made gremolata, and succulent meat, along with arugula and parmesan nestled inside a ciabatta roll. In the episode, Lardo owner and chef Rick Gencarelli says that each sandwich is loaded with crispy fat from the outside of the porchetta roll, as well as fatty pork belly and tender meat to bring it all together.
The Original Haystack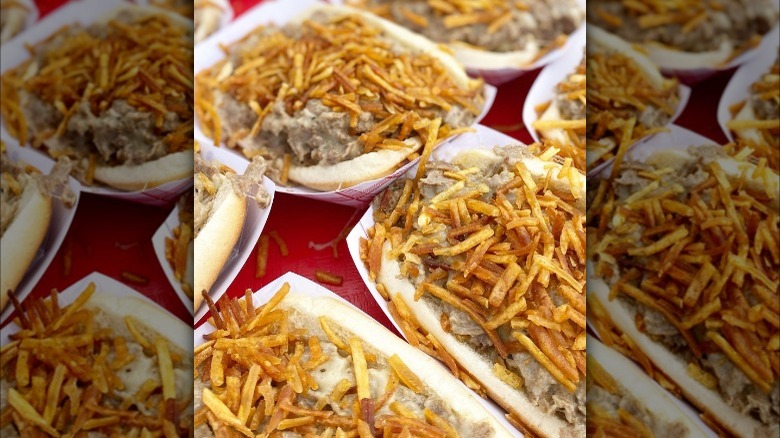 The Silo/Facebook
The Haystack sandwich has achieved some level of fame, particularly in northern New York. So, it's not surprising that while visiting Niagara Falls, Richman swung through Lewiston, New York, to get a taste of the cheesesteak twist. At The Silo, a small restaurant with beautiful views, the Haystack is a legend. 
The hoagie is filled with a full pound of rib-eye steak covered in melted mozzarella and topped with crispy hashbrowns straight from the flattop. The delicious mess is set inside a locally-made roll. On a show like "Man v. Food," the Haystack could get lost. It's not the spiciest, most exotic, tallest, or most unexpected sandwich the hosts have dug up, but it has a reputation for good reason. Richman gets to cook one up with Roberta Cicero, the chef who came up with the sandwich. The Silo continues to serve up a boatload of Haystacks to this day in the original or foot-long version.