Katz's Deli Just Released A New Booze-Inspired Pickle Flavor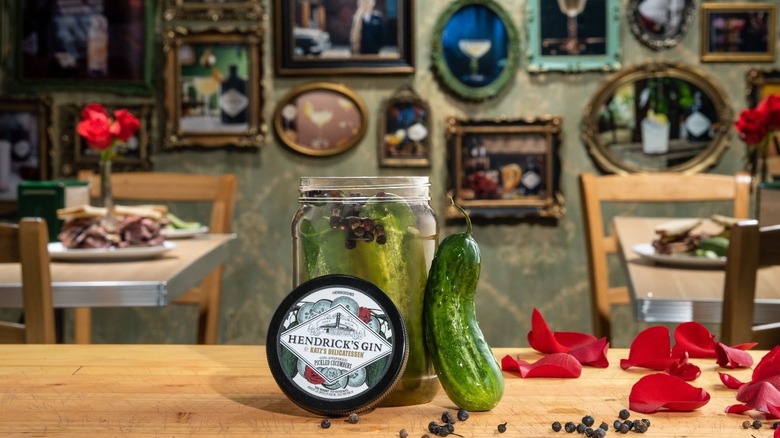 Katz's Delicatessen
Two unlikely food and beverage partners have teamed up from across the pond to create the ultimate briny, booze-inspired snack for deli-going gin lovers. The venerable Scottish gin brand Hendrick's Gin is working with the iconic New York City delicatessen Katz's — best known for its mile-high pastrami sandwiches on mustard-smeared rye bread — to create a one-of-a-kind pickle geared toward cocktail enthusiasts.
The result of the collaboration, according to Katz's website, is a twist on the deli's signature half-sour pickle recipe that combines Hendrick's gin botanicals with Katz's traditional pickle-brining spices. The limited-time partnership between the popular gin brand and NYC landmark began in an unexpected way: as an April Fool's joke. In honor of the holiday, Hendrick's posted an image of gin-infused pickled cucumbers on Instagram with the caption: "Are Hendrick's Gin-Infused Pickled Cucumbers a fantastic idea? YES. Are they real? NO. Are we selling them? NO."
Fans quickly took to the comments insisting that Hendrick's get into the pickle business, with comments like: "This is a missed opportunity! You guys need to do this or someone else is going to snag the idea." The outpouring of support for the pretend pickles must have inspired the brand to turn the farcical concept into a reality.
How do these gin-inspired pickles taste?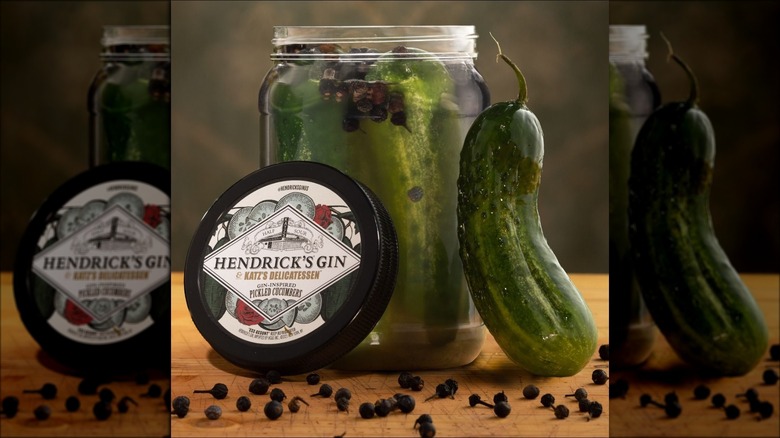 Katz's Delicatessen
Hendrick's Master Distiller, Lesley Gracie, teamed up with Katz's owner, Jake Dell, to concoct a recipe for a unique pickle infused with the familiar botanical flavors of Hendrick's gin, according to a press release. The secret ingredient? Lots of coriander, an herb already used in both Katz's pickles and Hendrick's Gin. The pickles are also flavored with whole juniper and cubeb berries, both found in Hendrick's signature 11-botanical recipe. According to Katz's, the snack is "bright and crispy" with "hints of juniper and pepper," and it pairs well with both a big deli sandwich and your gin-based cocktail of choice. If you order a jar, try to finish the pickles within four days of arrival for "optimal crispness and taste."
The Katz's x Hendrick's Gin Inspired Pickles (which contain no actual alcohol) are produced in small batches and available in limited quantities. Gin lovers can order the specialty pickles — priced at $14.95 per quart, with nationwide shipping available — online while supplies last.