Aldi's Newest Line Of Frozen Cocktails Screams Summer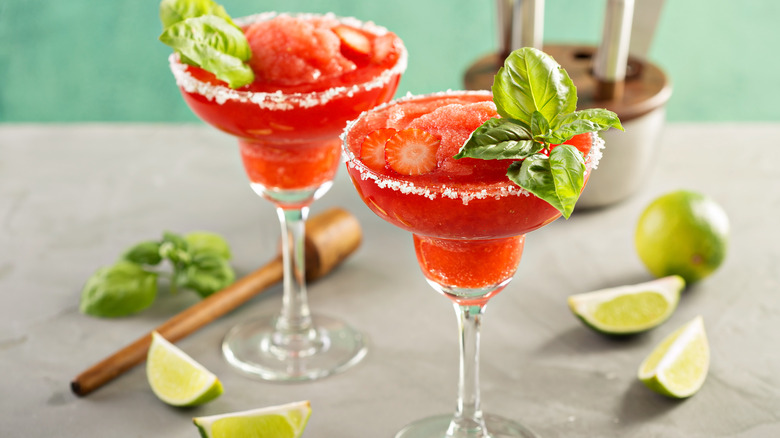 Elena Veselova/Shutterstock
Aldi has a knack for announcing the onset of a new season with a certain flair. Shoppers will find weather-appropriate goodies in the snack aisle, seasonal twists on the store's famous dessert dips, fresh additions to its sweets, and, more importantly, a subtle change in its alcohol collection with each new season.
For example, Aldi once gave its red wine a sweet bloody spin for Halloween, pumpkin spice-flavored wine hit the shelves in fall 2022, winter brought about boozy advent calendars, and dragonfruit seltzers were one of its best April 2023 finds. As the sun begins to come out and the season of barbecues, backyard parties, and beach days commences, Aldi has a new line of cocktails to fit every adult's summer drink needs.
Aldi has released plenty of alcohol options for adults to sip on for the 2023 season, but none scream summer quite as much as its Freeze & Squeeze Zarita Frozen Cocktail pouches do. These cocktails only need to be popped in the freezer ahead of time, squeezed, and transferred into a glass (or enjoyed straight out of its pouch). Not only do they come in classic flavors like Strawberry Daiquiri, Lime Margarita, Piña Colada, and Tropical Hurricane, but their no-fuss preparation also grants you time to relax and enjoy the summer weather. You don't even have to break out your blender! They're also incredibly budget-friendly with a price tag of $1.89 each, and each packs a punch with 6% ABV per pouch.
Aldi's summer alcohol line-up features fruit-forward flavors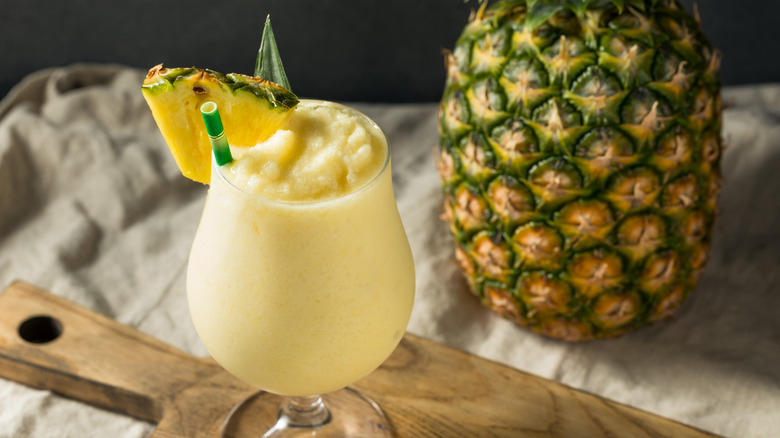 Brent Hofacker/Shutterstock
Sipping on ready-to-drink frozen piña coladas, margaritas, and daiquiris while the sun blazes outside feels luxurious. However, frozen cocktail pouches aren't the only seasonal treat Aldi has in store for its adult shoppers. Also on Aldi's summer drink lineup are alcoholic popsicles! The Zarita Lemonade Freeze Pops come in boxes of 12 (priced at $13.99) with Original, Mango, and Strawberry flavors. Each popsicle contains 5% ABV and, much like Zarita's frozen cocktails, requires no prep beyond time spent in the freezer. Who says being an adult can't be fun?
If frozen lemonades and cocktails aren't for you, wine lovers have plenty of options. Coming to stores for summer 2023 are bottles of sparkling rosé, red wines, chardonnays, and fruit-flavored bubblies. Shoppers who enjoy sweeter wines can find the light-bodied Pacific Fruit Vineyards Bubbly in Sweet Peach and Sweet Strawberry flavors as well as bottles of Giambellino's Watermelon Bellini on Aldi shelves. 
The supermarket also has Locken's Tropical Pineapple Kolsch-Style beers and spiked iced teas in a can on its lineup, continuing its fruit-forward alcohol trend. The All Play Hard Iced Tea Variety Pack comes with 12 cans of boozy iced teas in four flavors and is priced at $13.99 a box. And, to satisfy your sweet tooth, Aldi also has a perfectly summery dessert wine: Petit Coconut, a coconut-flavored white wine with cream for a unique after-dinner tipple.