The Nutella Hack That Corey B Can't Get Enough Of - Exclusive
If there's one thing we know for sure, it's that we love Nutella. The hazelnut spread (while, yes, it's high in sugar and calories) is simply delicious paired with foods like crêpes, toast, or bananas — just consume it in moderation! If you are looking for three-ingredient Nutella brownies, Nutella chocolate cake, or Nutella cookies, then Mashed has you covered. But if you're looking for more of a quick snack that immediately satisfies your chocolate craving, then social media sensation Corey B has you covered.
In an exclusive interview with Mashed, Corey B, known for his reactions to unorthodox recipes online, revealed the one food hack that he still uses today. And guess what — the recipe involves Nutella. Corey achieved his viral status by incorporating humor into his videos, where he has tried food concoctions from bootleg baklava to quiche-stuffed bagels. Now, the viral personality recommends making an Uncrustable-like snack that includes the famous chocolate spread.
You need only two ingredients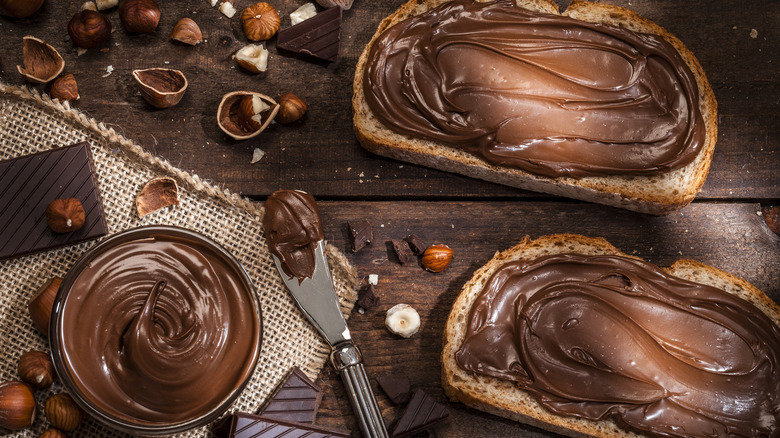 Fcafotodigital/Getty Images
You must be familiar with Smucker's Uncrustables. The original frozen sandwiches featured peanut butter and grape jelly stuffed inside a soft bread — perfect for a lunchbox stuffer or midday pick-me-up. Well, the food hack Corey B uses is pretty much the same idea, but Nutella edition. "There's this one [recipe] where you could put Nutella on toast and make an Uncrustable out of it and throw it in a toaster," the social media star told Mashed.
Corey, who also co-owns Bang Cookies, described the hack as "a nice snack" and explained of the recipes he likes to make, "It's probably that I'm very simple when I don't make messes in the kitchen or whatnot — anything that's easy to make like that, for sure." Anything Nutella-related has us immediately intrigued, so we will definitely be trying out this two-ingredient masterpiece! There are actually many other amazing creations you can make with Nutella as well, if you're on a Nutella kick like we are.

You can keep up with Corey B's latest recipe reactions on his TikTok or Instagram page. Find more information about Bang Cookies on its website.