3-Ingredient Nutella Cookie Recipe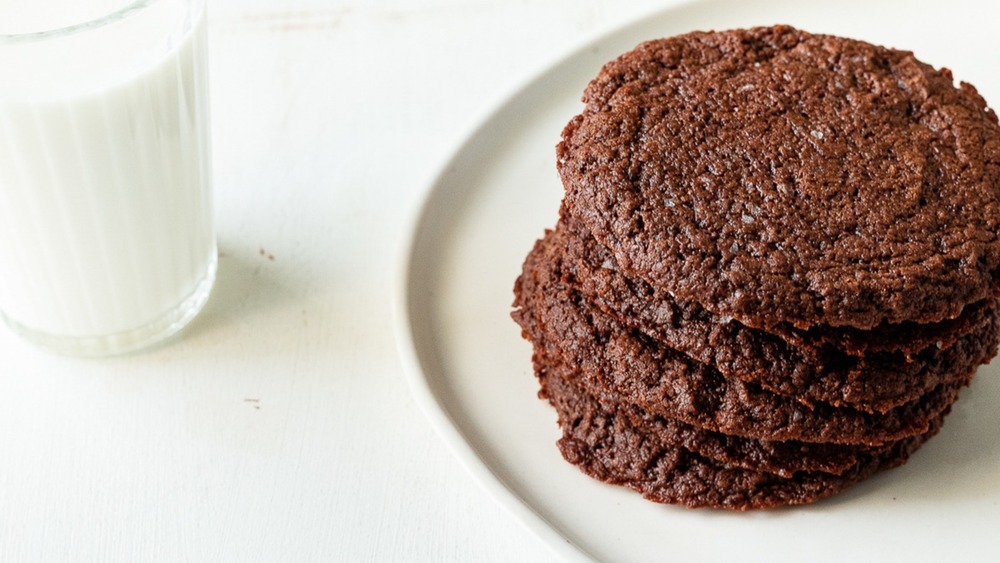 Sher Castellano/Mashed
How did Nutella manage to become such a worldwide phenomenon? It seems the hazelnut/chocolate flavor combo has been popular in Italy since the early nineteenth century. When chocolate became crazy expensive due to Napoleon's blockades, The Boar says Italian chocolate makers stretched out supplies with chopped nuts to create a paste called "gianduia." The spreadable form of this confection was born out of later wartime economizing — according to Giovanni Ferrero, son of Nutella inventor Michael Ferrero, in post-WWII Italy, everybody was broke and food was rationed. His grandfather created a spreadable chocolate hazelnut treat that allowed a little to go a long way, and this Supercrema became an instant hit.
Nutella itself was the 2.0 version of Supercrema, hitting the shelves in 1964 and going on to conquer the world in a far more successful, and tasteful, way than Napoleon himself ever managed to do. While spreading Nutella on bread of crackers may be the European way, we impatient Americans are more likely to just dig right in with a spoon. If you want a somewhat more sophisticated Nutella experience and have just a few more minutes to spare, though, Sher Castellano came up with this recipe for 3-ingredient Nutella cookies that can be ready in under half an hour.
Get everything together for these 3-ingredient Nutella cookies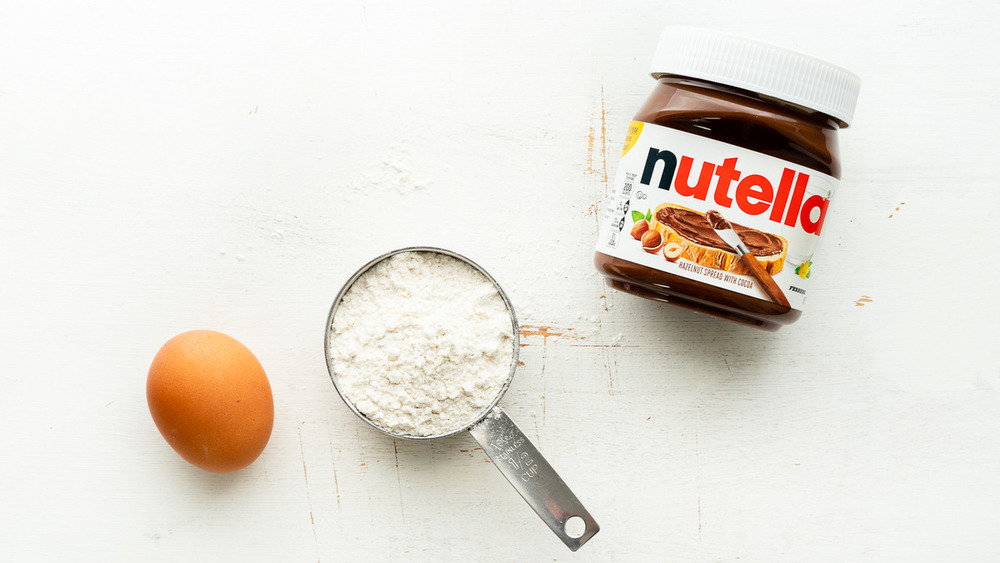 Sher Castellano/Mashed
First, you'll want to gather everything you need to make these 3-ingredient Nutella cookies. After all, if you don't have everything on hand, you might find yourself having to make last-minute ingredient swaps.
Luckily, this recipe has just three ingredients, so you should be able to see at a glance (maybe two glances, one into the fridge and one into the pantry) to see if you've got everything you need. What you'll need is Nutella (or a similar, if less iconic, chocolate/hazelnut spread), an egg, and all-purpose flour. Oh, and good news if you're gluten-free! Castellano says you can use all-purpose gluten-free flour in this recipe with no additional tweaking required. As long as you use a special flour formulated for a 1:1 replacement, there should be no significant difference in texture.
One additional note regarding the Nutella and the egg: Make sure both of these are at room temperature before you begin baking. That way, your dough and your finished product will have the proper texture, and the Nutella will be easier to stir. (If it's gotten a bit dry, you can always try nuking it in the microwave for a few seconds to soften it up.)
Preheat the oven and prepare your pans for these 3-ingredient Nutella cookies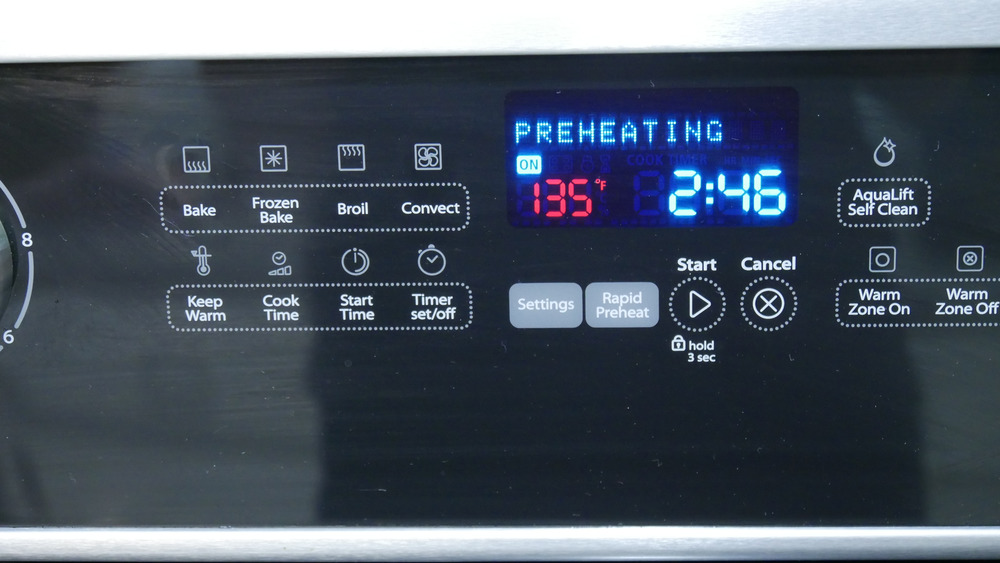 Shutterstock
Once you have everything on hand for these 3-ingredient Nutella cookies, no last-minute trips to the store necessary, and once your egg and Nutella are well on their way to reaching room temp, then it's time to preheat the oven. Yes, it can be very boring waiting for your oven to reach the right temperature (that being 350 degrees in this case), but with baked goods, this step's an unskippable one. Putting cookies into a cold oven will definitely mess them up — they could come out too hard, too dry, or too flat, but they're bound to disappoint in some way.
While you're waiting for the oven to preheat, you can get your pans ready. You'll need two cookie sheets, and Castellano advises lining them with parchment paper because otherwise, the cookies will stick. If you don't have parchment paper, you could try using silicone baking mats or silicone sheets if you have these, or you could also try aluminum foil (lightly oiled) or just go old-school and grease your baking sheets.
Combine the ingredients for your 3-ingredient Nutella cookies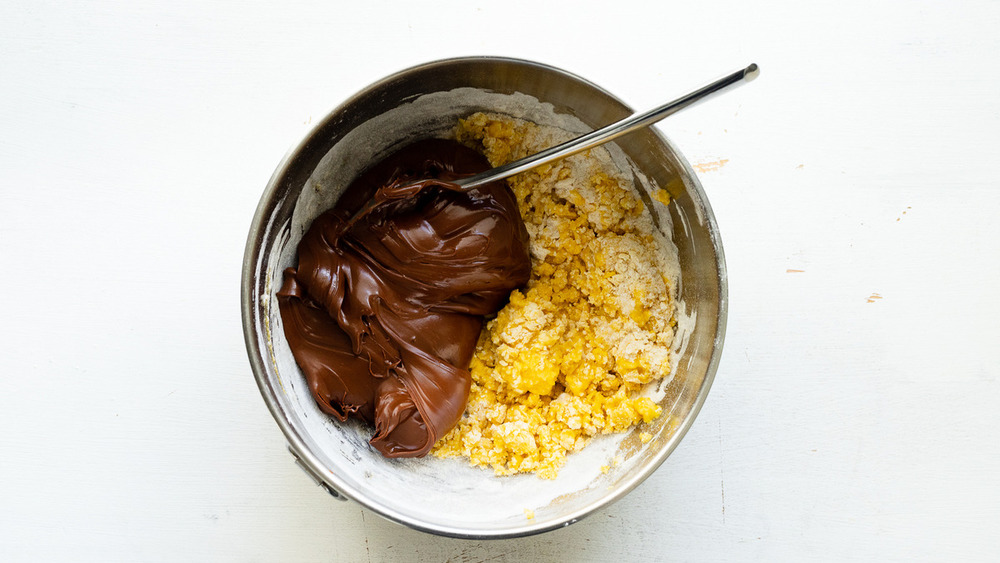 Sher Castellano/Mashed
At last, it's time for some hands-on work with the 3-ingredient Nutella cookie ingredients. First, you'll whisk the egg in a mixing bowl, then you'll stir in the flour until you get a crumbly mixture. Now, open the jar of Nutella. No, put that spoon down! You need to save the Nutella for the cookies, not scarf it all now. Trust us, a teeny bit of self-control will be well worth it in just a few more minutes.
Okay, now pick the spoon up again, scoop out enough Nutella to fill the measuring cup (what you do with the rest of the jar is between you and your bathroom scale), and stir it into the egg and flour mixture. Beat until the dough is smooth and well-combined. Also, don't eat the dough, since raw egg.
Scoop, roll, heat, and eat your 3-ingredient Nutella cookies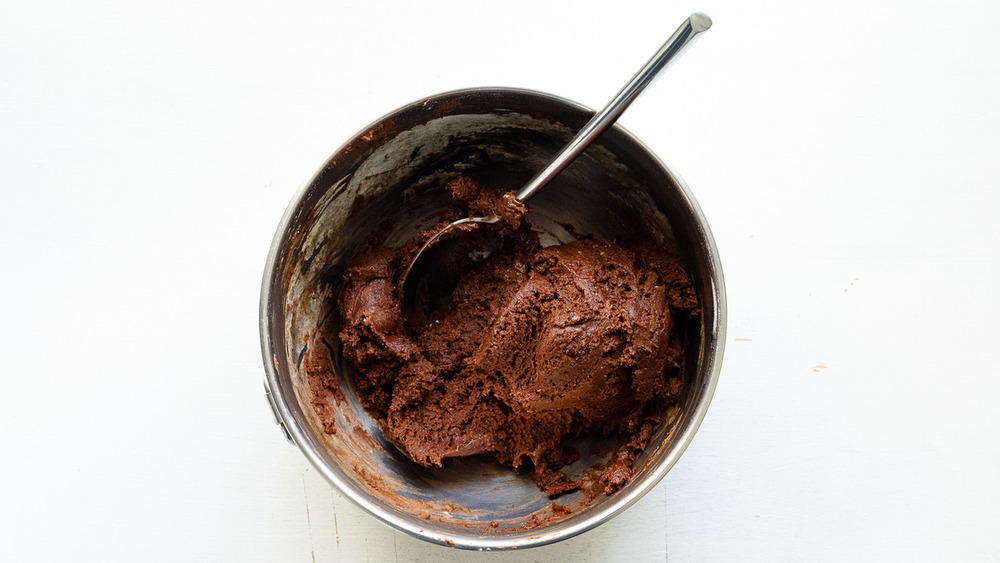 Sher Castellano/Mashed
Scoop or pinch a two-tablespoon ball of 3-ingredient Nutella cookie dough, which Castellano says will be just about the size of a golf ball. Roll it into a ball, place it on the baking sheet, and gently flatten it out with a spoon. Repeat until all the dough is used up, but don't over-crowd the baking sheet even if it does look like you can fit them all on one. Castellano warns that "the cookies will spread out" while you bake them, so advises to "place only six on each sheet."
Bake the cookies for about 13 minutes, at which point Castellano says, "the edges will look a little crispy and the centers will be set." Remove them from the oven, then let them sit on the tray until they are cool. Well, at least cool enough to eat. (Just don't burn your mouth.)
A few simple variations on these 3-ingredient Nutella cookies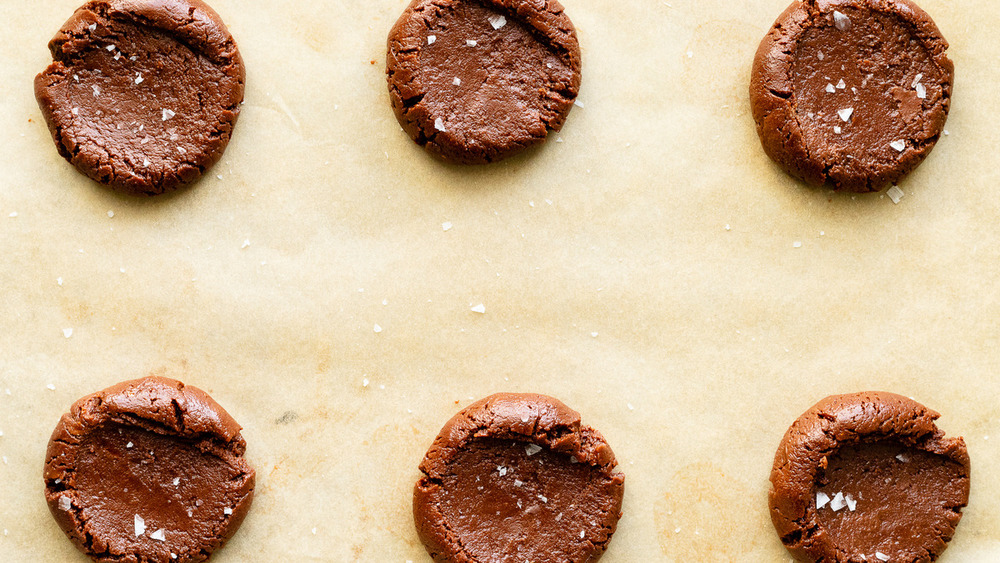 Sher Castellano/Mashed
While these 3-ingredient Nutella cookies are yummy on their own, you can always dress them up a bit more with a few simple add-ons or mix-ins. Castellano says you can sprinkle some salt flakes on top (coarse sea salt would work) before baking if you like that whole sweet/salty thing. If a little less sweetness is what you want, rather than more, you can also add a little unsweetened cocoa powder to the dough along with the Nutella. This will not only cut down on the sugary taste but will also intensify their chocolate-y-ness. (You may need to reduce the flour if you take this route, though.) Other additions you might try are chopped nuts or chocolate chips mixed into the dough, or maybe try a jam "thumbprint" kind of thing on top. The world is your oyster when it comes to dressing up these cookies!
3-Ingredient Nutella Cookie Recipe
Sher Castellano of With Food and Love came up with this recipe for 3-ingredient Nutella cookies that can be ready in under half an hour.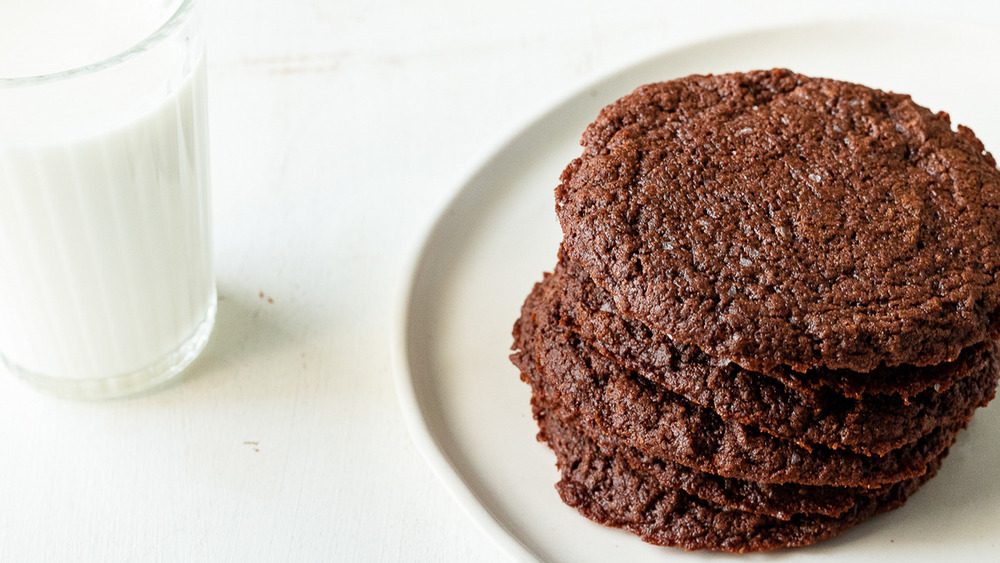 Ingredients
1 cup Nutella
½ cup all-purpose flour (can use gluten-free all-purpose flour)
1 egg
Optional Ingredients
Flake salt or chopped chocolate for topping
Cocoa powder
Directions
Preheat the oven to 350 degrees Fahrenheit and line two sheet pans with parchment paper.
Whisk the egg in a mixing bowl.
Add the flour to the mixing bowl and combine with egg until crumbly.
Add in the Nutella and stir till the dough is smooth and well-combined.
Roll the dough into 2-tablespoon balls and then place on cookie sheet and lightly flatten with a spoon. Sprinkle with flake salt or chopped chocolate if desired. The cookies will spread out while baking, so there should only be six on each sheet.
Bake for 13 minutes, then remove from oven and allow to cool on tray undisturbed.
Nutrition
| | |
| --- | --- |
| Calories per Serving | 158 |
| Total Fat | 7.7 g |
| Saturated Fat | 7.1 g |
| Trans Fat | 0.0 g |
| Cholesterol | 13.3 mg |
| | |
| --- | --- |
| Total Carbohydrates | 19.3 g |
| Dietary Fiber | 1.5 g |
| Total Sugars | 13.4 g |
| Sodium | 15.3 mg |
| Protein | 2.3 g |