Chrissy Teigen Is Set To Open A Pop-Up Bakery To Satisfy All Your Cravings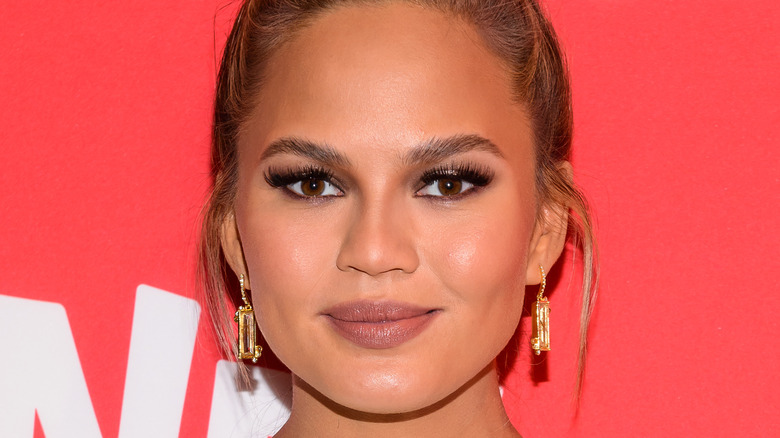 Sky Cinema/Shutterstock
Attention Chrissy Teigen fans: All your Cravings can finally be satisfied because the supermodel-turned-cookbook author is set to open a pop-up bakery. Per Eater Los Angeles, Teigen teamed up with e-commerce platform Shopify to unveil a temporary brick-and-mortar spot at The Row DTLA in downtown Los Angeles.
The bakery will operate out of Shopify's space inside The Row DTLA and is set to feature treats made from Teigen's new line of baking mixes, which means fans can try Teigen's famous chocolate chip cookies, banana bread, mochi waffles with butter and syrup, and more.
The pop-up opens on May 12, 2023, runs through May 21, 2023 (except for May 15 and May 17), and operates from 11 a.m. to 5 p.m. for the duration. Those who want to visit the 4,000-square-foot bakery need to purchase a $5 ticket for entry. Speaking to Forbes about the upcoming event, Teigen said it will feature a butter sculpture, a maple syrup fountain, and other things to help create "the bakery of my dreams!" Tickets can be purchased online at chrissylovesbutter.com or in person at The Row DTLA. As an extra incentive, the $5 cost of admission can be applied toward a purchase at the bakery.
Chrissy Teigen's baking mixes are the pop-up's backbone
Chrissy Teigen launched her line of baking mixes in 2022. She initially started with three flavors: Buttermilk Mochi Pancake and Waffle Mix, Chrissy's Ultimate Banana Bread Mix, and Salted White Chocolate Macadamia Cookie Mix. Later, she added The Perfect Chocolate Chunk Cookie mix. All three proved popular, but the banana bread mix sold out twice online.
Teigen told Forbes that launching the Cravings pop-up allows her to get her products in front of consumers in a way she hasn't been able to accomplish by only running an online store. Along with the ability to purchase baked goods, fans can also peruse a selection of Teigen's cookbooks and other items from her cookware line at the event.
Beyond her dedication to delicious sweets, Teigen also created a honey mustard sauce with the condiment brand Sir Kensington's in 2021. When you add that to the cookbooks, kitchenware, and cooking shows, it becomes clear Teigen is serious about maintaining her status as a major player in the food scene. Perhaps this pop-up is a trial run for a more permanent location, but even if it isn't, it's a wonderful opportunity for LA-area folks to get their hands on some of Teigen's most famous baked treats.