The Fiery Flavor Bomb Your Italian Food Is Probably Missing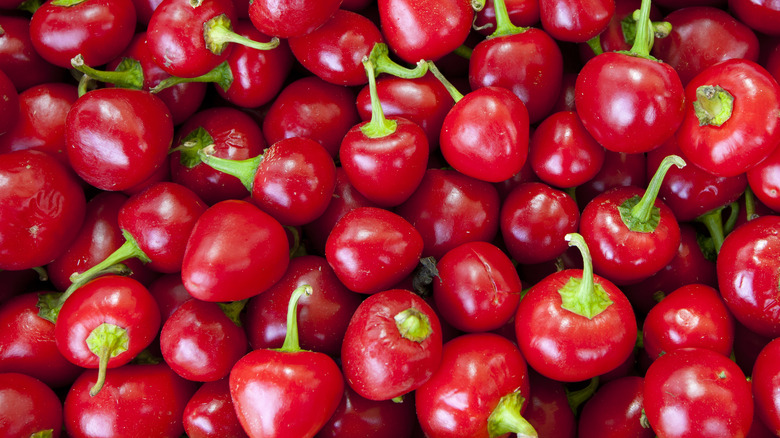 Tim Graham/Getty Images
By now, many of us probably know that many so-called Italian foods aren't actually served in Italy. Recipes like spaghetti and meatballs and chicken parmesan may call for similar ingredients to ones cooks in Rome or Naples would use, but they're actually Italian-American inventions.
But there's an old-school ingredient used in both Italian and Italian-American kitchens that deserves a spot in your kitchen, too: Cherry peppers. With their firetruck-red color, cherry peppers look like pimentos or peppadews — but proceed cautiously, because the more spherical cherry peppers are much spicier.
Cherry peppers, aka cherry bombs, have a spice level similar to mild jalapeños but a thicker skin, so they stay crunchy and have a juicy 'pop.' And like most hot peppers with unexpected health benefits, cherry peppers have plenty of nutrients and antioxidants that can support immune health.
If cherry peppers haven't been in your pantry, you could be missing out when you're making Italian-American classics. Luckily, they're easy to find and easy to use.
How to use cherry peppers in Italian — and all — cooking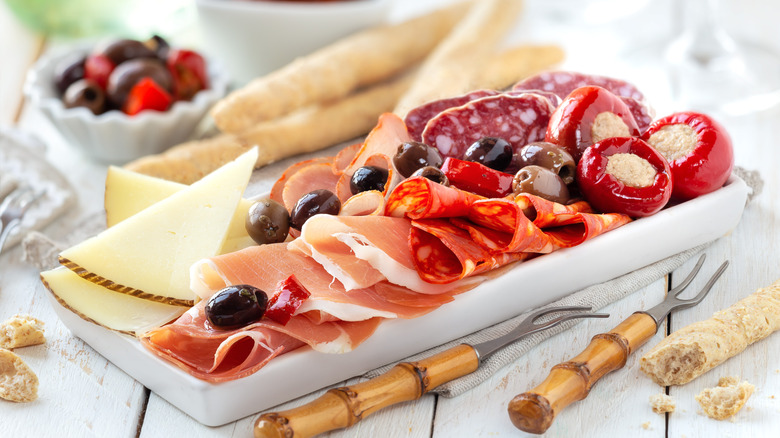 kuvona/Shutterstock
Because of their thick skin, cherry peppers are often pickled in a tangy brine. Stores might stock them differently, but they'll most likely be on the shelf next to other pickles, olives, or Italian condiments and antipasti. Pick up a jar when you come across them, because they're a pantry staple that'll add life — and welcome heat — to your meals.
It's easy to incorporate cherry peppers into your quick weeknight dishes. Simply sautee them with garlic and olive oil — maybe add some pancetta, if you've got it — and toss with tomato sauce and a pasta shape like gemelli. Or, as YouTube sensation Chef Pasquale recommends, cook up some peppers with onions for your next pork chop dish. They're even great on pizza, as Rachael Ray prefers. 
The peppers can add a fun Mediterranean flair to any dish. Food Network chef Anne Burrell adds them to her corned beef hash. Skip the jalapeños and make stuffed cherry pepper poppers. Or, if you're putting together a cheese and charcuterie board, include some pickled cherry peppers and pop 'em plain — they'll be a great burst of heat against rich antipasti or hors d'oeuvres.