Jiffy Corn Muffin Mix Should Be Involved In Your Next Brunch Soiree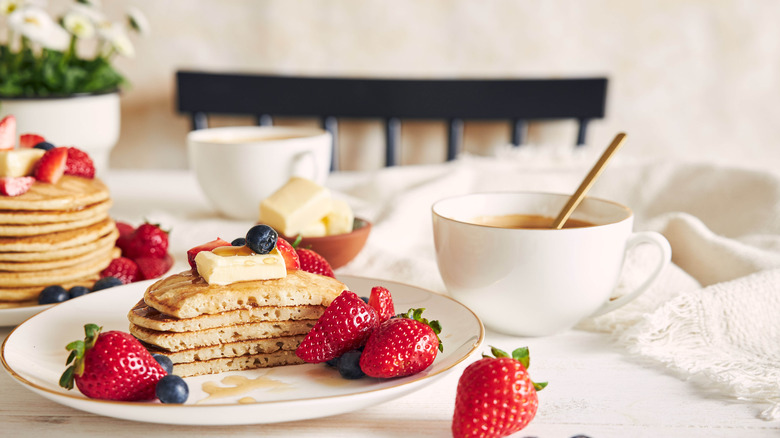 Wirestock Creators/Shutterstock
When you think of brunch, you probably imagine fresh fruit salads, warm egg casseroles, and bottomless mimosas. Jiffy Corn Muffin Mix pancakes probably don't even make the list. Wait... is this actually a thing? Jiffy Mix can make more than just cornbread when combined with the right ingredients. In fact, it can seriously upgrade your weekend brunch if used properly. 
To make this pancake recipe, all you have to do is blend one (8.5-ounce) box of Jiffy Corn Muffin Mix with two large eggs and a three-quarter cup of whole milk or buttermilk. Similar to frying up normal pancakes, throw some butter in the skillet and cook each side until crispy over a medium heat. As for dressing your meal, corn muffin pancakes may go better with maple syrup than even normal pancakes do. The sweetness of the maple draws out the sugars in the corn and naturally brightens the flavor. 
While you can go traditional with your toppings, why not mix things up and chop up a few strawberries? You can pair the pancakes with a bowl of homemade whipped cream to serve as an alternative topper as well.
Jiffy Corn Muffin Mix can make other brunch options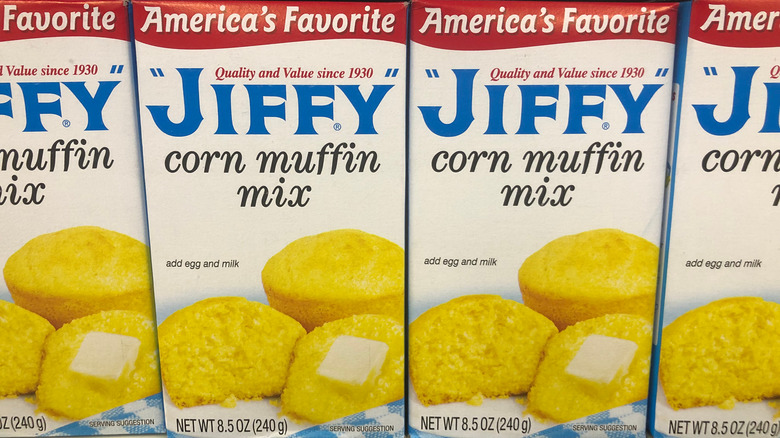 melissamn/Shutterstock
If you're not a fan of pancakes, there are a number of ways that you can incorporate Jiffy Corn Bread Mix into your brunch. Waffles, for example, are a much sturdier option that can hold a variety of fillings. Set out an assortment of scrambled eggs, bananas, fruit preserves, and spreads and let your guests assemble their own. 
Jiffy also suggests using its Honey Corn Muffin Mix as an alternative for pancakes. The hint of honey will add a touch of sweetness and enhance the other flavors. Top them with a warm raspberry sauce and a light sprinkling of powdered sugar. If you're in the mood for something more savory, try an eggs and bacon variant on the traditional corn muffin. Four eggs and four strips of bacon, along with some cheese for good measure, transforms these muffins into a dish worthy for your brunch table. 
So far, several people online have enjoyed creating (and eating) these Jiffy Corn Bread Mix brunch-inspired meals. For instance, one Twitter user raved about making waffles with the mix, writing, "In related news: local artist on track to gain 30 pounds by June." Meanwhile, an Instagram user supported the pancakes option, writing, "I love using cornbread for cornbread pancakes!" Whatever you decide to make, your brunch is only limited by your imagination.