5-Ingredient Raspberry Sauce Recipe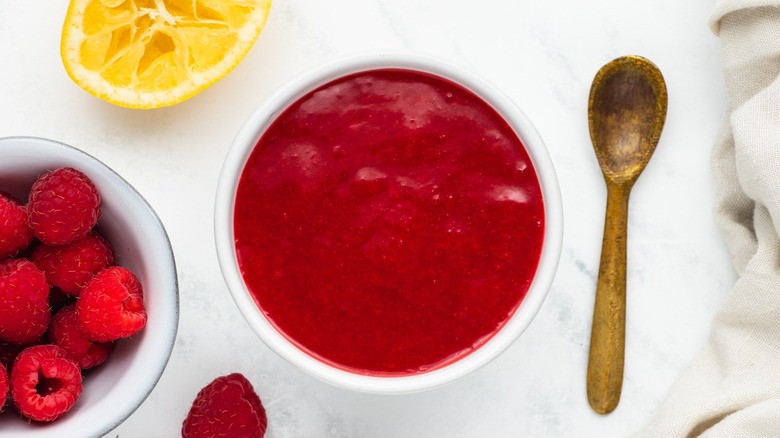 Catherine Brookes/Mashed
Raspberries can be a polarizing fruit; some people love the naturally tart flavor of the berries, whereas others avoid them because of said tartness. Luckily, there's much more you can do with raspberries than eat them plain, and moreover, there are ways to sweeten them up into something more dessert-like. Recipe developer Catherine Brookes brings us this recipe for five ingredient raspberry sauce that comes together in only 15 minutes and highlights the sweet side of the otherwise tart fruit.
While you can serve this raspberry sauce on many types of dishes including drizzling on scones, waffles, pancakes, or oatmeal, we happen to love this sauce on dessert options. May we suggest it on vanilla ice cream, served over cheesecake, or soaked into butter cake? "It's great served on ice cream or drizzled over cakes and brownies," Brookes suggests. "You can also mix it through some granola and yogurt for a tasty breakfast."
Gather your ingredients for 5-ingredient raspberry sauce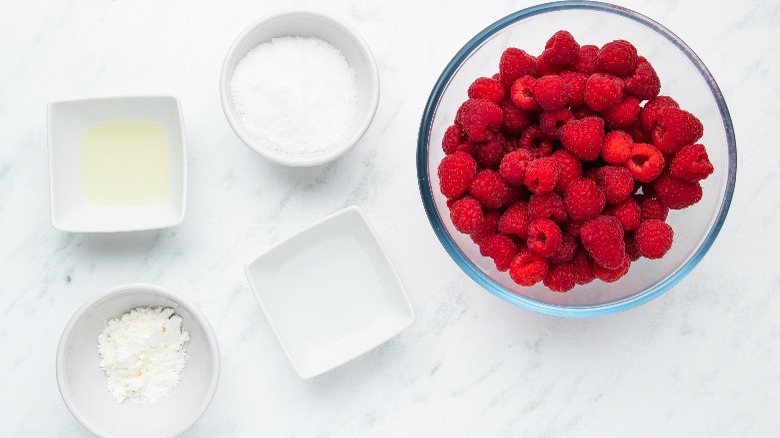 Catherine Brookes/Mashed
To make this 5 ingredient raspberry sauce, you can start by gathering your ingredients. For this recipe, you will need raspberries, sugar, cornstarch, water, and lemon juice. Don't have any fresh raspberries on hand? This sauce could also work well with fresh strawberries or blackberries," Brookes says.
Make cornstarch slurry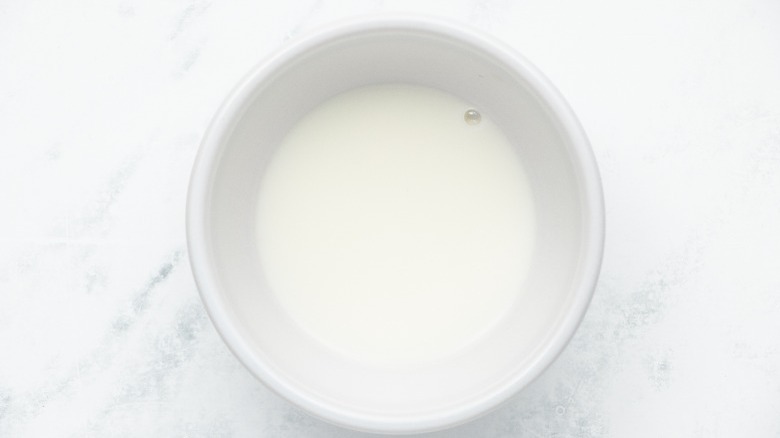 Catherine Brookes/Mashed
In a small bowl, add the cornstarch and the water. Stir together to make a cornstarch slurry, which will help thicken up the raspberry sauce without impacting the flavor.
Boil all ingredients while mashing the berries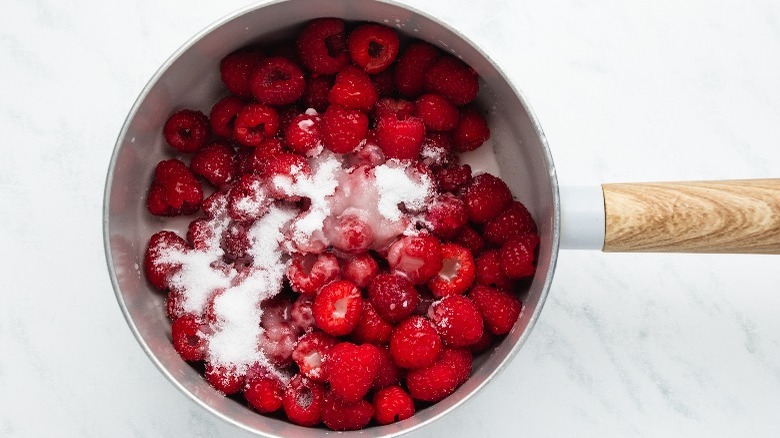 Catherine Brookes/Mashed
Add the cornstarch slurry, the raspberries, sugar, and lemon juice to a large saucepan. Stir the ingredients together until they are well-combined. Bring the heat up to medium and carefully mash the raspberries. Bring the mixture to a boil for about 3 minutes, stirring occasionally. Then, remove from the heat.
Strain the mixture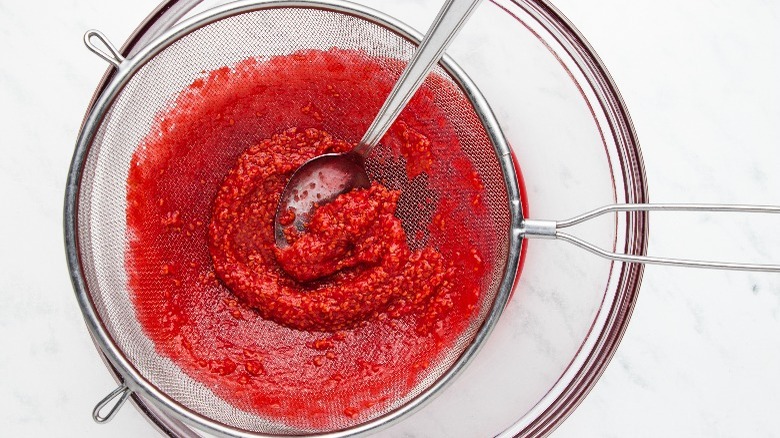 Catherine Brookes/Mashed
Lastly, strain the mixture into a bowl through a fine mesh sieve. This will remove the seeds — which you can dispose of — and leave you with the raspberry sauce. Then, pour the mixture into a storage container. Brookes notes, "I love to make a batch of this sauce to store in the fridge for use on breakfasts and desserts throughout the week." While this sauce works well as a garnish, you can also get creative and incorporate it into baked goods for a Spring-inspired dessert.
5-Ingredient Raspberry Sauce Recipe
This 5-ingredient raspberry sauce will instantly improve your baked goods and ice cream sundaes.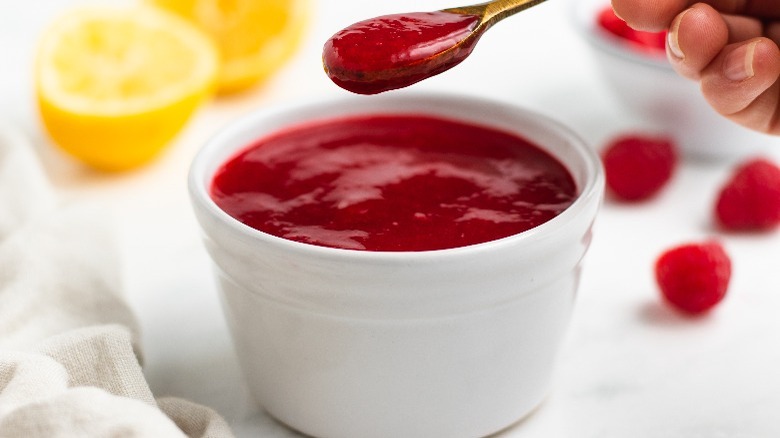 Ingredients
1 tablespoon cornstarch
1 tablespoon water
1 pound fresh raspberries, washed
¼ cup sugar
2 teaspoons lemon juice
Directions
Mix together the corn starch and water to make a slurry.
Add the corn starch mixture and all other ingredients to a large saucepan and mix.
Heat on a medium setting, gently mashing the raspberries as they cook. Once boiling, allow to bubble for 3 minutes, stirring occasionally.
Strain the mixture into a bowl through a wire sieve to catch the liquid and discard the seeds.
Transfer the sauce to a serving bowl or container and store in the fridge.
Nutrition
| | |
| --- | --- |
| Calories per Serving | 58 |
| Total Fat | 0.4 g |
| Saturated Fat | 0.0 g |
| Trans Fat | 0.0 g |
| Cholesterol | 0.0 mg |
| | |
| --- | --- |
| Total Carbohydrates | 14.0 g |
| Dietary Fiber | 3.7 g |
| Total Sugars | 8.8 g |
| Sodium | 0.8 mg |
| Protein | 0.7 g |