Your Dirty Martini Should Get A Fishy Makeover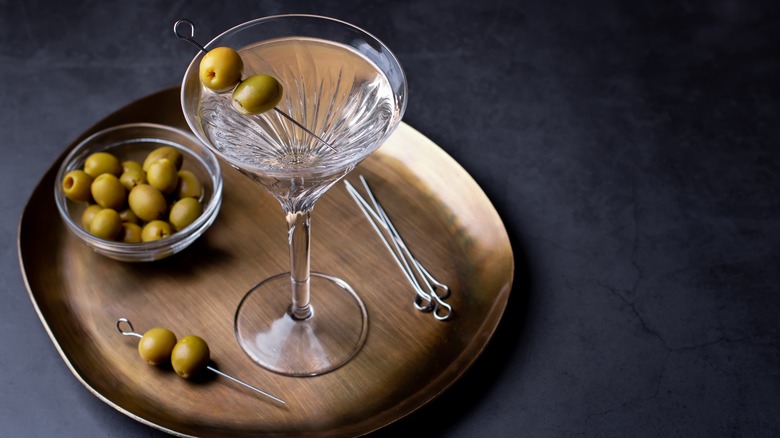 Maria Shipakina/Shutterstock
A martini is a classy, chic cocktail that's been enjoyed for centuries. Served in a glass as sleek and simple as the drink itself, a classic martini is made with only a few simple ingredients — gin or vodka, vermouth, and an olive garnish. Although it's a straightforward (and sometimes bitter) recipe, martinis are incredibly versatile and can be made to fit anyone's taste.
You can make a lemon drop martini if you like a citrusy, tangy kick to your cocktails. Have a penchant for the sweet stuff? You can assemble a lychee martini for a summery spinoff. Of course, the marker of a true martini aficionado is the salty, briny, dirty martini. A dirty martini is an iteration of the original martini recipe with just one difference — it's equipped with extra olives and a healthy serving of olive juice.
Although dirty martinis are an acquired taste, those who enjoy them might be inspired to take their tastes to new heights by adding tinned anchovies to their dirty martini. We know what you're thinking: canned fish in a cocktail!? That can't be right. While it might not leave you with first date-ready breath, the ingredients are a match made in dirty martini heaven.
Anchovies pair well with dirty martini ingredients
Tinned fish is having a moment. Thanks to social media, tinned fish, which used to be a guilty pleasure, is now a full-fledged trend that foodies can enjoy with charcuterie boards, as a themed dinner with friends, or used as an ingredient in a dirty martini. One fan of the took to TikTok to share her anchovy-laced martini featuring gin, vermouth, and olive brine, topped with anchovy oil from the tin and garnished with green olives and a single anchovy. For a slightly different arrangement, you can purchase anchovy-stuffed olives and kill two birds with one stone.
Although it might sound unappealing to some, anchovies boast a flavor profile less fishy than common seafood options like shrimp and salmon. Instead, anchovies pack a savory, salty punch with a rich, buttery after-taste that compliments the bitterness of gin and vermouth. The creator of the cocktail said the anchovies are an "umami bomb" for your martini.
Want an even dirtier martini? Garnish this anchovy cocktail with blue cheese-stuffed olives for a charcuterie-inspired cocktail that pairs well with nuts, fig jam, dried pears, and beef jerky — an adventurous eater's masterpiece.