Taco Bell's Nostalgia-Inducing Enchirito Is Returning To The Menu (Again)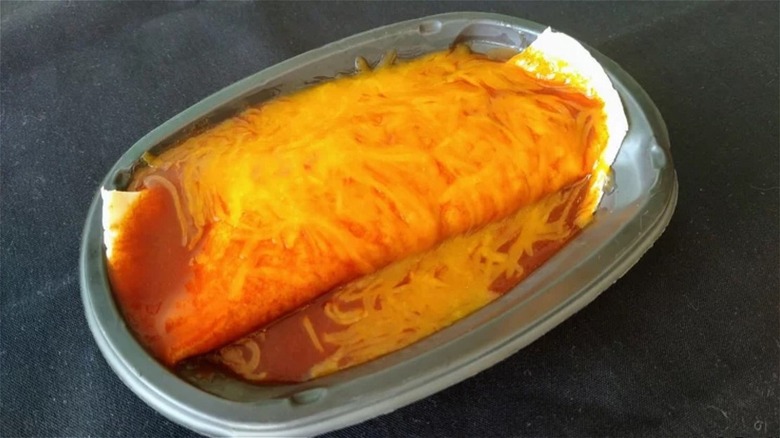 Jennifer Eager/Mashed
Taco Bell fans frequently reminisce about their favorite items that once graced the chain's menu, only to have those options removed one fateful day. Sometimes these are short-lived new offers, and other times, even the most popular choices that have lived happily on the menu for decades end up on the chopping block.
If you've ever found yourself wondering what happened to Taco Bell's Enchirito, the cheesy enchilada-burrito crossover that was introduced in 1970, you aren't alone. The fan favorite had a good, long run before it was discontinued in 1993. Like many beloved menu items from the chain, it didn't disappear forever — the Enchirito returned in 2000, only to disappear once again in 2013.
That wasn't the last time this saucy creation came around. In late 2022, Taco Bell asked customers to cast their vote to decide on which item should return to menus across the country for a limited time. Thankfully for its fans, the winner was the vintage Enchirito, which had more votes than its rival choice, the Double Decker Taco. Despite the Enchirito's return, it quickly flew off menus again once November 30 rolled around. Now that another mourning period is over, Taco Bell lovers are about to experience yet another Enchirito whiplash. A 2023 revival (albeit a limited-time one) was confirmed in a Reddit AMA by Taco Bell's CMO, Taylor Montgomery.
Taco Bell's CMO publicly confirmed the Enchirito's return on Reddit
Fan feedback of the 2022 version of Taco Bell's enchilada-burrito creation was pretty mixed. Reddit's reaction to the Enchirito was particularly negative, and many in the Live Más community thought it paled in comparison to what it once was. Hopefully that's not the case this time around. One Reddit user chimed in with their love for the onion-topped, red sauce-drenched hybrid: "The Enchirito was amazing. I'd order it if it were still available." A few days later, Taco Bell's CMO Taylor Montgomery responded to the comment, announcing that he could "confirm publicly for the first time that it will be back very soon for a limited time."
As you can imagine, many commenters in the thread were even more confused as to why the Enchirito, along with other items in the past, don't get to have a permanent spot on the Taco Bell menu. "Make the Enchirito a standard again and I'll eat at Taco Bell again," one user stated, while others expressed excitement that the announcement had been officially reported.
If it doesn't end up stacking up to the original yet again, the good news is that you can follow an Enchirito copycat recipe and make it the way you think Taco Bell should have. That way, when it comes time for this once-popular menu choice to leave stores again, it won't have to leave your kitchen, too.