Copycat Taco Bell Enchirito Recipe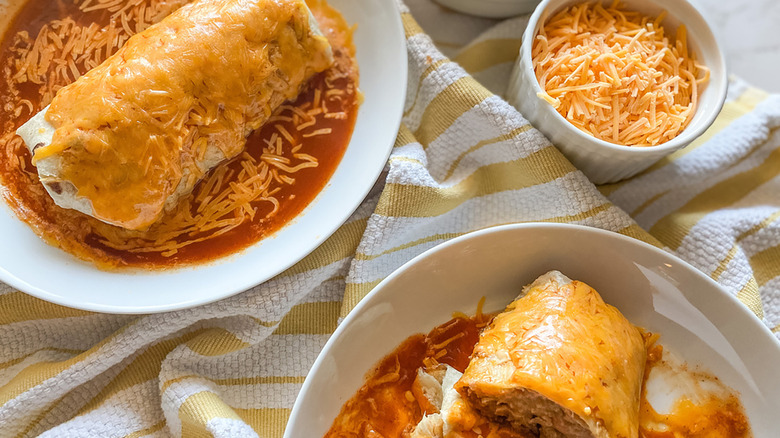 Kristen Carli/Mashed
Copycat recipes of your favorite restaurant foods give you the unique experience of making something yourself at home that hits the spot for a specific craving. If you're ever craving Taco Bell — and let's be real, we've probably all been there — we have a few ways you can bring the Bell home. Not only did chef and registered dietician Kristen Carli create a copycat Taco Bell beef recipe, but she also took it one step further by putting that beef to good use in this enchirito recipe. 
It doesn't get much easier than these enchiritos. They really only require a few steps of assembly, which means dinner will be ready in no time. You'll love these simple enchiritos so much, you might actually stop going to Taco Bell! Okay, we don't actually think that will happen, but we do think these copycat Taco Bell enchiritos are an awesome homemade alternative. Plus, you have the satisfaction of making it all yourself and knowing exactly what's in your dinner. 
Ahead, check out the step-by-step recipe for making these enchiritos yourself.
Gather your ingredients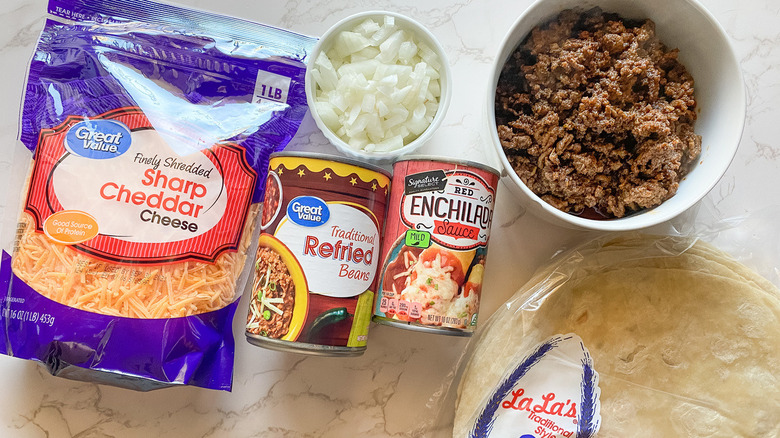 Kristen Carli/Mashed
To make this copycat Taco Bell enchirito, you must first get together all your ingredients. This recipe is very simple and only requires a few things. You'll need our copycat Taco Bell beef recipe (more on that in a moment), yellow onion, refried beans, mild enchilada sauce, flour tortillas, and shredded cheddar cheese. We like sharp cheddar cheese for this, but if all you have in your refrigerator is mild cheddar cheese, that will also work.
Make the copycat Taco Bell beef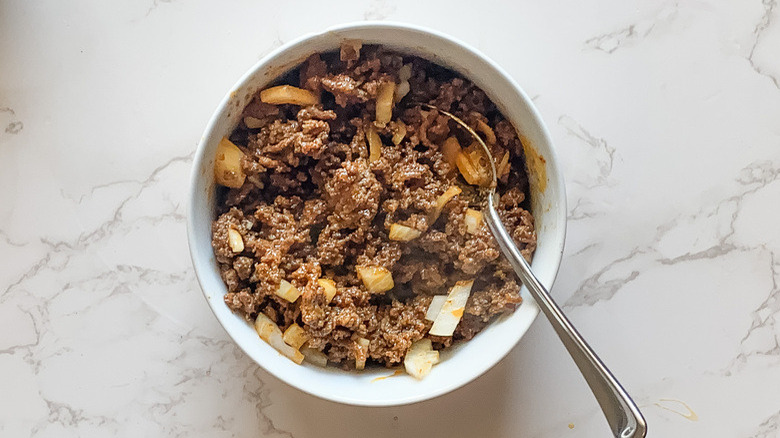 Kristen Carli/Mashed
Before you can start on your enchiritos, you have to first make the copycat Taco Bell beef. We already created this recipe to mimic Taco Bell's famous taco meat, which creates the base for the enchiritos. The taco meat recipe is quite simple and includes a blend of spices that will taste just like the fast food spot. Plus, we have a secret ingredient (spoiler alert: it's oats) that really brings the meat together. 
Our recipe makes about 2 pounds of beef, and for this you'll only need 1 pound. You can simply store the rest of it for another recipe or just double this one and make plenty of enchiritos.
Once you've made the beef, chop up your onion and mix it into the beef blend in a bowl.
Start to assemble the enchirito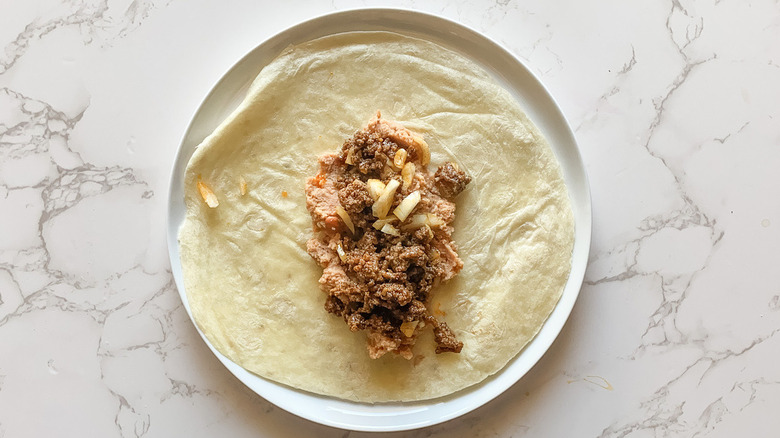 Kristen Carli/Mashed
Set your beef mixture aside and grab another small bowl. Dump the canned refried beans in there and pop the bowl in the microwave for 2 minutes. Take it out and stir it to make sure the beans are heated through. 
You can now start assembling the enchiritos. Place a tortilla on a plate and scoop 1/4 cup refried beans into the center. Add 1/4 cup of the beef and onion mixture on top of that. Roll up the tortilla and fold in the sides as you go so that everything is tucked in.
Top off the enchiritos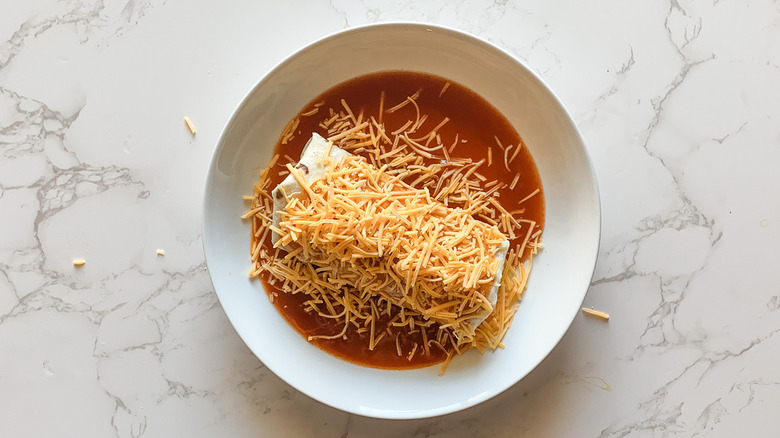 Kristen Carli/Mashed
Put your enchirito seam side down on a microwave safe plate. Spoon 2 tablespoons of enchilada sauce over the top of the enchirito. It will drip down the sides and that's fine. That's what you can dip each bite of the enchirito in as you eat! 
On top of the enchilada sauce, add about 1/4 cup of your shredded cheese. You could add more or less based on your preference, but 1/4 cup is our recommendation here.
Heat and eat!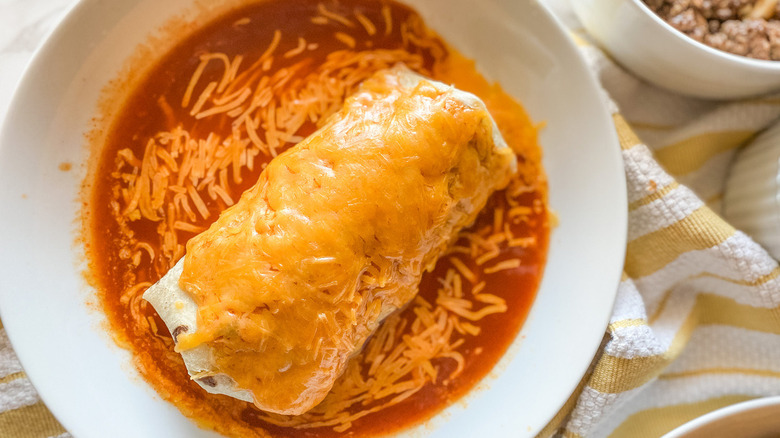 Kristen Carli/Mashed
Once the enchirito is all assembled, put it in the microwave until the cheese is melted and the enchilada sauce is warm. This should only take about a minute. Since all the filling is already cooked, all you're doing here is melting the cheese.
Continue building and microwaving the enchiritos one at a time until all 6 are made. 
You'll want to eat these right away as they won't really hold well after they've been assembled. What you could do if you don't want to have all 6 at once is make them to order. It's easy enough to just assemble 1 or 2 to eat and just keep the meat for another time. 
Copycat Taco Bell Enchirito Recipe
This copycat Taco Bell enchirito recipe will satisfy your fast food craving -- from the comfort of your own kitchen!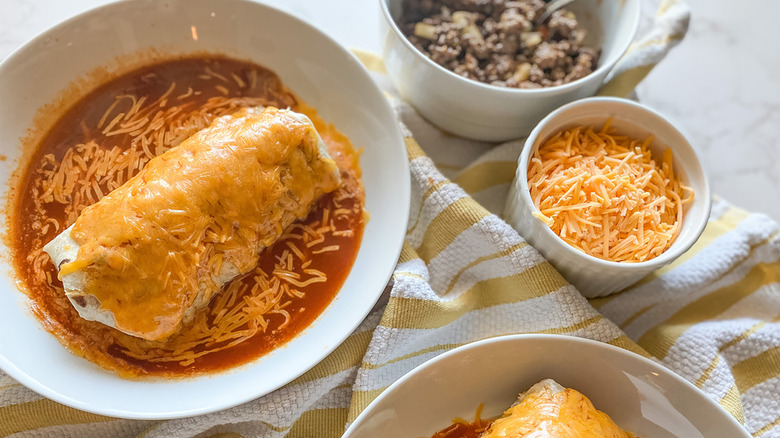 Ingredients
1 pound cooked Taco Bell Copycat Beef
2 tablespoons yellow onion, diced
1 (15-ounce) can of refried beans
6 large flour tortillas
1 (15-ounce) can of mild enchilada sauce
1 ½ cups shredded sharp cheddar cheese
Directions
In a small bowl, combine the cooked beef with the onion. Stir to combine.
In another small bowl, add the refried beans. Stir and microwave for 2 minutes. Stir again.
On a large plate, place the flour tortilla. Scoop ¼ cup refried beans into center of tortilla.
Scoop ¼ cup of beef and onion mixture on top of the beans.
Roll up the tortilla, folding in the sides, and place seam side down on a microwaveable plate.
Pour 2 tablespoons of enchilada sauce over the enchirito.
Top the enchirito with ¼ cup shredded cheese (use more or less as desired).
Microwave the enchirito until the cheese is melted, about 1 minute.
Repeat assembly and heating steps with the remaining 5 enchiritos.
Serve immediately while hot.
Nutrition
| | |
| --- | --- |
| Calories per Serving | 508 |
| Total Fat | 20.9 g |
| Saturated Fat | 9.1 g |
| Trans Fat | 0.6 g |
| Cholesterol | 81.3 mg |
| | |
| --- | --- |
| Total Carbohydrates | 46.5 g |
| Dietary Fiber | 5.4 g |
| Total Sugars | 7.0 g |
| Sodium | 1,603.6 mg |
| Protein | 33.9 g |