At Last, Kinder's Famous Chocolate Bar Will Debut In The US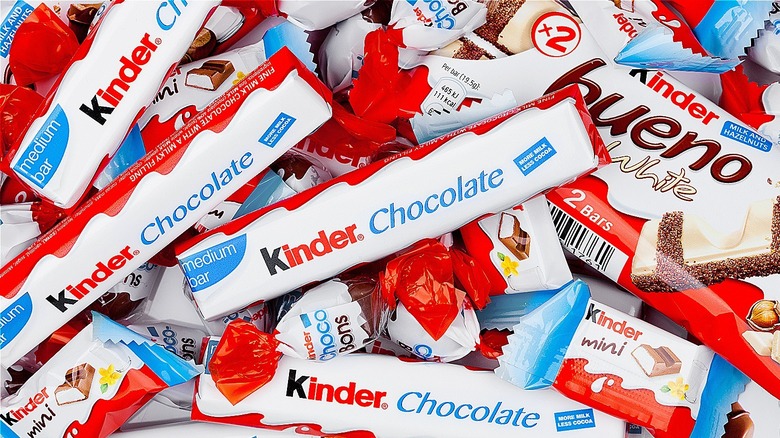 DenisMArt/Shutterstock
While most Americans likely consider Kinder synonymous with the infamously forbidden Kinder Surprise Eggs, the eggs aren't the brand's only — or even its most popular — product. Owned by Italian chocolate powerhouse Ferrero, Kinder has long offered Europe a wide array of chocolatey products that the U.S. has only just started to get a taste of. Luckily, Kinder's American arsenal is set for expansion. A reveal at this week's 2023 Sweets & Snacks Expo in Chicago brings sweet news: Kinder will be offering their flagship candy, "Kinder Chocolate," in North American markets starting this year (via a press release).
The invention of Kinder Chocolate is tied to the founding of Kinder as a brand itself. It all started in 1968, when Michele Ferrero decided to create a chocolate bar targeted toward children. His idea, Kinder Chocolate, had a chocolatey exterior and a rich, milky filling designed to convince parents of the candy's nutritional appeal. The chocolate bar has long boasted the slogan "+ Milk – Cocoa" on its packaging, referencing the smooth, milk cream filling of the confection. Whether or not the candy is that nutritious (the ingredients list says otherwise), it became a hit in Germany, then Italy, and beyond.
In the 50-plus years since its founding, Kinder has expanded to offer countless other chocolates and sweet treats, including its popular hazelnut cream-filled Kinder Bueno and others. Now, its products are now being sold in 170 countries globally.
Kinder's American expansion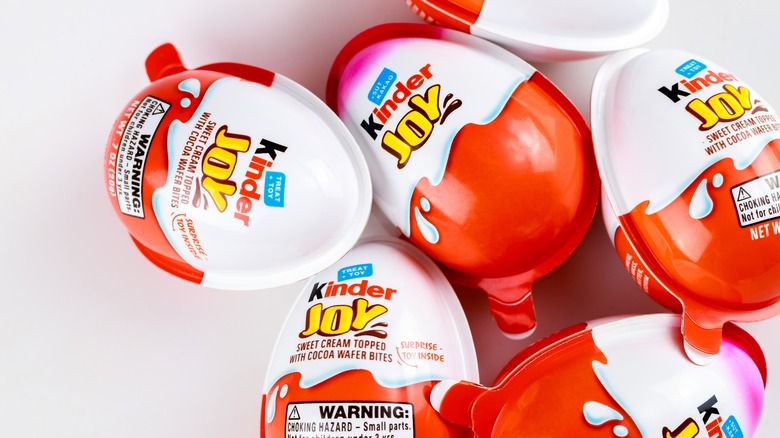 tastyfood/Shutterstock
Alongside the announcement of Kinder Chocolate's American debut, Ferrero is also launching seasonal "Kinder Chocolate Mini Friends," plus Ferrero Rocher Golden and Hollow Eggs, variations on the classic gold-wrapped chocolate that will be available for the 2024 Easter season.
Expanding business in the U.S. has long been one of Ferrero's largest goals, according to Catherine Bertrac, Senior VP of marketing for Ferrero North America (via Food Dive). And Ferrero's latest commitment to beef up its U.S. lineup comes less than a year after ground was broken on Kinder's first American factory in Bloomington, Illinois (via CI Proud).
But what about Kinder Surprise Eggs? The famous egg-shaped, toy-stuffed chocolates have been banned in the U.S. since the beginning of their production. While this hasn't stopped smugglers of the candy contraband, the company's legal alternative was a business boon. Kinder Joy was the brand's first American chocolate, introduced in 2017 as the egg-shaped surrogate of the Kinder Surprise and deemed safe for consumption because the chocolate and the toy were separated. Kinder Bueno came to the U.S. close behind in 2019, with other options like Easter-themed Mini Eggs, Happy Hippos, and Kinder Bueno Eggs hitting the U.S. market in the following years. 
Now, the introduction of Kinder Chocolate likely means that the creamy, European sweets are here to stay.