Why Kinder Chocolate Has Been Linked To Salmonella Cases
You might never expect it, but chocolate has a history of carrying salmonella. According to a study published in the Journal of Food Protection, salmonella's ability to withstand heat, combined with the makeup of chocolate, allows the bacteria to infect the sweet treat, despite attempted food safety measures. This issue has become all the more prominent ever since Europe recently experienced a widespread salmonella outbreak traced back to chocolate.
The European Food Safety Authority reports that 150 individuals across the continent have come forward to report salmonella poisoning after eating tainted chocolate over the past few months, mostly among children. This problem isn't new, according to The Conversation. Back in 1970, cocoa powder with traces of salmonella infected over 100 people in Sweden. A decade later, 245 people fell ill in the U.K. after eating contaminated chocolate, while a 2001 spike traced 439 cases of salmonella back to chocolate consumption in Germany. As for the current European outbreak associated with the confection, it all comes back to one chocolate company.
A Kinder surprise you really don't want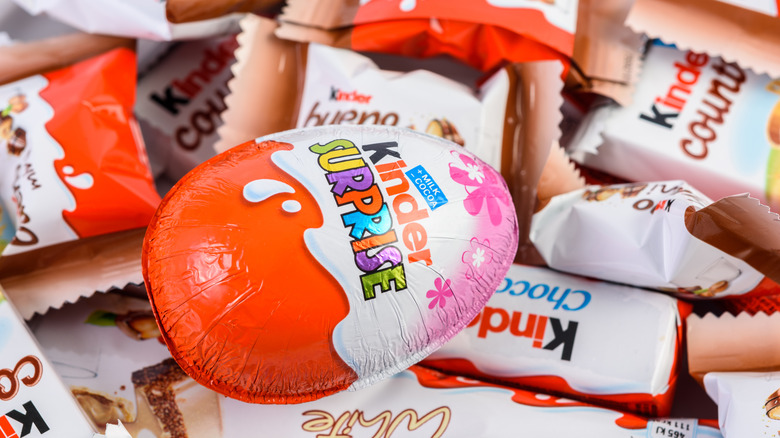 Radu Bercan/Shutterstock
The World Health Organization traced the origin of the current salmonella outbreak back to a Belgian chocolate factory run by Ferrero that had to temporarily close this month. Nine patients out of the 150 infected consumers had to be hospitalized for salmonella poisoning, which currently exhibits some resistance to antibiotics. Kinder chocolate that was produced at the factory now lies at the center of the outbreak, and multiple countries have so far issued recalls over potentially compromised products. Experts discovered the strain of bacteria has affected a range of Kinder products, including Kinder Surprise, Mini Eggs, and Schoko-Bons. Underscoring just how widely the Kinder brand is distributed, one case has so far popped up in the U.S.
Some officials believe that the recent Easter holiday contributed to an increased amount of chocolate buying, making the outbreak more vast. No one has died as a result of the salmonella flare, and in many cases, the symptoms have appeared fairly mild. Officials across the world are now trying to track down the affected products and, with any luck, should stop the spread of the affected chocolate in its tracks soon.